Two brilliant kitchen tricks (and Simple Roasted Garlic Potatoes)
Mar 15, 2011, Updated Oct 03, 2017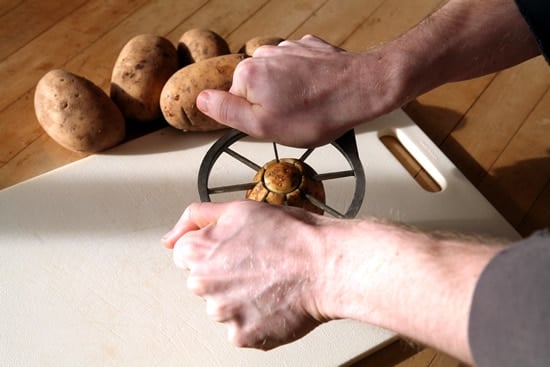 I'm a total geek when it comes to slick kitchen tips and tricks. This weekend, I learned two great tricks in the same conversation, and I put them both together to make these super-easy, roasted garlic potatoes.
Potato Wedges
This is so simple, I can hardly believe it:  Use an apple corer to make potato wedges. In one fell swoop you get a handful of wedges (along with a somewhat amusing cylinder of potato core, which tastes just as good).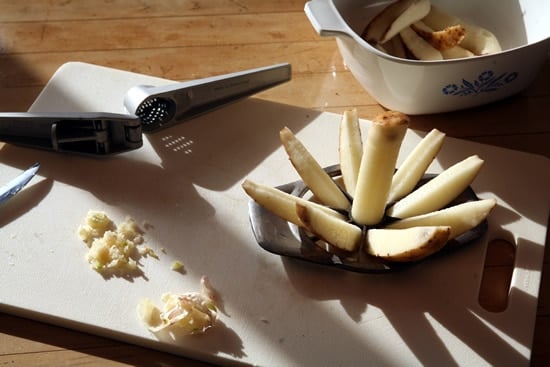 Crushed Garlic
I usually peel and slice (or chop)  my garlic by hand.  It takes awhile, and my fingers get all sticky and stinky, but I feel very "pro" for doing so. Truth be told, though, I'm getting kind of sick of all the chopping and fine slicing, and I've started using the garlic press more often. (After a lot of online research and review-reading, I bought the Zyliss Jumbo Garlic Press
— it's great.)
Turns out, you don't have to peel garlic before pressing it! I had no idea.  You do need to peel off the dry outer skin of the garlic head, but you don't need to fully peel the clove.  The skin will stay behind in the press, and you can then toss it in your vegetable scrap bag.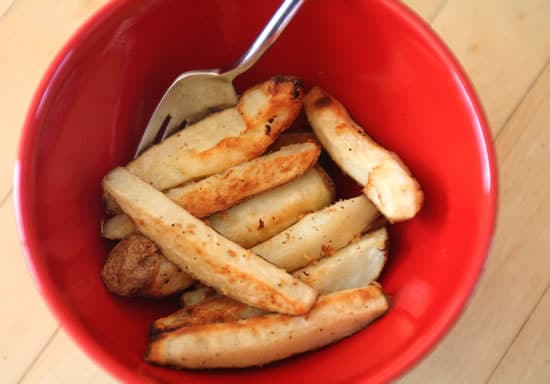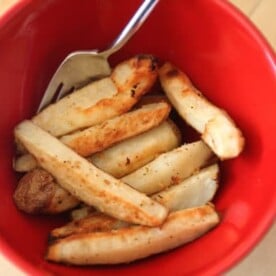 Simple Roasted Garlic Potatoes
This morning, while taking pictures for this post, I realized I had a bunch of garlic and potatoes leftover. What to do? Make Roasted Garlic Potatoes for lunch, of course! Serves 2-4, depending on the size of the potatoes.
Ingredients
2

potatoes

,

washed but not peeled

3

cloves

garlic

,

unpeeled

2

tablespoons

olive oil

approx. 1/4 teaspoon sea salt

approx. 1/4 teaspoon pepper
Instructions
Preheat over to 350°F. Using an apple corer, slice the potatoes into wedges. Place them in a small casserole dish.

Using a garlic press, crush the (unpeeled!) cloves of garlic. Add the garlic to the potatoes.

Drizzle olive oil over everything, then lightly season with salt and pepper. Mix everything together to evenly coat the potatoes.

Bake, uncovered, at 350°F for 60 minutes, stirring every 20 minutes to ensure even cooking. Finish by broiling for a few minutes to get them nice and crispy.
Nutrition
Calories:
254
kcal
,
Carbohydrates:
27
g
,
Protein:
5
g
,
Fat:
14
g
,
Saturated Fat:
1
g
,
Sodium:
22
mg
,
Potassium:
897
mg
,
Fiber:
5
g
,
Vitamin C:
25.7
mg
,
Calcium:
72
mg
,
Iron:
6.9
mg
Like this recipe? Rate and comment below!
Thanks to Dennis and Matty for the tips!