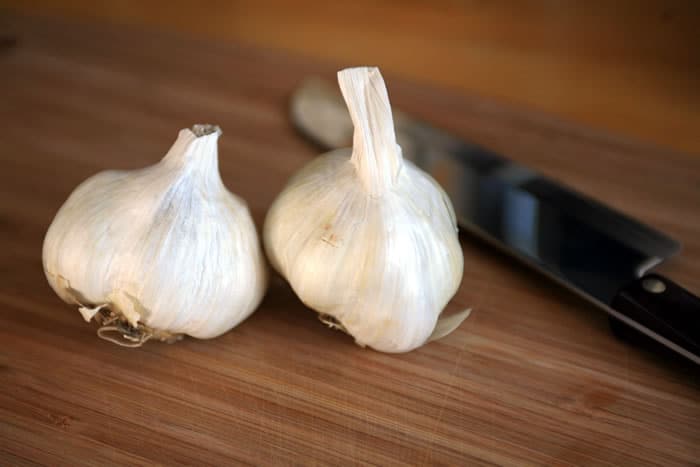 (Note: Since Thanksgiving is just around the corner, and a lot of people have found my blog since I originally published this in November 2011, I thought I'd bring it back to the top of the stack and share it with you today. I hope you have a wonderful Thanksgiving, filled with love, family, friends, gratitude, and garlic.)
I don't remember if it was my first or second Thanksgiving as a vegetarian, but mom wanted to be supportive of her teenager, so she bought me a Tofurky.  This was before the Tofurky brand had all sorts of fake meats, and even before veggie meats were in just about every grocery store. I suppose it was a bit ahead of its time.
It was a "fake turkey kit" that came in a plain cardboard box and cost somewhere around $35 (and that's circa-1991 dollars).  If memory serves, the package included a quasi-turkey-shaped loaf, some bread crumbs to be stuffed into the cavity of the "bird," and fake skin that needed to be stretched over the whole thing.
It was pretty gross.
I think they've improved it since then (and you can now find them much more easily; I think ours might have actually been special order), but I wouldn't know for sure — that fake skin was scarring enough that I'll never go back down that road.
Every year since, instead of trying to fit in, I've just filled my plate with plenty of side dishes. (Mom's always kind enough to make me veggie stuffing, cooked in a casserole instead of a cavity. These days she even makes it whole grain for me! Thanks mom, I love you.)
Although I don't feel all that left out by not eating turkey, there is a small part of me that does feel like I'm missing something. I've been considering this a fair amount this year, and have decided that a good solution is to come up with a new tradition. Instead of focusing on what I can't have, I'm going to come up with something else I love, and simply choose to make that a part of the holiday.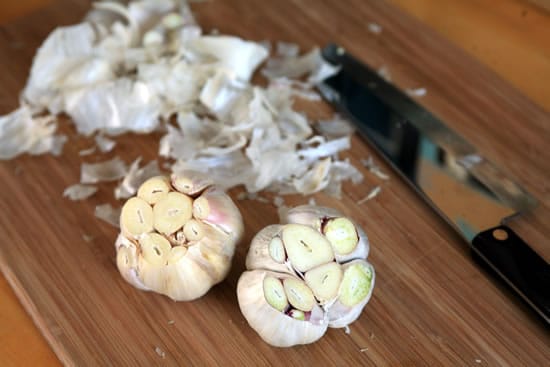 The other night I roasted some fingerling potatoes and tossed a few whole garlic cloves on the baking pan, just for kicks. I was surprised at how giddy I became when I snapped up those little morsels of sticky-sweet-garlicky-goodness.
That's when I realized that roasted garlic absolutely had to become the new Thanksgiving tradition for my family.
To make it a little more festive, rather than peeling each clove and roasting them separately, I'm going to go with the whole-roasted-bulb style. It's simple and easy. Better yet, considering how much competition there is for oven space during the big day, you can prep them early and then just place them directly on the oven rack, fitting them around whatever else is baking.
I should probably plan on making breath mints a new Thanksgiving tradition too. Happy Thanksgiving, everyone!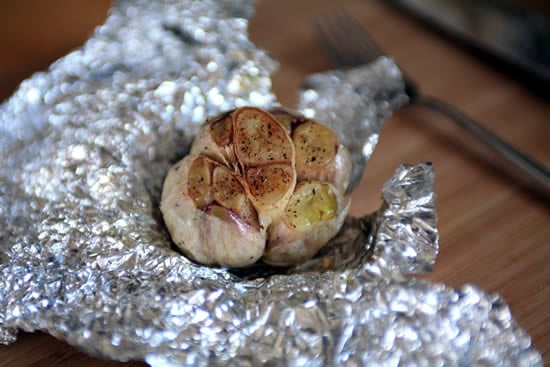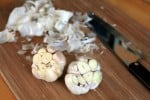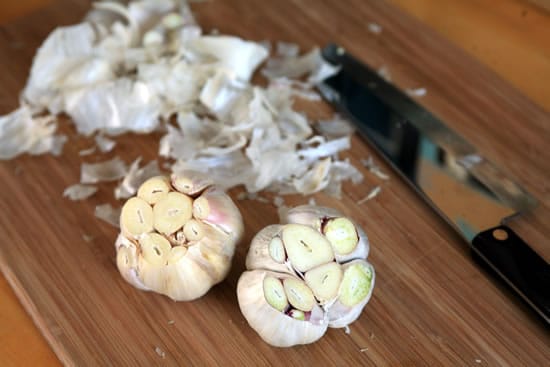 Whole Roasted Garlic
Wrapping the garlic in aluminum foil makes it easy to fit around other items in an already-full oven. One large head of garlic is enough for 3-4 people, depending on how much they like garlic, of course.
Ingredients
1

head

garlic

2

teaspoons

extra virgin olive oil

Generous pinches of sea salt and ground pepper
Instructions
Preheat oven to 400 degrees Fahrenheit. (350 degrees will work fine, too.)

Cut the top of the garlic so as to remove the tip and slice open the top of each cloves. This makes it easier to extract them after they're cooked. If there are smaller cloves on the side, be sure to slice those open as well. Peel away any loose skin, but leave enough to hold the cloves together.

Place the head, cut side up, on an ~8" square of aluminum foil. (Or use a

clay garlic roaster

.) Drizzle the olive oil over it, getting being sure to get plenty of oil into the open cloves. Rub the oil around to coat the garlic evenly. Sprinkle the salt and pepper on top.

Fold up the foil and give it a twist at the top to keep it closed.

Bake directly on an oven rack or on a baking sheet for 30-40 minutes.

Allow to cool for a few minutes, and then carefully scoop/squeeze out the garlic and spread liberally on fresh, whole-grain bread.