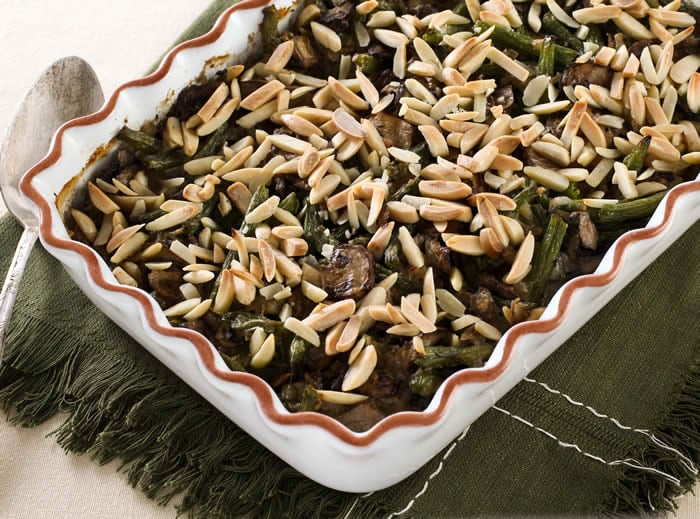 (After first publishing this recipe a couple of years ago, it instantly became one of our favorite Thanksgiving dishes. It's an easy recipe and can be prepped in advance. Happy Thanksgiving, everyone!)
Ahh, The Holidays. The most wonderful rich, indulgent time of the year. You know what I'm talking about. It starts with the Halloween candy, and doesn't let up until January 2nd, when everyone stumbles over to the gym with a food-hangover (and a real hangover, I suppose), saying "This year, I'm going to stick with it!"
It doesn't have to be this way. You can have your fabulous, holiday traditions without all the guilt and overeating. Really, you can. The trick is to find recipes that have the same amount (or more!) of comfort-food-ness, and enjoy those instead.
As I kid, my very favorite Thanksgiving dish was the green bean casserole. It still is, come to think of it. I suppose it's one of the formative flavors from my childhood.
Fast forward a few decades, and now that I'm pushing forty (gah!) and have changed how I eat, the notorious canned-soup version doesn't really hold the same appeal for me. So what to do? Make a new dish that kicks the old one's butt, that's what!
When Redwood Hill Farm hired me to develop a new recipe for them this month, I wanted it to be a makeover of a popular Thanksgiving dish. I knew I wanted to use their Smoked Goat Milk Cheddar, my favorite of all their delectable cheeses (we even served it at our wedding). And when they asked me if I could work in one of their Green Valley Organics Lactose-Free products, I knew that their Sour Cream – which is far more like crème fraîche than American sour cream – would be the perfect addition to a green bean casserole makeover.
Before I go on, I'd like to mention how much I love Redwood Hill Farm (and not just because they're paying me; this part's not in the contract!). Both Redwood Hill and Green Valley Organics are Certified Humane farms. I have visited both the farm and the creamery (click through for my pictures!), and am thrilled at the quality of life they provide for their goats (I haven't seen the cows, but I have no doubt Jennifer and her team take excellent care of them, too). I walked amongst the goats and they were so well-mannered, healthy, and affectionate, I could tell they were very happy goats indeed.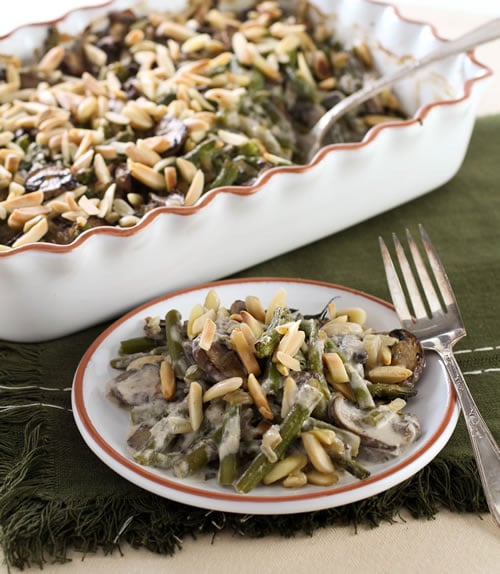 So here we are, with our grown-up holiday comfort food. This Smoky Green Bean Casserole with Smoked Cheddar and Fennel will be my contribution to the holiday table this year. I've replaced the condensed soup with real mushrooms and real cultured cream – but not so much that it will weigh you down. By swapping almonds for the fried onions, we still get a satisfying (and far more nutritious) crunch from the topping, without all that extra grease.
Oh, and don't tell anyone, but this dish is also quite easy to put together (if I can do it, so can you!). If you can boil water and saute some veggies, you can make this dish — and then you'll have one heck of a tasty casserole on your table.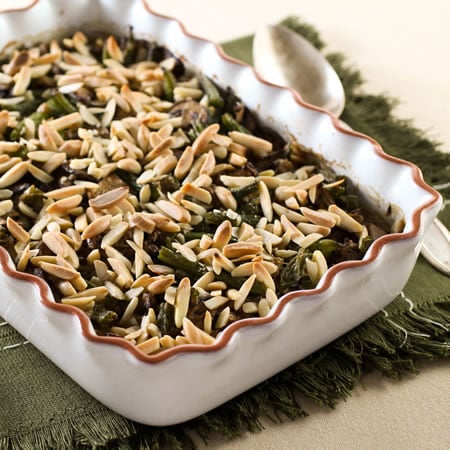 Green Bean Casserole with Smoked Cheddar and Fennel
Prep Time:
Cook Time:
Total Time:
Ingredients
1¼ pounds fresh green beans
1 tablespoon olive oil
1 medium onion, finely chopped
½ cup chopped fennel bulb
1 pound mushrooms, thinly sliced (baby portobellos, crimini, or white should all work)
¼ teaspoon kosher or sea salt
¼ teaspoon ground pepper
2 teaspoons whole wheat flour (omit for gluten-free)
6 ounces (1/2 container) Green Valley Organics Lactose-Free Sour Cream
4 ounces Redwood Hill Farm Smoked Goat Milk Cheddar, shredded
4 ounces (1/2 cup) slivered almonds
Instructions
Preheat the oven to 350F.
Bring a large pot of salted water to a boil. While it's heating, rinse the green beans and trim the stems.
Add the beans to the water and return to a boil. Cook for about 5 minutes, until tender-crisp. Remove from water and immediately place in an icewater bath to stop the cooking. Once cool, drain in a colander. Cut the beans into 2-inch pieces and set aside.
In a large, non-stick skillet, heat the olive oil on medium-heat. Add the onion and fennel and saute until the onion is translucent, about five minutes.
Add the mushrooms and continue cooking, stirring frequently. Add the salt and pepper.
Once the mushrooms have released their juices and shrunk (about 5-6 minutes), sprinkle in the flour and continue stirring for another minute, so the flour mixes in and absorbs some of the juices.
Mix in the sour cream and shredded cheese. Once the sour cream has softened and the cheddar has melted, mix in the green beans. Stir until everything is evenly coated.
Scoop the entire mixture into a 9" x 9" casserole dish and use a spatula or spoon to level it all out. Sprinkle the almonds on top.
Place in the oven, uncovered, and bake for 35-45 minutes, until heated and bubbly and the almonds are lightly toasted.
Photos by Kelly Jaggers for Eating Rules.