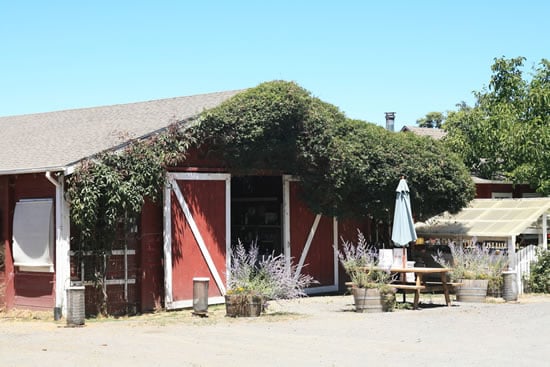 After our tour of Redwood Hill Farm's Creamery, we said our goodbyes to Jennifer and headed down the road to the farm to meet her brother Scott, the farm manager.
Scott and Jennifer both live on the idyllic property. Scott's front yard is overflowing with vegetables, while Jennifer's home was the original creamery, and still shares a wall with the milking room.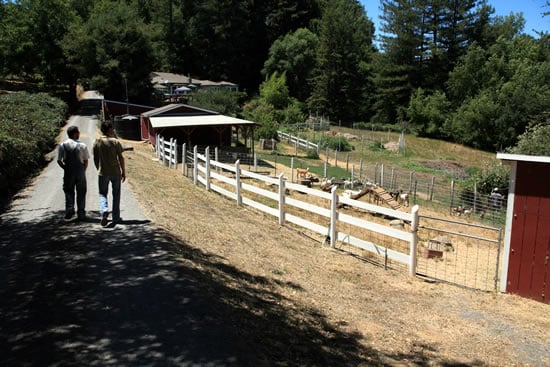 Scott and I are strolling along the main road through the ten-acre farm.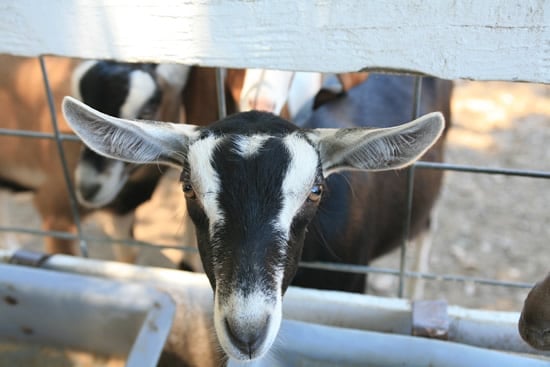 I was a bit surprised at just how friendly and personable the goats are. They all ran to the fence, eager to meet us. Here's June, an Alpine yearling, saying hello.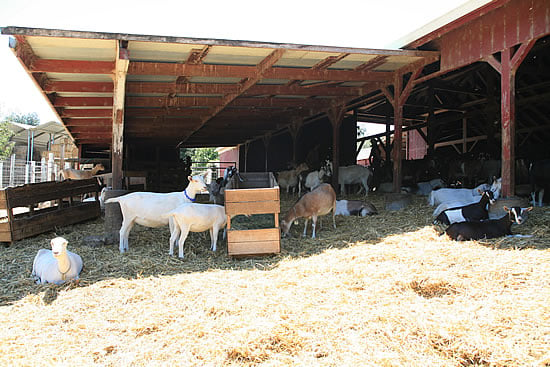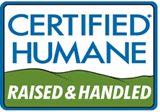 Redwood Hill was the first goat dairy in the United States to be Certified Humane Raised & Handled, which is considered the "Gold Standard" in third-party certification for humane animal treatment. Their goats have plenty of space, shade, and ample opportunity to engage in natural behaviors.
Even with 300+ goats, that's not enough  milk for their needs at the creamery, so they buy milk from other local farms. They personally verify that their contributing dairies also treat their animals humanely. Even better, in 2012 they helped all of them earn the independent Certified Humane status as well.
I'm proud that every time I purchase Redwood Hill's products, I know for sure that I'm supporting humane treatment of animals.
Amber, the assistant farm manager, walked us into the barn, where I was quickly surrounded by very affectionate goats.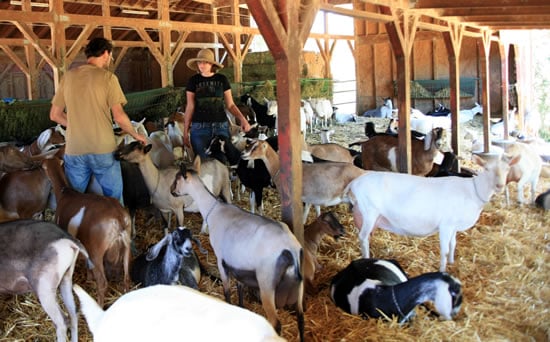 See that sweet goat under my right hand? She started chewing my shirt immediately, and wouldn't let go. I took it as a sign of affection, for sure. Several others were rubbing their heads against me so enthusiastically they nearly knocked me over!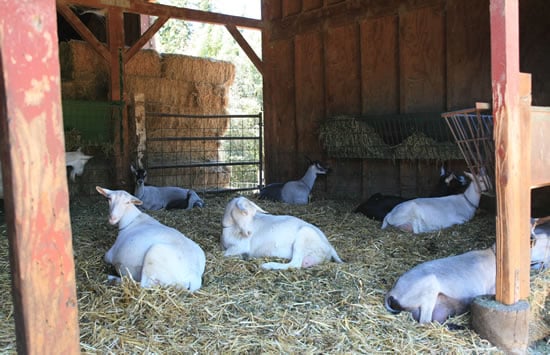 It was quite warm in the sun, so they're just chillin' in the barn.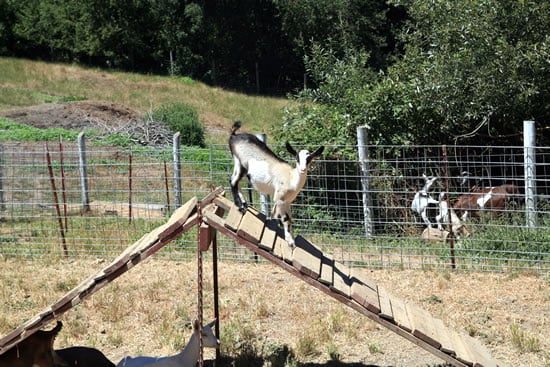 Korena, an Alpine kid, stands proudly at the top of the "hill."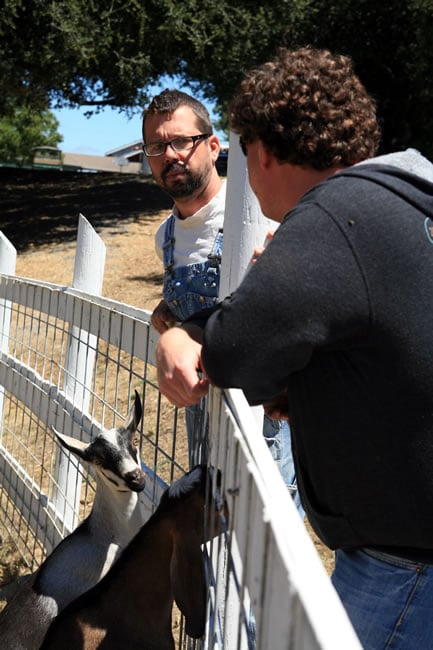 Scott (facing us) answers all of Jim's goat questions. I think it was at this point that Jim decided he absolutely needs goats on his new farm.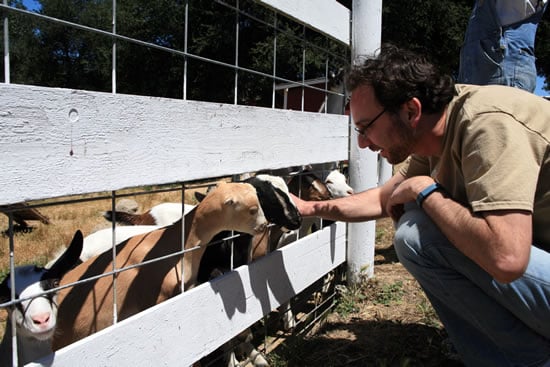 And this was the point at which I decided I needed goats, too.  (O.M.GOSH THEY'RE SO CUTE!!)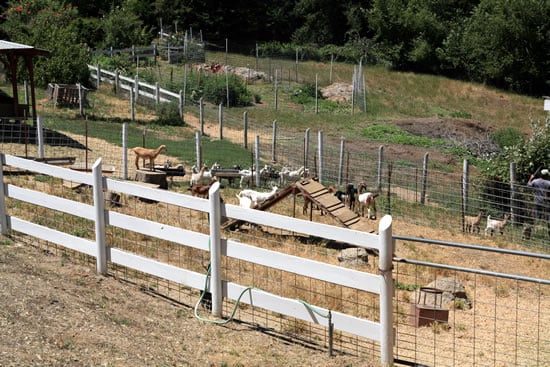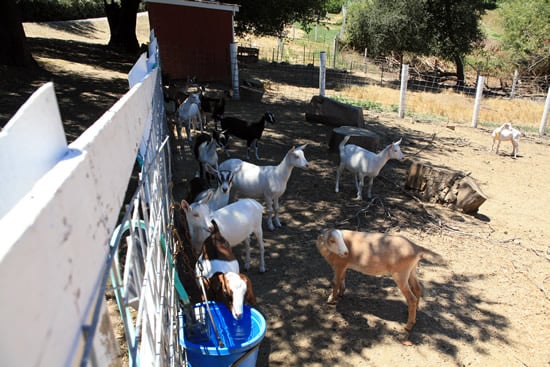 The goats have lots of space to run, rest, play… no overcrowding here!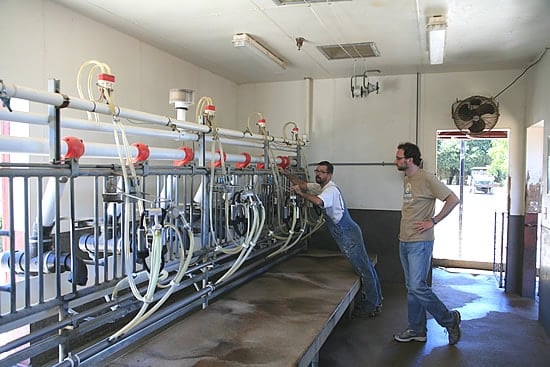 The milking room is just around the corner from the barn. Scott and his team milk the goats twice a day. He was telling me which goats prefer which stalls, which are the first to line up, and so on…he knows all of them by name and can tell you about all of their unique personalities.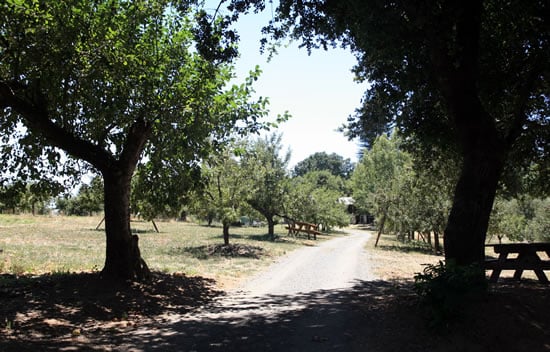 A few years ago they purchased the ten-acre property next door, instantly doubling the size of the farm – and gaining an apple orchard, too!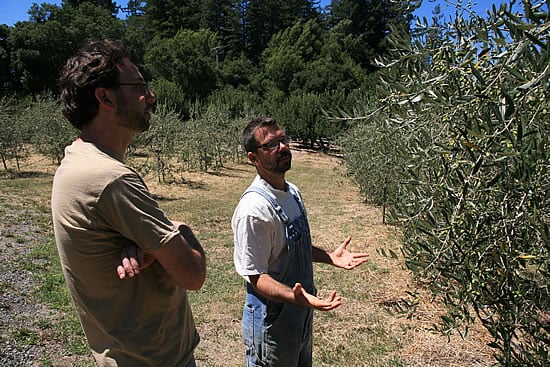 They're using some of their new space to experiment with olive trees and a few other projects. They recently produced their first batch of olive oil!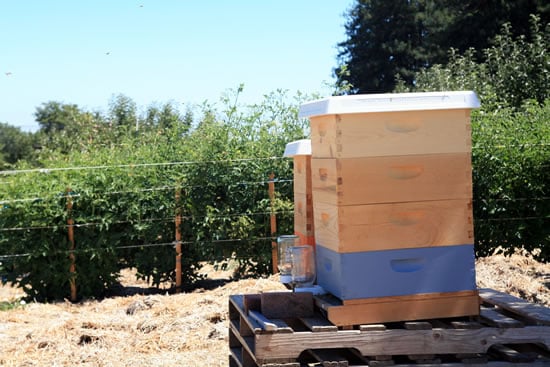 Two beehives help keep everything well-pollinated. (Those aren't bits of dust on the camera lens, they're bees in-flight.)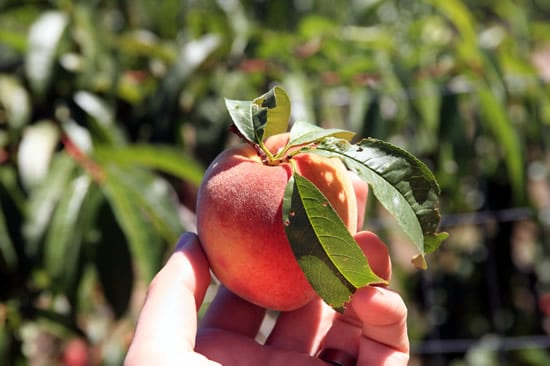 There's nothing quite so delightful as a ripe, juicy peach, eaten just off the tree.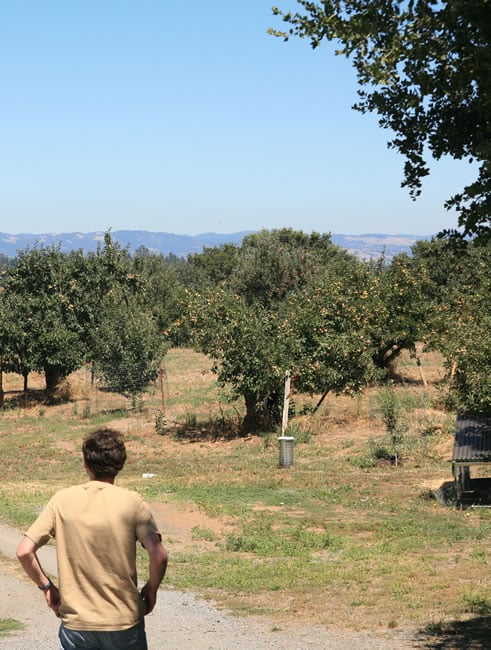 Admiring the view…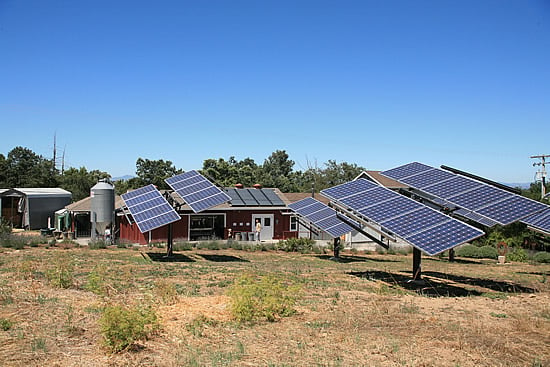 The solar panels are just uphill of the milking room and Jennifer's home. Both the farm and the creamery are 100% solar.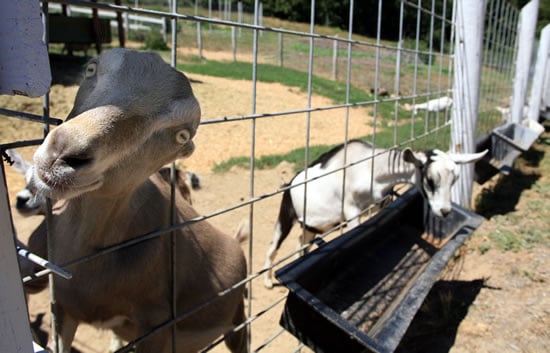 Although we didn't want to leave, it was time to end our tour and get back on the road. Chocolate, an American LaMancha, sent smiles our way as we said goodbye!
Huge thanks to Jennifer and Scott and their entire team for spending so much time with us and sharing their home and business with us.  I hope you enjoyed the tour as much as we did!
—
Redwood Hill Farm's products are available nationwide. Use this handy tool to find the store nearest you!
—
Support Certified Humane Farms
Show your support and help raise awareness for the growing number of producers dedicated to providing a humane environment for their animals!
Share an "I Choose Certified Humane" digital badge on Facebook, Twitter, and LinkedIn. The badges are free and available for download here.
If you download a badge by Sept. 30, you will be entered into a prize drawing for the chance to win one of two goody baskets filled with Certified Humane products from Redwood Hill Farm and Green Valley Organics!