I just love putting together this annual gift guide–it's like giving all of you a virtual holiday present! My goal is to give you some ideas for things that are both thoughtful and practical, that your recipient will love and actually use.
I try to have something in here for everyone, but if you don't get really excited about anything on this page, you'll find about fifty more ideas from the past few years: 2010, 2011, and 2013.
Most of the links below are affiliate links — if you click on them and make a purchase, I'll earn a small commission. It won't cost you any extra. Thanks for your support, and happy holidays!

1. Gorgeous Wooden Utensils and Measuring Scoops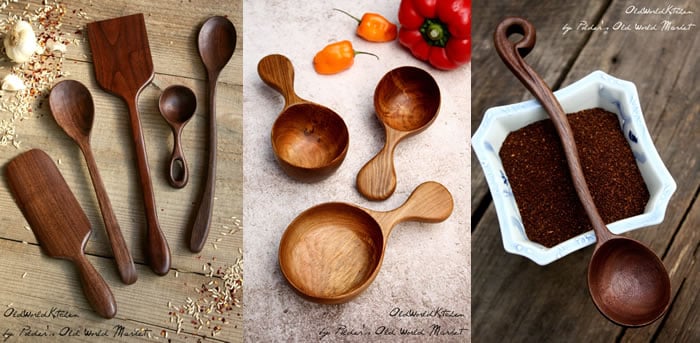 Loran Polder sent me a selection of her family's hand-made kitchen utensils, and they're jaw-droppingly beautiful. Sustainably made from fallen trees on their family farm, with elegant, comfortable curves–and surprisingly reasonable prices!–these are a total "no-brainer" gift (the only hard part is figuring out which ones to give!). I'm particularly fond of the unique measuring cups and the adorable "sunrise scoop" she included so I could ditch the cheapo plastic scoop I've been using for my green tea. They have options for every budget: from scoops, spurtles, and spoons in the $20 to $30 range, to fancier, curvy spoons around $55, all the way up to an exquisite soup ladle for $180.
The best thing I can say about these tools? They make me want to cook.
Polder's Wooden Utensils, starting at $18
2. Artisanal Nut Butters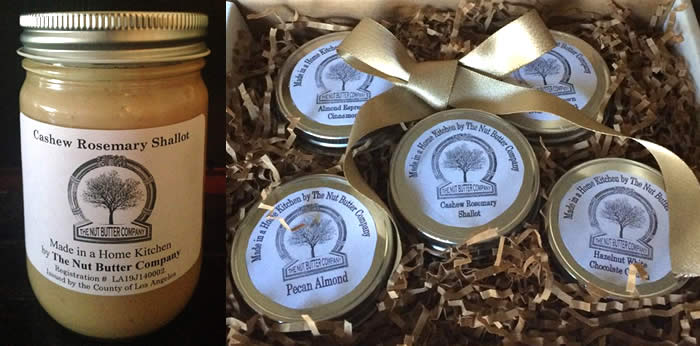 I met Jeni Pearsons just last week, while designing projections for a new show at the Geffen Playhouse (apparently there's quite a bit of crossover between theater people and healthy foodies – who knew?). She and her boyfriend make artisanal nut butters in her home kitchen ("cottage" food laws thankfully make this legal in California for certain non-perishable foods). Says Jeni: "We started making it because we wanted to eat it." And then her friends caught on, and wanted to buy it, and The Nut Butter Company was born.
I'll admit that at first, nut butters don't sound particularly fancy or special — but some of her flavor combinations are downright magical. The Almond Espresso Cinnamon is divine, but what truly blew me away was the Cashew Rosemary Shallot. Perfectly balanced, the three savory flavors just melt in your mouth. It's pretty much impossible not to eat it straight out of the jar.
Homemade Nut Butters, $16 for 12 ounces, or $40 for a sampler gift set
3. A Roll of the Dice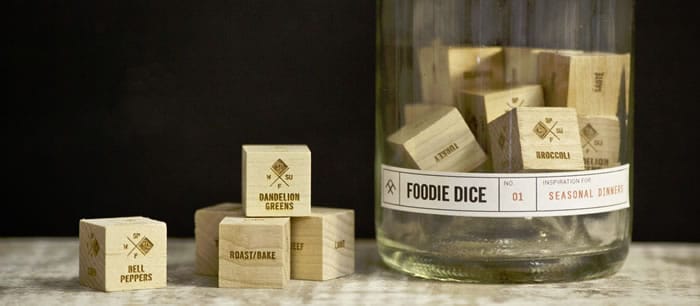 These are just a ton of fun, especially for folks who need a little inspiration coming up with new dishes. Using the reclaimed wine bottle tumbler, deciding on what to cook for dinner is as simple as rolling the dice. (They also have "Mixology Dice" for helping you craft the perfect cocktail for your holiday party.) And lest you become bored with the 186,000 possible meal combinations, you can add the "Seasonal Dinners Booster Set" for even more options.
Foodie Dice, $24 to $38
4. Emile Henry Roasting Pan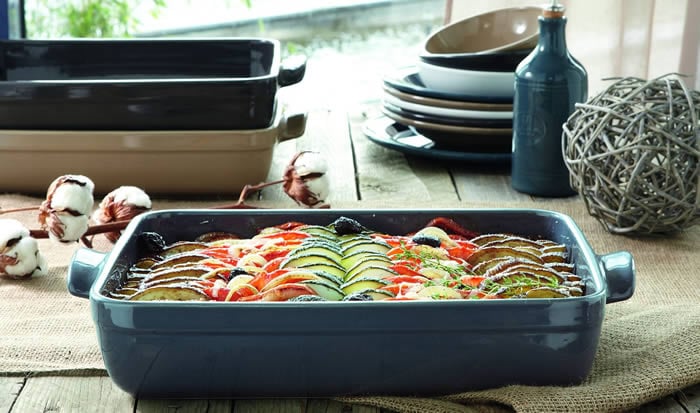 A few years ago, the Sur La Table salesperson talked me into buying one of these large casserole dishes. I was a little concerned it would be too big (it's a beast!), but it immediately became one of our favorite dishes. It's surprisingly easy to clean, cooks evenly, looks good on the table, and is perfect for everything from baked tofu to enchilada casserole.
Emile Henry Roasting Pan, $50 to $80 (depending on color choice)
5. For the Garlic Lover

Every kitchen needs a garlic press — but the cheap ones generally do a lousy job and are more effort than they're worth. The Rösle Press, while a bit pricey, earns high marks on all the user reviews (I'll be honest, I haven't gotten my hands on one yet…hint, hint)–and many reviews pointed out it does an exceptional job with unpeeled garlic (yes, you can press unpeeled garlic!), and it's easy to clean. At a more budget-friendly price, the Garlic Rocker would also make for a great tool for any cook. Simply press the peeled garlic, and scoop it out. And a bonus: Rub your fingers on the stainless steel to help remove garlic odors.
Rösle Garlic Press, $44.95 or Joseph Joseph Garlic Rocker, $14.95
6. For the Person Who Likes Fresh Herbs But Always Lets Them Go Bad Before They Use Them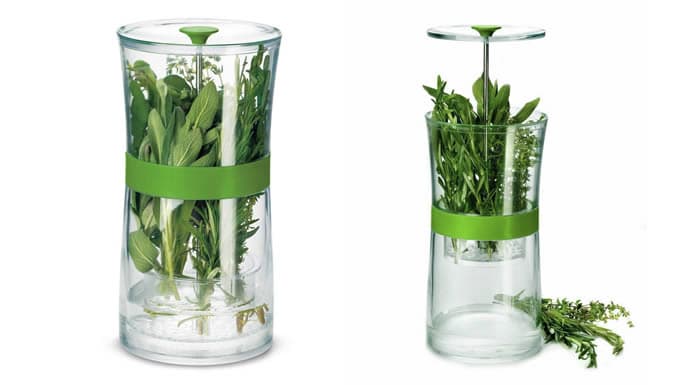 Okay, fess up: How many times have you bought a bunch of fresh herbs, used a few in a recipe, and then discovered a sagging, rotting bunch of herbs in the back of the fridge a week later? I bet your friends and loved ones do that, too. So why not help them out with this herb keeper?
Cuisipro Herb Keeper, $20.95
7. Epicurean Pizza Peel & Cutter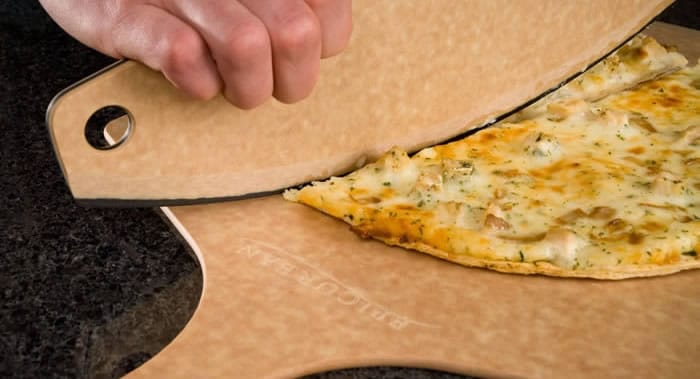 Homemade Pizza is truly wonderful, but it does need some "special" equipment to make it a bit easier. I've included some of these before — but until we found the Epicurean pizza peel, I was never really happy with the one we were using. I love that this one is so thin and durable — and you can cut directly on it, too. Pair it with an Emile Henry Pizza Stone, and you've got a tremendously thoughtful and useful gift for your loved one.
Epicurean Pizza Peel, $34.99 and Epicurean Pizza Cutter, $19.99. Emile Henry Pizza Stone, $50 to $60.
8. Fancy Salt

Maldon sea salt is one of the quintessential finishing salts. Sprinkle a little on top of your dish, right at the end, to heighten both the flavor and the presentation. Pair a box of the salt with a bamboo salt cellar to make it a more substantial gift (because let's face it, stuffing someone's stocking with just salt might be a little confusing).
Maldon Sea Salt, $5.95 and Totally Bamboo Round Salt Box, $8.99.
9. Offerman's Monogrammed Cutting Board

Fans of NBC's Parks and Recreation will go nuts for this cutting board. Nick Offerman, who plays Libertarian-slash-curmudgeon Ron Swanson, has his own woodshop in Los Angeles. Add your recipient's branded initials on the board, and you've got a truly unique, functional gift.
Offerman's Wood Shop Cutting Board, $110 (plus $25 for optional branded initials).
10. Aged Balsamic Vinegar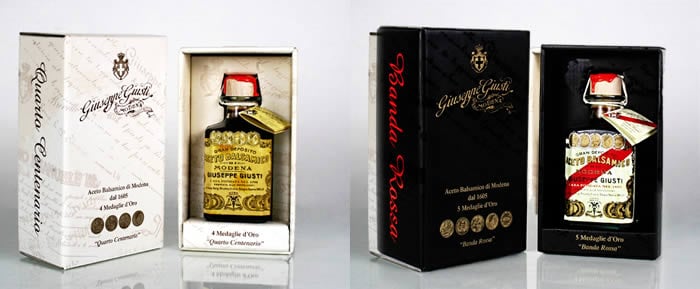 This isn't the watery stuff you buy at the corner grocery store to make salad dressing. It's the sticky, sweet, slightly tart, syrup that's been aged in wooden barrels. Drizzle a little to add a delightful bite to many dishes. (Try it on sliced strawberries!) Not surprisingly, aged balsamic draws many parallels to fine wines–some are aged thirty years or more.
Giuseppe Guisti Aged Balsamic Vinegars, $20.75 to $150
11. Flex Your Cup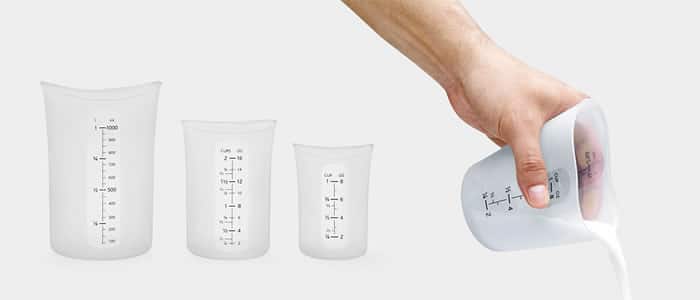 Silicone kitchen gadgets may have peaked a couple of years ago, but they certainly still have some great usefulness. These simple measuring cups are fun, and make pouring much easier. Since they're light and unbreakable, they're perfect for cooking with kids (or klutzes like me).
Flexible Measuring Cups, $21.40 on Amazon, or $26.00 at the MoMA Store
12. For the Serious Tea Drinker: Glass Tea Pot

Remember chemistry class, with all the glass beakers on top of bunsen burners? This borosilicate glass teapot is kind of like that — you can use it directly on a gas or electric range, and it includes a glass filter for steeping the perfect cup of tea.
Glass Tea Pot with Glass Filter, $25.95 at Mighty Nest
13. For the Funny Tea Drinker: Fred the Tea Infuser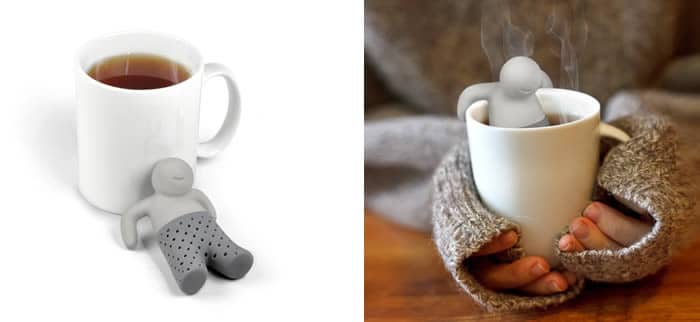 Put some loose-leaf tea in this guy's silicone pants, and let him bask in your mini-hot-tub-mug. This company also makes the "Deep Tea Diver," "Manatea," and "Teatanic" infusers. I probably should have said "for the punny tea drinker."
Fred "Mister Tea" Infuser, $6.05
14. The Porthole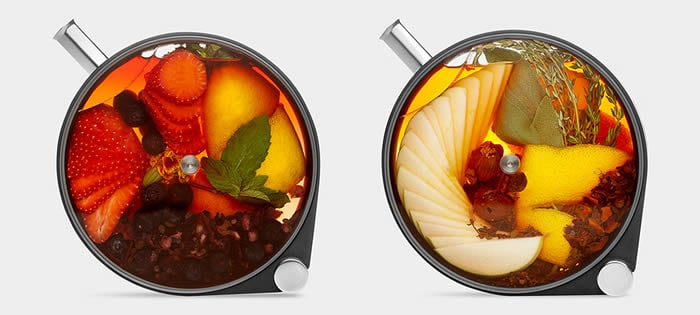 This is totally the kind of thing you'd see at a fancy, molecular gastronomy restaurant (and actually, it came from a Kickstarter project that was supported by some bigshot chefs, including Grant Achatz). But for the creative chef who has "everything," these are a nifty-yet-elegant way to show off inventive liquid creations, for cocktails, oils, teas, or any other infusion.
The Porthole Infuser, $100 at the MoMA Store
15. Bamboo Bread Knife

From the product description: "Sharpen with fine-grit sandpaper." Need I say more?
Bamboo Bread Knife, $12.00 at the MoMA Store
16. Cookbooks

You can't go wrong with a beautiful cookbook! Some particularly drool-worthy titles: Plenty More by Yotam Ottelenghi, The Art of Simple Food by Alice Waters, The New Vegetarian Cooking for Everyone by Deborah Madison, The Grain-Free Family Table by Carrie Vitt, Preserving by the Pint by Marisa McClellan, The Blender Girl by Tess Masters, and The Fresh 20 by Melissa Lanz.
View all of my cookbook recommendations here, typically $15 to $30
17. Cooking Classes

Gifts don't always have to be things – and every cook, at any level, could benefit from a cooking class every now and then. Sur La Table stores offer many classes, and what better gift than getting your loved one a ticket to a special class. Bonus: Cooking classes make great "Date nights."  Matty and I took a knife skills class a couple of years ago, and it was a ton of fun. (Just be sure to go out for drinks after your knife class, okay?)
Cooking Classes, around $69 per person
18. The Environmental Working Group's 2014 Holiday Gift Bag

The Environmental Working Group may be best known for their Dirty Dozen & Clean Fifteen list of Organics, but did you know they also provide a safer sunscreen guide, and a safer cosmetics guide, a guide for safer cleaning products, and a water filter buyer's guide? They also just launched the excellent Food Scores program, rating over 80,000 foods on nutrition, ingredient, and processing concerns. Their annual gift bag is a terrific way to support the important work they're doing. Filled with reusable goodies (porcelain travel mug, jute beach tote), a cookbook, a natural candle, tea and chocolate, and lots of coupons – this is sure to make a wonderful gift–even if it's just for yourself! (Bonus: $135 of the $140 donation is tax-deductible!)
EWG's Holiday Gift Bag, $140
Bonus Idea: Yerdle
For those of you who aren't into the "consumerism" of things – or if you don't have the budget to buy the gifts you want for people – I highly recommend you check out Yerdle. It's a community where people give and get things for free. Their mission is to reduce the number of new things that we buy by 25%. By giving away stuff you don't want any more, you can earn credits to use to get stuff from other members that you actually do want. It's a vibrant, growing community of "Yerdlers," and a great way to repurpose stuff you have lying around and help reduce our impact on the planet. (My cousin Adam is one of the founders – I'm so proud of him and the work they're doing!)
Yerdle iPhone App, Free
—
Didn't find the perfect gift on this page? Get about fifty more ideas from my previous guides: 2010, 2011, and 2013.