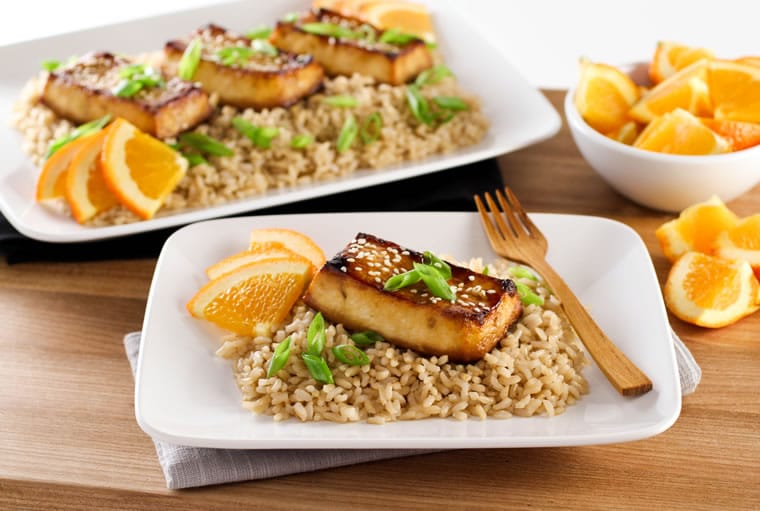 Today is my 38th birthday (and Eating Rules' fourth anniversary!). There won't be much fanfare for this one, because, well, let's be honest: graduating from your "late-mid-30s" to "late-30s" isn't all that groundbreaking. I'm cool with that, though – I'll save the hoopla for my 40th. Or better yet, for my 39th.
Tonight we'll be dining with my parents at one of my favorite restaurants, Hostaria del Piccolo. The food is creative yet comfortable (I'm partial to their gluten-free spaghetti with lentils and cherry tomatoes). The service, wonderful (Christian, the manager, always welcomes us with open arms – and often sends over some lemoncello). The cocktails, far too good. And to top it all off, the prices are quite reasonable, too. So no hullabaloo this year, just a celebratory meal with my husband and my parents. It'll be perfect.
(Update March 2016: Sadly, Hostaria has closed down — the reasons for which befuddle me, since it always seemed popular and busy. It's been replaced by Obicà, and I hear they've at least kept some of the menu intact.)
To honor my "blogiversary" today, I think it's time to update one of my favorite recipes. Ever since our friend Michelle showed us her tricks to baking tofu, it's been a regular weeknight dinner in our home, and it deserves far better photos than I had originally given it.
Michelle was vegan for about ten years, and during that time she certainly cooked her fair share of tofu. She says the secret to this recipe is simple: "Bake the hell out of it!"
She adapted the recipe from a stir-fry sauce found in Mollie Katzen's The Enchanted Broccoli Forest
, and our version has shifted a little bit over time as well. If you do make substitutions, just be sure to keep enough sugar in the sauce (whether from the orange juice or other sweetener), to be sure it will caramelize nicely.
Although it takes a while — pressing and baking the tofu can take over an hour — almost all of that time is inactive, so you can do something else outside of the kitchen. Truly, the hardest part of this recipe is remembering to get started early. Then in the last fifteen minutes or so, simply  sauté some greens to serve on the side. Throw in some brown rice or quinoa, and you've got a well-balanced, tremendously satisfying dinner.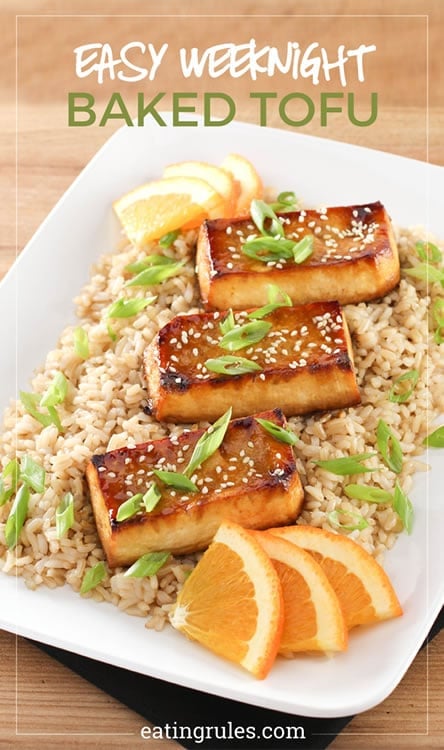 Easy Weeknight Baked Tofu
Pressing the tofu before marinating is crucial. Michelle uses this technique: Place a clean kitchen towel on the counter, and then layer several paper towels on one half of the towel. Place the slices on the paper towels, cover them with a few more paper towels, then fold the other half of the towel on top. Place a cutting board or other flat surface on top, and then add some weight on top (several large cans of food work well). Alternately, you could use a
TofuXpress
-- it's one of the few "unitaskers" in our kitchen that's actually been a great purchase.
Ingredients
1

pound

firm tofu

3/4

cup

orange juice

2

tablespoons

olive oil

1

tablespoon

sesame oil

2

tablespoons

low-sodium soy sauce or tamari

1

tablespoon

maple syrup or honey

or 2 tablespoons mirin wine*

1

tablespoon

rice vinegar

1/4

teaspoon

red chili flakes or several shakes Original Tabasco Brand Hot Sauce

optional
Instructions
Drain the tofu and cut into even slices, about 1" thick. Press the tofu to get out as much moisture as possible. It's really important to get as much water out of the tofu as you can. Let sit for at least 10 minutes, longer if possible.

While the tofu is pressing, combine the other ingredients in a bowl. Line a large baking dish with aluminum foil (for easier cleanup). Place the tofu slices in a single layer in the dish, and then pour marinade evenly over the tofu.

Bake uncovered at 450°F for about 45 minutes, or until the marinade is nearly evaporated. (If you need to bake something else at a lower temperature at the same time, baking the tofu at 350°F will work fine, too.)
Recipe Notes
A note on mirin: Be sure to read the labels! Some may say "mirin" on the label, but are just junk made with corn syrup and grain alcohol (Kikkoman, I'm looking at you...). I like the Eden brand.
Photos by Kelly Jaggers for Eating Rules.