Fifteen Gift Ideas for Healthy Foodies
Nov 23, 2013, Updated Dec 10, 2016
I know, I know: Holiday gift guides are lurking in just about everywhere corner of the internet these days. I'm adding my own list because, well, I just can't resist! I really enjoy seeking out new/interesting/useful/pretty kitchen and cooking items, so I hope you'll find something worthy in this list for your loved ones (or for yourself!).
And, if you don't find something on this page, take a look at my lists from 2010 and 2011 for more fun ideas.
Most of the links below are affiliate links — if you click on them and make a purchase, I'll earn a small commission. It won't cost you any extra. Thanks for your support, and happy holidays!
1. The Prettiest Mortar & Pestle Ever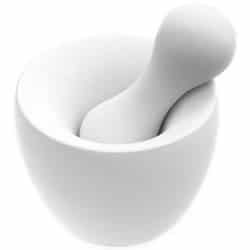 Let's be honest, a mortar & pestle probably doesn't get used all that often. But with this one, it doesn't matter, because it's also a work of art! Though of course I do hope your recipient uses it, since it's ergonomically designed to grind herbs & spices more efficiently than the typical stone bowl and stick.
Full-Contact Porcelain Mortar & Pestle Spice Grinder, $55
2. Veggie Spiralizer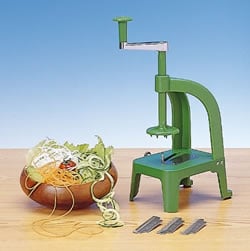 With a few flicks of your wrist, you can have super-fancy, spiral-cut veggies! My friend Jocelyn loves hers: "Besides slicing, it can make any vegetable of a reasonably hardy nature into noodles. This is fabulous for anyone who: a) wants to cut down (or out) on pasta; b) wants to get more veggies into their diet or c) likes to play with their food. I'm a fan of all of the above." Perfect for making Pesto Zucchini Noodles!
Benriner Slicer & Spiralizer, $50.93
3. Be Sure They're Well Dressed
Restaurant salads usually comes drenched in goopy, calorie-rich dressing. Why not bring your own dressing instead?  These little squeeze bottles make it easy and fun!  Just follow the salad dressing formula, and toss one of these bottles in your bag before your next lunch meeting. (Bonus: Order the two-pack and keep one for yourself!)
Dressing-2-Go Squeeze Bottles, $8.36 for two
4. Hand-Blown Oil & Vinegar Cruets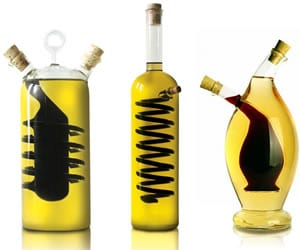 Healthy eating's never been more beautiful! These hand-blown oil & vinegar cruets from NY cruet caught my eye a couple of months ago – what a presentation!
Glass Cruets from NY Cruet, $49 to 59
5. Bamboo Butcher Block

I'm 6'2″ tall – and my back would start hurting after chopping lots of veggies. That is, until this hefty bamboo butcher block solved my problems! I prefer bamboo cutting boards because they're sustainable, easy on your knives, and naturally resistant to bacteria… and so very pretty!
(Get bonus points for including a bottle of food-grade mineral oil to keep the board in tip-top shape!)
Totally Bamboo Butcher Block, $79.95
6. Truly Non-Stick Pans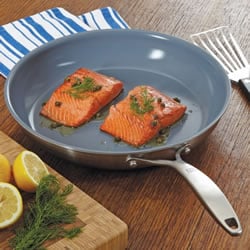 Earlier this year, while attending the Edible Institute conference, I met Jeffrey Elliot, the director of Culinary Relations for with Zwilling J.A. Henckels. Over breakfast he told me about their Thermolon non-stick fry pans — more environmentally friendly and more durable than traditional non-stick, they can withstand metal utensils, they can go directly in the oven, and they're even safe if you have a pet bird (traditional nonstick produces toxic gasses at high heat, with especially tragic consequences for birds). He sent us their 10″ try pan and it's become the go-to fry pan in our kitchen. It heats evenly, nothing sticks to it, and it's remarkably easy to clean. I also like the gray surface instead of the typical black – it's easier to see what you're cooking. (After six months of near-daily use, the nonstick surface still looks and acts like it's brand new.)
Zwilling J.A. Henckels Thermolon Fry Pans, $49.95 to $97.45 
7. Sharpen Their Skills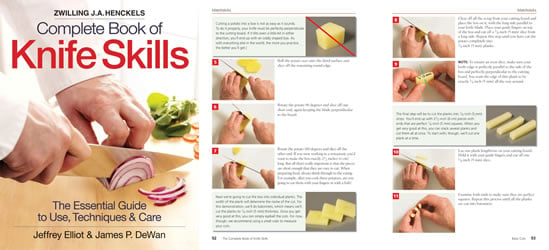 Speaking of Jeffrey's many talents, he's also the co-author of the Zwilling J.A. Henckels Complete Book of Knife Skills. With hundreds of full-color photos, they break down all the various techniques you'd ever want or need – and throw in tons of other great info as well. Smartly, it's spiral-bound so it lays conveniently flat while you're working.
The Zwilling J.A. Henckels Complete Book of Knife Skills, $29.67
8. Put the Pressure On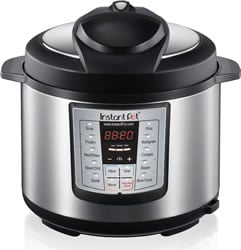 We received one of these as a gift earlier this year, and it's been a really useful addition to our kitchen. It replaces a slow cooker, rice cooker, and stovetop pressure cooker all in one compact device. While it's working, you don't have to keep an eye on it — which makes it safer and easier than a stovetop pressure cooker. Just put all the ingredients in, close the lid, and switch it on. It'll heat up, and the pressure chamber will lock automatically. Once it's at the right pressure, the timer starts counting down. When done, it slowly releases the pressure and then happily keeps your food warm until it's time to eat.
Instant Pot Electric Pressure Cooker, $119.99
9. Heirloom Beans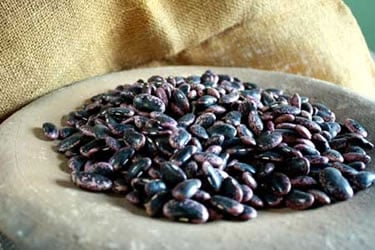 What do you get the foodie who has everything?  How about some heirloom beans!  Rancho Gordo, in Napa, California, offers up beans with fabulous names such as Florida Butter, Scarlet Runner, Black Calypso, and Sangre de Toro ("Bull's Blood" – yep, they're a deep, deep red). With so many choices, the hardest part is picking which beans to buy – so you can always just order one of their wooden gift boxes.
Heirloom Beans from Rancho Gordo, $5.95/pound
10. A Beautiful Cookbook (or two)
You can't go wrong with a beautiful cookbook! Some particularly drool-worthy titles I've come across recently: Jerusalem by Yotam Ottelenghi, The Art of Simple Food by Alice Waters* (and just released a couple of weeks ago: The Art of Simple Food II), Vegetable Literacy by Deborah Madison, Melt: The Art of Macaroni and Cheese by (my friends!) Stephanie Stiavetti and Garrett McCord, The Craft Beer Cookbook by (my friend!) Jackie Dodd, and Ancient Grains for Modern Meals by (my friend!) Maria Speck.
* Waters' Caesar Salad recipe is reason enough to buy this book.
11. Metal Tea Infuser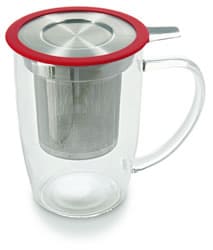 I received a version of this infuser about six or seven years ago. Sadly, I dropped the ceramic mug it came with, but I still use the infuser every morning to brew my Davidson's Organic Gunpowder Green Tea (at $12.95/pound it's a great deal – and tasty too!).
FORLIFE Glass Tea 16-Ounce Mug with Infuser and Lid, $22 to $25
12. Gather Around the Water Cooker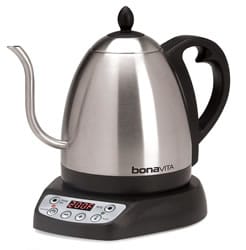 This electric tea kettle is perfect for families who brew at different temperatures.  At our house, we set it to 140° for making Molly's meals (we feed her The Honest Kitchen, which needs to be rehydrated), to 185° for my green tea, and 205° for Matty's coffee. It heats faster than our previous kettle, and the gooseneck spout makes it easy to pour accurately (especially nice when brewing coffee in a Chemex). I also like that it's all metal*, so you're not boiling water in a plastic pot.
Bonavita 1-Liter Variable Temperature Digital Electric Gooseneck Kettle, $94.99
* There's a tiny silicone ring at the base of the thermometer, and there's a small plastic piece at the top which sits above the water line. The rest is stainless steel. So it's not 100% plastic-free, but it's pretty good.
13. Donate to a Good Cause

Donating to a worthy non-profit — in your gift recipients' honor — is a lovely way to show you care.  It's especially good for those folks in your life who really do have everything already, or who eschew material gifts. Mark Bittman has compiled a terrific list of non-profits to consider: Food Gifts That Matter.
14. Environmental Working Group's Gift Bag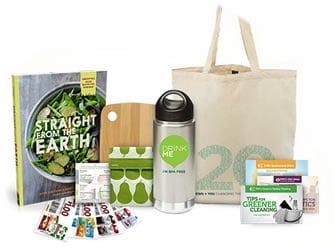 The Environmental Working Group may be best known for their Dirty Dozen & Clean Fifteen list of Organics, but did you know they also provide a safer sunscreen guide, and a safer cosmetics guide, a guide for safer cleaning products, and a water filter buyer's guide? Their annual gift bag is a terrific way to support the important work they're doing. Filled with reusable goodies (water bottle, sandwich bag, grocery bag), a cookbook, a bamboo cutting board, and lots of coupons – this is sure to make a wonderful gift (even if it's just for yourself!).
Environmental Working Group Donation & Gift Bag, $135
15. Sexy Sous Vide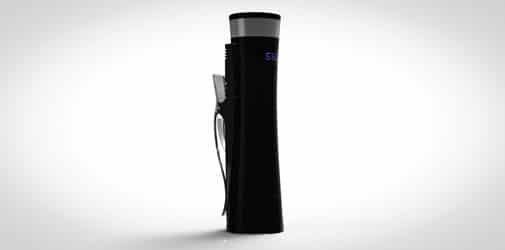 I found out about nifty device because Matty announced that he ordered one for me for Hanukkah! This new sous vide machine was crowdsourced by a hugely successful Kickstarter campaign (fully funded on day one!). Since it's brand new, they're not actually shipping any more until late January next year.  But that's okay, it sure looks like it will be worth the wait! If you've ever wanted to try cooking sous vide, this is a far more compact (and far sexier, to be honest) machine than the other home-versions available today. I can't wait to give it a whirl(pool)!
Sansaire Immersion Circulator, $199
Looking for more gift ideas?
Check out my 2010 Holiday Gift Guide and 2011 Holiday Gift Guide.