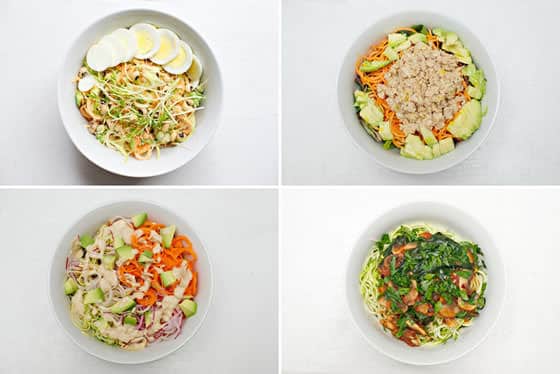 When I talk to people about transitioning to an unprocessed diet, the most common reactions I get are that it would be too hard, too expensive, and too boring. The truth, however, is that you don't have to set up residence in a Whole Foods Market and eat kale 24/7 to make it happen. With a little creativity (along with help from Pinterest and other amazing blogs out there just like this one), you can find ways to cook outside the box – both literally and figuratively.
When you open your mind to new ways of using food, you also open the possibility to making simple, quick meals. So many things can be done with the vegetables you already have (or should already have) in your fridge. Personally, I am always stocked with certain staples: zucchini, sweet potatoes, cauliflower, onion, mushrooms, carrots, avocado, lemon, leafy greens, garlic, tahini, tomato sauce, vegetable broth and quinoa – from these, I find I can always whip up something fast if I haven't prepared a recipe or picked up specific ingredients in advance.
So now for some ideas on how to think about your veggies in new ways…
Leafy Wraps
The simplest example of thinking outside the (bread) box, is using leafy greens (or reds) in place of wraps. This is not really a novel idea for anyone who has ever been to a P.F. Chang's and ordered the lettuce wraps appetizer. I can't tell you the last time I've personally been into one, but the use of lettuce as a vehicle for other tasty food items has become a favorite of mine. And not just lettuce, but I've used red cabbage to make mini tuna cups/wraps and collard greens as a wrap for Indian-spiced chana dal. Some greens/reds have stronger flavors and crunchier textures, so just think about how you are going to use them and what you will be pairing them with when choosing. Most often, though, you can't go wrong.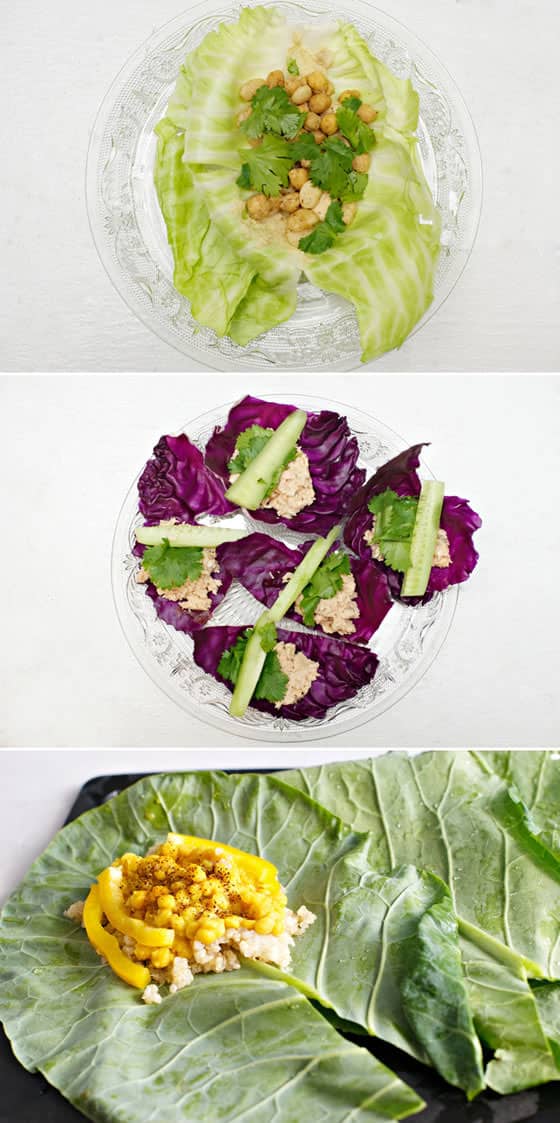 Oodles of (Veggie) Noodles
After my Vitamix and Santoku knife, my vegetable spiralizer is the 3rd most used item in my kitchen. I started with a mid-range model (not super cheap, but not one of the fancy bells and whistle models), partially because I'm limited in space in my NYC apartment-sized kitchen and partially because I wasn't sure how much use it would get. Well, I've definitely gotten my $48 worth.  Here's the model I bought: Benriner Cook Helper Slicer (see a picture of it in action below).
So what can this magical tool do? Besides slicing, it can make any vegetable of a reasonably hardy nature into noodles.  This is fabulous for anyone who: a) wants to cut down (or out) on pasta; b) wants to get more veggies into their diet or c) likes to play with their food. I'm a fan of all of the above.
My favorite recipe so far is Pesto Zucchini Noodles.
But as you can see, I've also had a lot of fun making salads with a mix of spiralized zucchini, carrots, radishes and sweet potatoes (yes, you can eat them raw and they are delicious).  Here is where keeping some tomato sauce around is handy – you can just sauté up some mushrooms or other vegetables, toss in some sauce and then pour over zucchini noodles and top with fresh herbs for a super quick and health meal. Just make sure that if you buy jarred sauce that it meets the qualifications of being unprocessed and also does not contain too much sugar or sodium.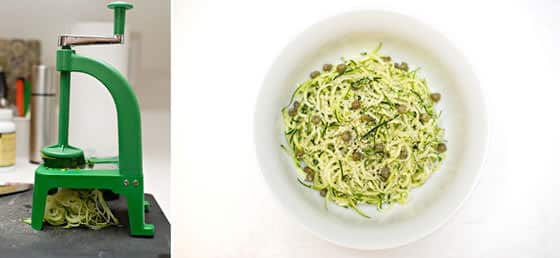 Cauliflower is the New "Rice"
If you haven't heard already, cauliflower is all the rage these days. Not for its traditional place on the crudités platter, but as a substitute for everything from rice to pizza crusts. I'm not sure who the original genius is that realized cauliflower miraculously transforms into a grain when finely chopped in a food processor, but they should be given the Nobel Peace Prize. Okay, maybe that's a bit much, but these revamped versions of cauliflower might actually change your world.
So, how can you use cauliflower "out of the box?" One way I've used it is as a rice replacement in sushi. It's obviously not as sticky as actual rice, so it takes a little coddling (I'll be posting details on my blog), but makes for an awesome low-carb, low-calorie and (most importantly) unprocessed and nutritious replacement for white rice. Below is one version using a filling of cucumber, carrot, mushroom, avocado and clover sprouts.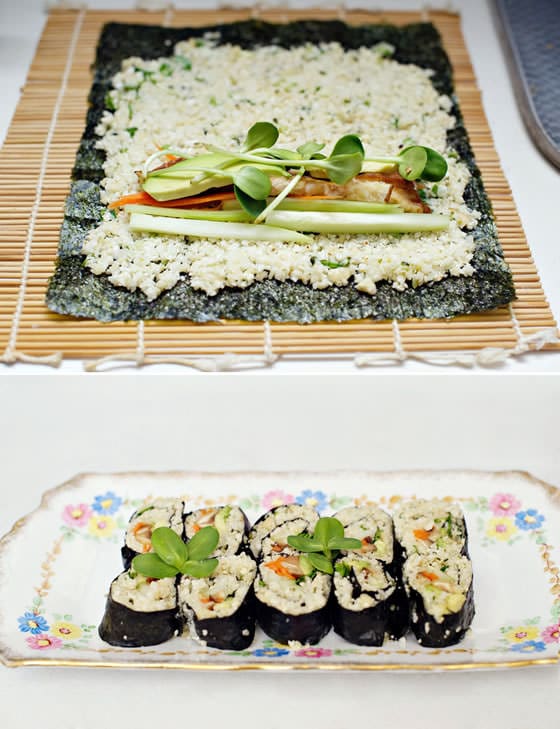 Another great way to use this cruciferous vegetable? As the main ingredient in a pizza crust. There are tons of recipes floating around, but the best place to first look is either my Pinterest board, aptly named "Cauli, maybe," or do a search for "cauliflower pizza crust" on the web. Below you can see my first foray into cauliflower pizza crust adventures.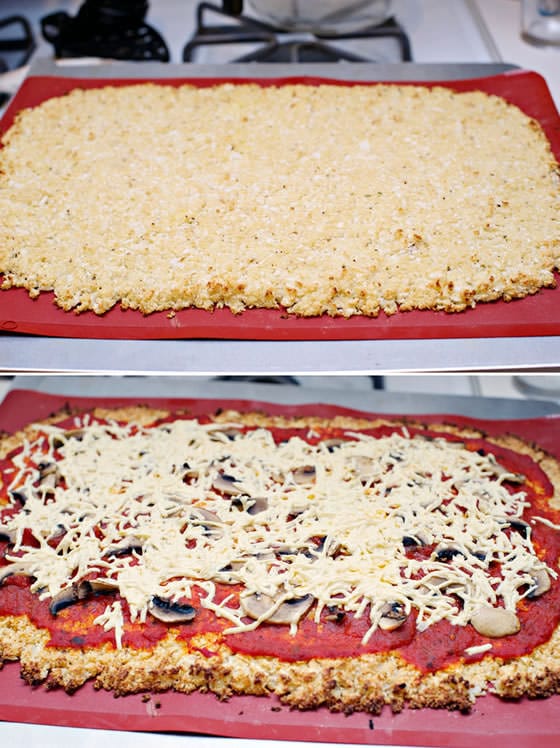 Finally, I leave you with my take on cauliflower fried "rice."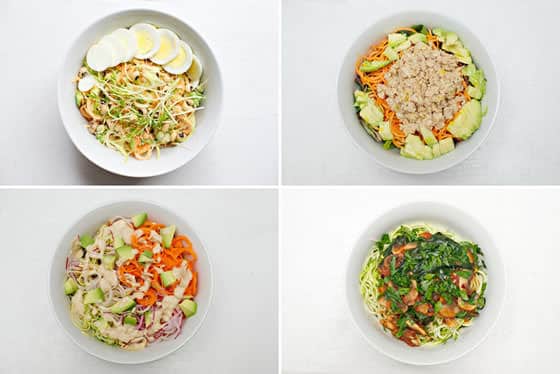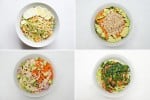 Caramelized Onion and Mushroom Cauliflower Fried "Rice"
This healthy vegan fried cauliflower rice is a beautiful replacement for the fast food alternative.
Ingredients
1

tablespoon

coconut oil

plus 3 teaspoons, divided

½

yellow onion

halved and sliced

1

garlic clove

minced

¾

cup

mushrooms

about 5 whole cremini or white mushrooms, thinly sliced

½

head cauliflower

stems removed

2 ½

tablespoons

coconut aminos

soy sauce or tamari may be substituted

1

teaspoon

rice vinegar

½

teaspoon

fresh ginger

grated

Optional garnish

not pictured: chopped scallion, cilantro, hot sauce
Instructions
To "rice" your cauliflower, place cauliflower florets in a food processor and pulse gently until it becomes the texture of rice. Optionally, if you don't have a food processor, you can toss the florets into a blender and pulse on the chop setting. If you are more of a traditionalist in the kitchen, you can always just use a trusty old box grater (just watch your fingers). One thing to be careful of is not to over-process or grate your cauliflower too finely – otherwise it will release a lot of water and end up mushy when you cook it.

Heat 2 tsp. coconut oil (generally solid at room temperature, except in warmer climates) on low-med temperature in a large saucepan until melted. Add the onion and sauté until caramelized. This can take a bit of time, but it's worth it for the flavor. Occasionally stir the onions, but also let them brown. You can add a couple of tablespoons of water throughout to help with the caramelizing process. When the onions are browned, add the garlic and sauté another minute or so, then add the mushrooms and sauté for about another 3 minutes until they are tender.

Add the cauliflower rice to the pan along with the last teaspoon of coconut oil and stir. Cover and cook for five minutes over medium-low heat until the cauliflower is tender (not too soft), stirring occasionally. Add the coconut aminos (or soy sauce/tamari), rice vinegar and ginger and cook for an additional minute.

Serve with optional garnishes.
Recipe Notes
Soy sauce and tamari are a bit saltier than coconut aminos, so if you substitute these, use a lighter hand and taste for desired amount.
About the Author
Jocelyn Weiss, PhD MPH CHC CPT, is an epidemiologist and health coach based in New York City. With passions deeply rooted in public health, nutrition, and photography she created the blog An Unprocessed Life. Dr. Weiss believes that whole, unprocessed foods have nutrients that help to repair our bodies, provide us with energy, and support our immune systems. Her hope is that by showing others the benefits of eating unprocessed, along with being active and living well, people will feel empowered to take ownership of their health to prevent and reverse disease. You can see more ideas, recipes, and pretty pictures by following her on Instagram, Facebook, Twitter, and Pinterest.