Shrimp Salad with Cucumber and Dill (Lactose-Free)
Jun 07, 2017, Updated Aug 03, 2017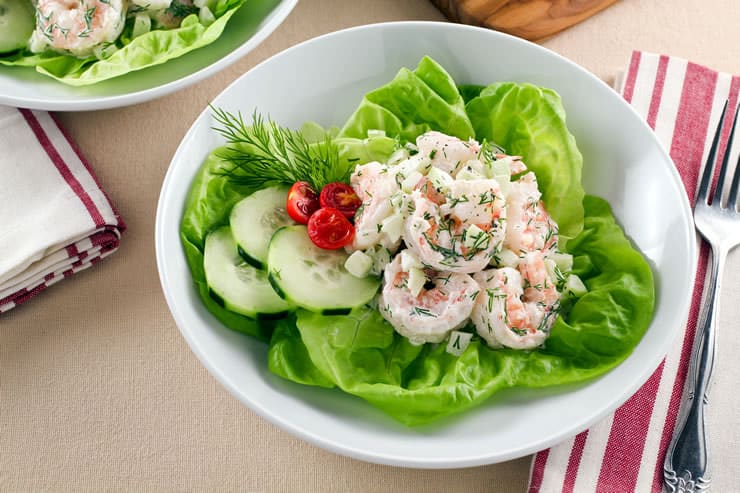 There's a trendy lunch café near our house that serves upscale sandwiches, prepared salads, and side dishes. My favorite dish there is the shrimp salad, which has generously plump shrimp in a creamy sauce.
I'd been thinking that I really ought to try making something like that myself, so when Green Valley Organics hired me to develop a recipe using their new lactose-free cream cheese (and to share it with you), it was just the nudge I needed.
Green Valley Organics is a small, family-owned and -run dairy in northern California. They treat their pastured cows well — they're Certified Humane — and everything they make is Organic. They specialize in minimally processed, lactose-free cow's milk products, including kefir, yogurt, sour cream, and now cream cheese. (I have not yet visited their cows, but I have spent some quality time with the goats at their sister company, Redwood Hill Farm.)
Unlike the "bricks" of cream cheese that come in a foil wrapper, theirs is similar to the whipped versions. Since they don't use gums or stabilizers, it expels a little bit of whey once it's been opened (no big deal, just pour it off). I like that — it means it's actually real food; it still has live cultures that are, well, active.
Their products are great for people with lactose intolerance who want to enjoy cow's milk products, of course, but they're also great for the rest of us. The cream cheese is mildly tangy and just a little sweet, and I seriously have to resist the urge to eat it by the spoonful right out of the tub. In short, it's good stuff.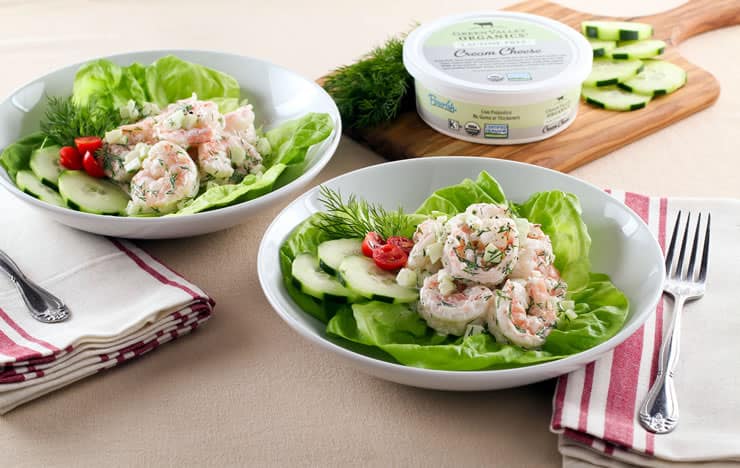 I'd also like to take a moment to talk about shrimp, the most popular seafood in America. If you make this recipe (or eat shrimp anywhere else!), I hope you'll consider where your shrimp are coming from, how they were raised or caught, and the impact that has on the shrimp, the environment, and the people who work to bring the shrimp to your table.
Unfortunately, it's difficult to know exactly what you're buying — but at least when you buy a bag of frozen shrimp at the grocery store, it will tell you the country of origin (usually in small print on the back). The Monterey Bay Aquarium's Seafood Watch program has some guidance on shrimp selection, though I sometimes find their recommendations hard to figure out (how do you know if it's "Farmed" or "Farmed in fully recirculating systems?" They don't put that on the package!). The Safina Center has a helpful online seafood guide on shrimp that's worth a look, too.
If I can find it, I go with shrimp from the United States (wild or farmed both seem to pass muster), or wild shrimp from Canada. I'll also look for third-party certifications, such as from the Marine Stewardship Council. Beyond that, I'll just try to avoid any farmed shrimp from outside the United States, especially from Thailand and Vietnam. (According to this United States Department of Labor Report, children in Thailand are frequently put to work in the grueling shrimp and seafood processing sector. See also: this article.)
But don't let all this shrimp-sourcing talk get you down–thankfully there are good options out there, and the more we choose those, the better the options will continue to get. So go track down some good shrimp, pick up a container of Green Valley Organics Lactose-Free cream cheese (available at Whole Foods nationwide, or use this storefinder), and make this easy, delightful salad to bring along to your next party…or just keep it all to yourself!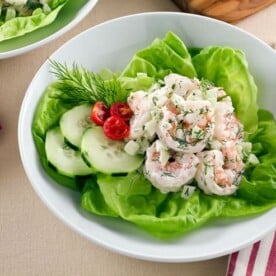 Shrimp Salad with Cucumber and Dill
Since the Green Valley Organics Lactose-Free Cream Cheese does not have any gums or stabilizers, you'll need to treat it gently--and keep it as cold as possible.
Ingredients
1

pound

wild-caught shrimp

,

uncooked, thawed, peeled and deveined

4

ounces

Green Valley Organics Lactose-Free cream cheese

,

(1/2 container)

1/4

cup

fresh dill

,

finely chopped

1

small clove garlic

,

pressed

1/8

teaspoon

coarse salt

1

pinch

black pepper

1

medium cucumber

,

peeled and finely diced, still cold from the refrigerator
Instructions
Bring a large pot of water to boil. While the water is heating, prepare a large bowl with ice water. Add shrimp to the boiling water and keep on the heat until just barely cooked through, about 3 minutes (it's okay if the water doesn't return to a boil). With a slotted spoon, move the shrimp into the cold water bath to stop the cooking, and allow them to cool for a few minutes.

Once the shrimp are cold throughout, drain and place on a clean dishcloth or paper towel, patting dry.

Dry the cold bowl that the shrimp were just in, and then add the cream cheese, dill, garlic, salt, and pepper and stir briefly. Gently fold in the cucumber and shrimp until evenly coated. Do not over-mix.

Place in the refrigerator for at least 30 minutes, but preferably overnight, to bring out the flavors. Serve cold, and enjoy!
Nutrition
Calories:
121
kcal
,
Carbohydrates:
2
g
,
Protein:
17
g
,
Fat:
4
g
,
Saturated Fat:
1
g
,
Cholesterol:
200
mg
,
Sodium:
726
mg
,
Potassium:
189
mg
,
Sugar:
1
g
,
Vitamin A:
290
IU
,
Vitamin C:
6.5
mg
,
Calcium:
149
mg
,
Iron:
1.9
mg
Like this recipe? Rate and comment below!
Here are a few other recipes with Green Valley Organics' Lactose-Free products that you might like:
Photos by Kelly Jaggers for Eating Rules.