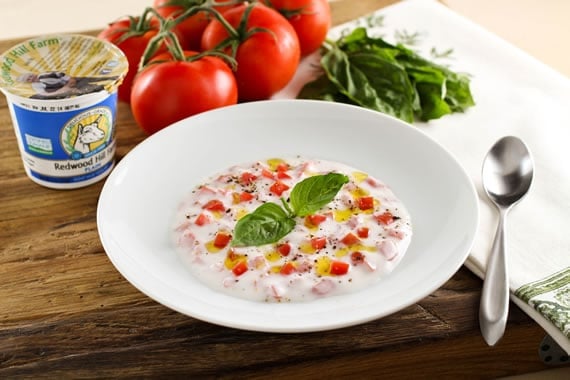 Longtime readers of Eating Rules will know that I'm a big fan of Redwood Hill Farm and Green Valley Organics Lactose Free. First and foremost, their products are outrageously good. They're consistently delicious, and made with the best ingredients, in true artisanal fashion. They skip all the junk like artificial colors, fake flavors, and preservatives, of course; they're just unprocessed, real food from truly wholesome ingredients.
It's two brands from one company: The Redwood Hill Farm lineup is goat's milk products (yogurt, kefirs, and cheeses).  Green Valley Organics is lactose-free yogurts, kefirs, and sour cream, all made with cow's milk.
Basically, they're everything you'd hope for and expect from a small, family owned and operated farm and creamery. They are Certified Humane Raised & Handled–treating their animals with the utmost care and respect–and have worked with their partner suppliers to become Certified Humane as well. They pay fair wages and provide full medical benefits to their employees. And did I mention that they're 100% solar-powered?
Last summer I had a blast touring both the farm and the creamery (be sure to click through for pics of feta being made, and yours truly frolicking with goats!). So I can personally vouch for them and verify that they're totally legit. It's refreshing to feel so good about a company and their environmental, social, and ethical behavior.
They recently invited me to join a few of my fellow bloggers in creating our own yogurt flavors. Instead of the typical fruit-on-the-bottom (yawn), we were encouraged to think "outside the cup" and come up with fun new twists on yogurt mix-ins. (Yes, they hired me to develop this recipe and share it with you, but I really would say all these nice things about them even if they weren't paying me. Truly. I heart them so!)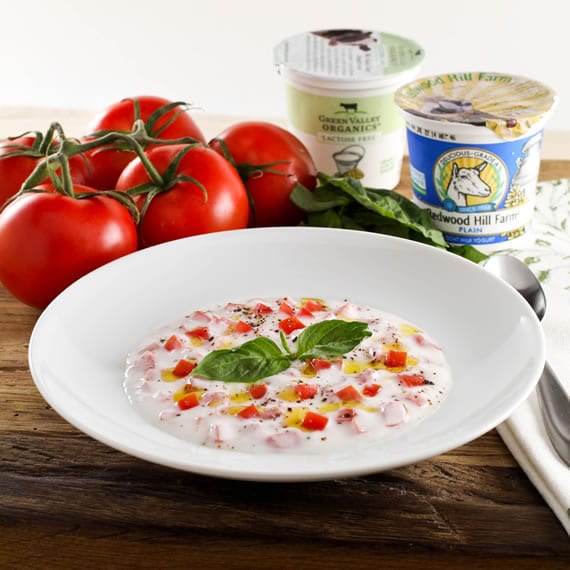 I immediately knew I wanted to go savory with this project. We had a bowl of very ripe tomatoes from our garden sitting on the counter, just begging to be diced up, so that was a no-brainer. I've been growing increasingly interested in black pepper lately, more for the flavor than for the heat. And drizzling on some extra virgin olive oil sealed the deal. (Take note: Mixing in the olive oil just made it disappear – the texture and taste were far better if you get a few distinct drops of olive oil in each spoonful.)
I prefer this recipe with the Redwood Hill Farm yogurt — the distinctive, earthy flavor of the goat's milk is amplified by the "grassiness" (grassyness?) of the olive oil. But if you're not into the "goatiness" (goatyness?), like my taste-testing friend Caitlin, it's great with the Green Valley Organics plain yogurt, too.
I cannot stress enough how important it is to use fabulous tomatoes here (okay, it's always important to use fabulous tomatoes!). Vine-ripened, smaller, and especially sweeter ones will be best. Remember, tomatoes are a fruit! And of course, avoid the bland, beefsteaks – they'll add no flavor and will certainly disappoint. (Also, read this book.)
After a little brainstorming (and Googling the correct spelling!), I decided that "Yogurt Margherita" would be a good name, referencing the classic pizza. Of course, that's not to be confused with Yogurt Margarita, which would require tequila, limes, and salt. We'll save that one for next time.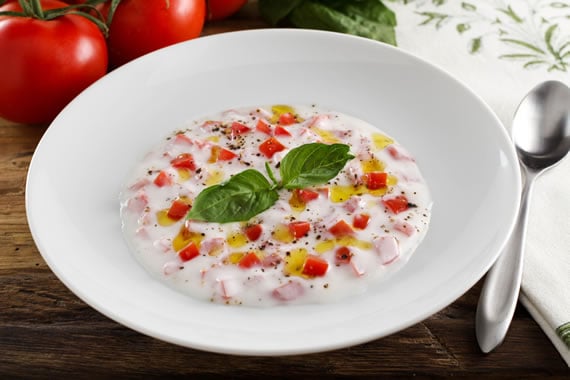 My friends Dara, Dorothy, Sabrina, and Deb all posted their own original yogurt flavors this week, too! Don't they just sound amazing?

Yogurt Margherita
This recipe is quite flexible, so feel free to add more or less of each ingredient to suit your taste.
Ingredients
1

six-ounce cup Redwood Hill Farm Plain Yogurt

Pinch

or two of salt

3/8

teaspoon

freshly ground black pepper

1/2

cup

finely diced tomato

1

teaspoon

extra virgin olive oil

Sprig of fresh basil
Instructions
Mix together yogurt, salt, and pepper.

Gently fold in the tomato.

Drizzle with olive oil, garnish with basil, and enjoy!
Photos by Kelly Jaggers for Eating Rules.