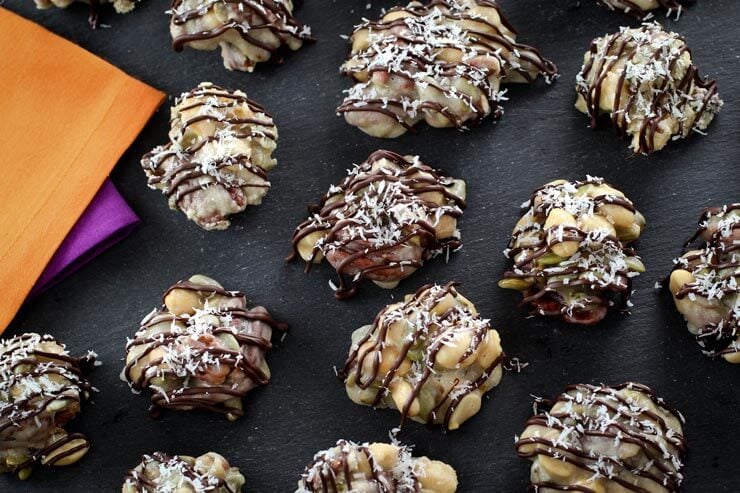 I love Halloween and I love candy! It is too bad that today's mass-produced Halloween "treats" are loaded with high fructose corn syrup, artificial flavors, imitation chocolate, and food dyes. Sounds more like a trick to me. I love my Halloween candy, but I refuse to eat junk. There is only one solution, and that is to make homemade candy. When you make it yourself you have complete control over the ingredients.
These candies are a variation on the traditional pecan praline. Traditionally there is a lot of sugary candy covering just a few pecan pieces. I will admit they are very tasty but pretty bad for you. My version reduces the candy syrup by half, but keeps the same volume of nuts. To give my candy a little more variety I added a mix of lightly salted dry roasted peanuts, roasted pumpkin seeds, and toasted pecans. To make them extra special since it is Halloween, I drizzled the tops of each candy with a little fair trade, organic bittersweet chocolate and dusted them with some unsweetened coconut.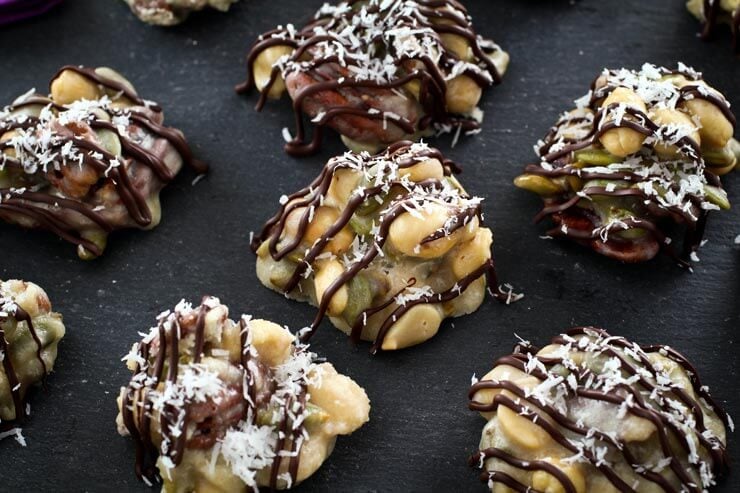 When boiling sugar for candy, here are a few tips to keep you safe and successful:
Invest in a candy thermometer with a digital display. These are far more accurate than the glass type, which are hard to read and can shatter in your candy. Not tasty.
Once the sugar hits the heat, do not stir it. This will help the sugar to form a smooth candy. Stirring it once it starts to heat up could make the candy grainy. Sugar crystals are finicky, they like to be left alone once they start to melt and boil. If you are worried about the candy burning, don't be. The candy will be perfectly fine without your intervention.
Use a deep pot to prevent the candy from boiling over on to your stove. The candy will increase in volume as it starts to boil. A deep pot will keep all that molten sugar contained, saving cleanup and a trip to the ER.
When scooping out the candy use a good quality metal ice cream disher. It will help you work quickly, which is imperative because the pralines set up pretty fast once off the heat and it will get grainy the cooler it becomes. A good disher will protect you from the boiling sugar. Again, we want happy candy making, not a trip to the burn ward. If you do not have a metal disher you can use two long metal spoons. Never use plastic with molten candy.
The cooking and scooping is an adults job, but the decorating with chocolate is a GREAT job for your little ghouls! Let them drizzle the chocolate and sprinkle the coconut. They will love it!
Feel free to use whatever nuts and seeds you prefer here. I like pecans, peanuts, and pumpkin seeds, but any mix of walnuts, almonds, sunflower seeds, pistachios, hemp seeds, hazelnuts, and cashews would all be great. When I make these I will select one of my nuts or seeds to be lightly salted. Here I used salted peanuts. The salt helps cut the sweetness of the candy, and when you use a salted nut the salt is more evenly distributed in the candy. That is, again, my preference. If you don't like the salty-sweet combo use unsalted nuts. It's your candy. Make it the way you like!
This makes 50 fairly generous, very satisfying candies. These are great for Halloween, but you can make them during the holidays for gift giving and to take to parties. So, indulge a little in these homemade candies that you can feel good about. They are definitely a treat, but one that is loaded with real, good ingredients.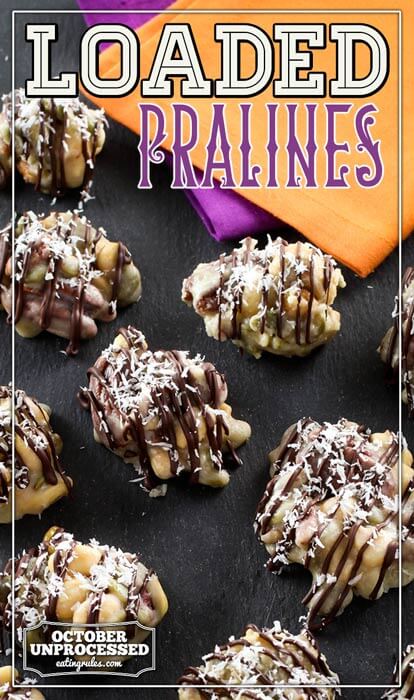 Loaded Pralines
These are definitely a treat, but one that is loaded with real, good ingredients.
Ingredients
2

cups

unprocessed sugar

like muscovado, demerara, or turinado

1

cup

organic heavy cream

1

tablespoon

unsalted butter

1/2

teaspoon

organic vanilla

1

cup

organic dry roasted peanuts

lightly salted

1

cup

roasted pumpkin seeds

1

cup

toasted pecan pieces

1/2

cup

chopped bittersweet chocolate

melted

1/2

cup

organic unsweetened desiccated coconut
Instructions
Line two baking sheets with baking parchment. Set aside.

In a heavy, deep sided pot add the sugar and cream. Mix well, then insert a candy thermometer into the mixture and bring to a boil.

Allow the candy to reach 245°F then add the butter, vanilla, peanuts, pumpkin seeds, and pecans.


Mix well, then remove the pot form the heat and scoop the candy mixture by the rounded tablespoon onto the prepared baking sheets. Work quickly, but carefully, as the candy will harden fairly quickly and the candy may get a little grainy.


Allow the candy to cool for 10 minutes, then drizzle the melted chocolate over the candies and sprinkle the tops with the coconut.

Let stand 1 hour at room temperature, and then chill in the refrigerator for 10 minutes to fully set the chocolate before serving.

About the Author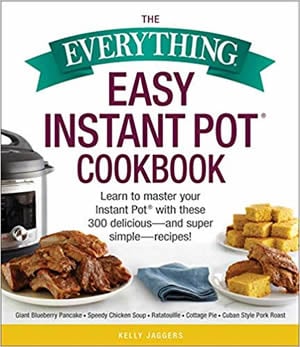 You might not associate Kelly Jaggers and her blog, Evil Shenanigans, with clean eating, but she is a firm believer in cooking real food with real, wholesome, local ingredients (…and lots of butter — she suggests that you consider her your "cheat day" friend). Kelly has been blogging since 2006 and is the author of six cookbooks: Everything Pie, Not-So-Humble Pies, Moufflet, The Everything Easy Asian Cookbook, The Everything Dutch Oven Cookbook, and coming soon The Everything Easy Instant Pot Cookbook. You can also find her on Facebook,  Instagram, and Twitter.