Nicole Hamaker lived on the island of Sicily for four years, which inspired her to start her blog, Pinch My Salt, to share her love of cooking and baking, to encourage people to eat more meals at home, and to learn as much as possible from wonderful home cooks around the world. You can also find her on Twitter and Facebook.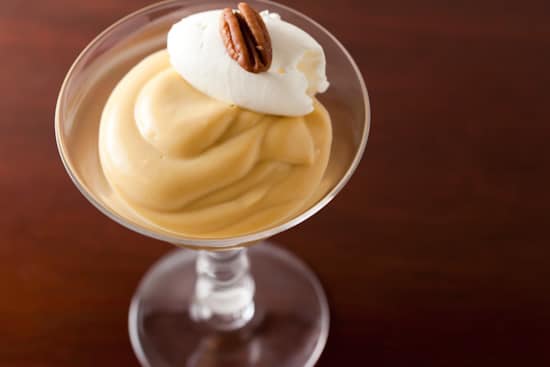 When I met Andrew in person recently and learned about his passion for helping people change their eating habits, I knew I wanted to both participate in and help promote October #Unprocessed. Due to some health issues, I've had to make some pretty drastic changes to my diet this year. I've spent the last six months experimenting and learning how to eat food that not only tastes good, but makes me feel good, too. As I've slowly made changes and removed most processed foods from my life, I've noticed a huge difference in how I feel. I've lost weight, have more energy, have fewer mood swings, and I'm just happier in general. I'm hoping that those of you have participated this month, even if you've just made a few small changes, have noticed some positive effects as well.
To celebrate the near completion of October #Unprocessed, I decided to create an unprocessed version of one my favorite Fall desserts. I don't get to eat sweets much at all anymore, but Halloween is just around the corner, and I'd much rather indulge in a rich bowl of this Maple Butternut Pudding than store-bought candy. While most of the ingredients in the original version of this pudding passed the kitchen test with flying colors, I needed to find ways to replace two ingredients that were definitely questionable: Brown sugar and corn starch.
You may have heard that brown sugar is somewhat healthier than white sugar. This is because in the past, brown sugar actually was less-processed than white sugar. Unfortunately, these days the two are basically the same. Most brown sugar you find in the baking aisle of your favorite grocery store is just highly refined white sugar that has a bit of molasses added for color and flavor. The difference between dark brown sugar and light brown sugar is simply the amount of molasses that has been added. I suppose that the tiny bit of molasses in brown sugar gives it a slight nutritional edge over pure white sugar, but to me the difference is negligible. If you're truly looking for ways to reduce highly processed sweeteners from your diet, it's best to avoid these.
Fortunately there are some cane sugars on the market that are significantly less processed than white sugar. The world of unrefined sugars can be somewhat difficult to navigate, but I'd like to tell you about two types of cane sugar that I have recently started experimenting with: organic whole cane sugar and muscovado.
Organic whole cane sugar, also known as Sucanat, is made from sugar cane juice that is filtered then slowly evaporated. This minimal processing retains vitamins, minerals, and the natural molasses flavor and color. Organic whole cane sugar has a sandy texture and it doesn't dissolve as readily as processed sugar, but I've come to love the rich flavor and it's delicious in coffee as an occasional treat. Organic whole cane sugar can be powdered in a blender if needed.
Muscovado is another type of unrefined cane sugar that is similar in texture to refined brown sugar, making it a suitable replacement for baking. As with all "unrefined" sugars, the processing might differ from brand to brand, but like organic cane sugar, muscovado retains natural molasses, vitamins, and minerals from the sugar cane. Muscovado has a rich and delicious caramel flavor and I decided to use it to help give my Butternut Squash Pudding its distinctive butterscotch flavor. I also decided to use a bit of maple syrup this time around, which helped to smooth out the slight bitterness from the sugar's high molasses content.
It's important to remember that while these less-refined cane sugars offer up a bit more nutrition than white sugar, it's all still sugar and should be eaten in limited amounts.
The next ingredient that I figured wouldn't pass the kitchen test was corn starch. I wasn't sure how corn starch was made, so I checked in with Google. Here's what I found out from Wikipedia:
The corn is steeped for 30 to 48 hours, which ferments it slightly. The germ is separated from the endosperm and those two components are ground separately (still soaked). Next the starch is removed from each by washing. The starch is separated from the corn steep liquor, the cereal germ, the fibers and the corn gluten mostly in hydrocyclones and centrifuges, and then dried. (The residue from every stage is used in animal feed and to make corn oil or other applications.) This process is called wet milling. Finally the starch may be modified for specific purposes.
This didn't sound like something I could replicate in my kitchen. At first I thought about just using more eggs to thicken the pudding, rather than the combination of eggs and starch that I had previously used, but then I started wondering if there are any less-processed corn starch substitutes. I had used arrowroot once before to thicken a banana pudding, but I had no clue how arrowroot powder is processed. Since it's a fine white powder, I knew that it definitely goes through some processing before hitting store shelves, but could it pass the kitchen test?
This is what I found on Wikipedia about the starch extraction process of arrowroot:
Arrowroot tubers contain about 23% starch. They are first washed, and then cleaned of the paper-like scale. The scales must be carefully removed before the extraction of the starch because they impart their disagreeable flavor if allowed to remain. After the removal of the scale, the roots are washed again, drained and finally reduced to a pulp by beating them in mortars or subjecting them to the action of the wheel-rasp. The milky liquid thus obtained is passed through a coarse cloth or hair sieve and the pure starch, which is insoluble, is allowed to settle at the bottom. The wet starch is dried in the sun or in a drying house. The result is a powder, the "arrowroot" of commerce, and it is at once packed for market in air-tight cans, packages or cases.
Since I've read that arrowroot tubers can be found and purchased at some Asian markets, and since I do have a food processor and even a mortar that would reduce the tuber to a pulp, I decided that I could conceivably make my own arrowroot powder. Perhaps my rules are a bit more lax than some of you, but I'd say that it does pass the kitchen test.
The next question was how would it work to thicken the pudding. I've read that arrowroot does not mix well with dairy and can produce a slimy texture. I certainly didn't want my pudding to be slimy, but I didn't remember that happening with my banana pudding, so I decided to give the arrowroot substitution a try. It worked fine, and although the texture is slightly different than the corn starch version, it's definitely a pudding-like consistency and delicious.
I hope you've all been having a great time with this month's challenge. If you're up for an unusual, but delicious and unprocessed Fall dessert, give this Maple Butternut Pudding a try.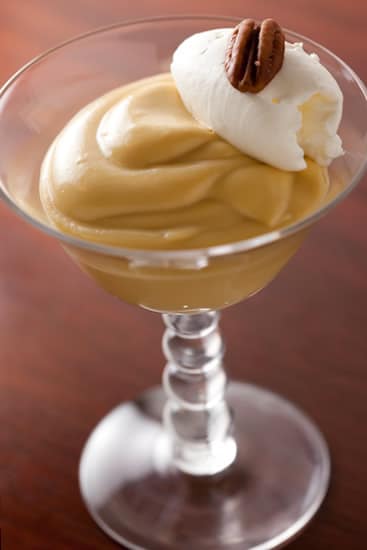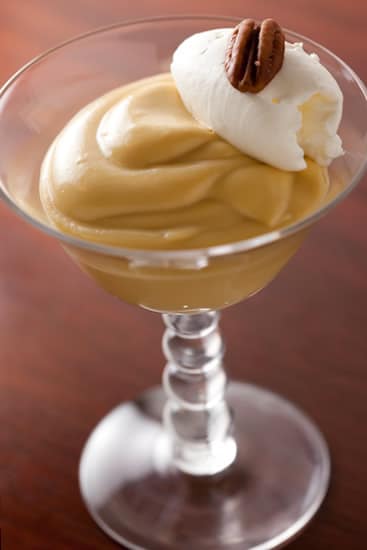 Maple Butternut Pudding
If you're up for an unusual, but delicious and unprocessed Fall dessert, give this Maple Butternut Pudding a try.
Ingredients
1/2

cup

lightly-packed Dark Muscovado Sugar

2

tablespoons

Arrowroot Powder

1

cup

Roasted Butternut Squash Purée*

2

cups

Half and Half

or 1 cup Milk and 1 cup Heavy Cream

pinch

Salt

3

large

Egg Yolks

1/4

cup

Maple Syrup

I prefer Grade B

1

teaspoon

Vanilla Extract

2

tablespoon

Butter

cut into pieces
Instructions
In a small bowl, stir together the sugar and arrowroot. In the container of a blender, combine the squash purée, half and half, brown sugar mixture, pinch of salt, egg yolks, and maple syrup. Blend until very smooth then strain through a fine mesh sieve into a medium-sized saucepan (rinse sieve because you will need it again later).

Cook the squash mixture over medium heat, whisking constantly, until thickened and bubbly. Turn heat to low, and continue cooking and stirring (now with a wooden spoon or spatula) for another minute or two – pudding should be thick but still pourable. Immediately strain pudding through the sieve into a bowl, pushing it through with a spatula or wooden spoon. Stir vanilla extract and butter pieces into the hot pudding until completely incorporated.

Let pudding cool to warm then either divide into individual containers or leave in bowl. Cover and refrigerate until cold. If you're concerned about a skin from forming on top of the pudding, press plastic wrap to the surface before refrigerating. Serve plain or with lightly sweetened whipped cream and chopped pecans.
Recipe Notes
* To roast a butternut squash: Preheat oven to 400 degrees Fahrenheit. With a big sharp knife, cut squash in half lengthwise. Scoop out the seeds and place squash halves, cut side up, in a baking dish. Cover with foil and roast for 40-50 minutes in a 400 degree oven until the squash is very tender (can be pierced easily with a fork). When squash is cool enough to handle, scoop flesh from skin. Mash it lightly and place in a strainer for a minute to let any excess liquid drain off. Measure out 1 cup of squash for pudding recipe and reserve the rest for another use.
More info about different types of unrefined cane sugar sweeteners:
What's the Difference? Muscovado, Demerara & Turbinado at The Kitchn
Unrefined, Dehydrated Whole Cane Sugar at Kitchen Stewardship
More info about arrowroot:
Arrowroot at The Perfect Pantry
Arrowroot: Cornstarch Substitute at Local Forage