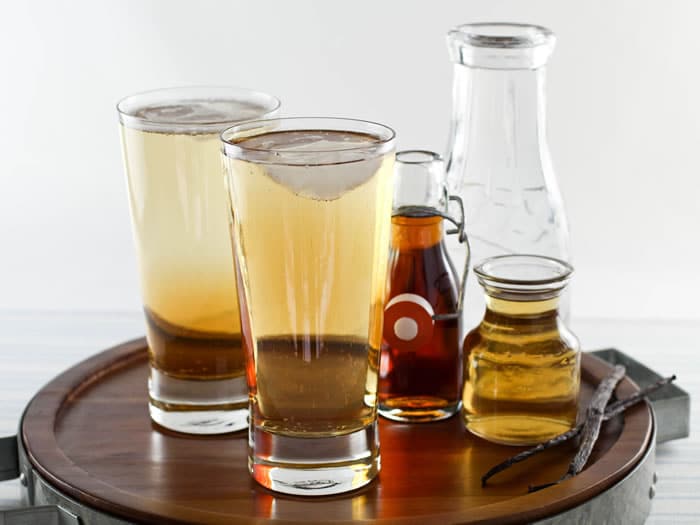 A few years ago, during an amazing trip to Portland, Oregon, my friend Allison took me to dinner at Pok Pok, a local favorite that serves up authentic Southeast Asian fare. The food was certainly praiseworthy, but what captivated me most was their Som, or drinking vinegars. I'd never heard of "drinking vinegars" before, so of course I had to give them a try.
They're basically lightly sweetened, fruit-flavored vinegars mixed with soda water. Options that night included tamarind, pomegranate, honey, and apple. (Yes, I know honey is not a fruit.)
The sweet-tart-fizzy drinks were — no surprise — quite delicious.
These drinking vinegars could be considered a variation on the Shrub, a beverage which uses fruit-infused vinegar as its foundation —  either as a sparkling, non-alcoholic beverage, or as the central focus of a creative cocktail.
In the same family you may find the Switchel, though those usually contain ginger as well.
I don't know the exact recipe from Pok Pok, of course, but that visit inspired me to create my own. However, unlike a typical infusion, my shortcut recipe has the very important benefit of not requiring any pre-planning, or, for that matter, really any skill required, other than mixing a few liquids together in a glass.
This sweet-sour, cream-soda-esque beverage is uniquely refreshing, particularly on hot summer days. I encourage you to have some fun with it and adjust the proportions to your preference. And if this whole vinegar-soda-thing sparks your interest, you might want to peruse the drinking vinegars roundup on Punk Domestics.
The following recipe does have a fair amount of sugar (about half as much as a can of Coke or Pepsi), so this is best kept as a once-in-awhile treat. Enjoy!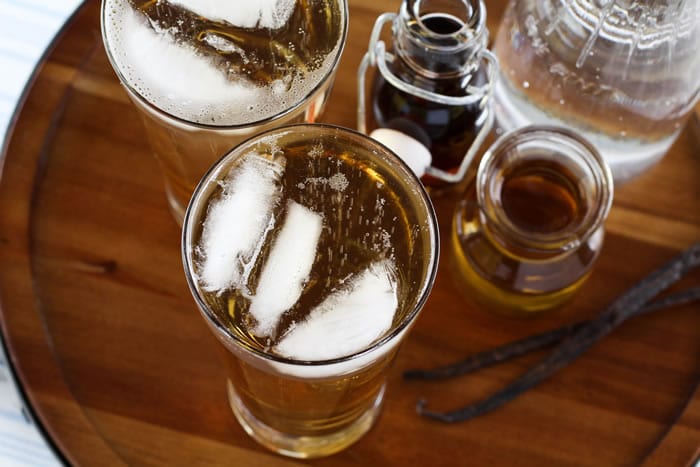 Maple Syrup Vinegar Soda
This simple, vinegared soda is inspired by the drinking vinegars at Pok Pok PDX. Adjust any of the ingredients to suit your preference.
Ingredients
1 1/2

tablespoons

maple syrup

I prefer Grade B for stronger flavor

1 1/2

tablespoons

apple cider vinegar

1/4

teaspoon

vanilla extract

1/4

teaspoon

almond extract

10

ounces

cold sparkling water

We use a Sodastream and filtered tap water

3-4

ice cubes
Instructions
In a pint glass, mix together the maple syrup, vinegar, and extracts.

Fill glass to about 2" beneath the rim with soda water. Stir once gently to combine; being careful not lose too much fizz.

Add a few ice cubes to fill remainder of glass. (If you add the ice cubes and then top off with soda water, it may get a bit foamy.)

Enjoy!
Photos by Kelly Jaggers for Eating Rules.