Get The October Unprocessed Meal Plan!
Sep 26, 2016, Updated Sep 16, 2020

Are you ready for October?
October is quickly approaching! I know you're excited to feel great by making meaningful changes to your diet for the next 30 days. But… (because there's always a but, right?)
Do you feel intimidated by a new way of eating?
Have you been wondering exactly what you're going to eat for the next month?
Are you worried that you're going to end up living on nothing but salad and granola?
Does spending the entire month digging through Google for unprocessed recipes sound incredibly tedious?
Eating unprocessed food for a full 30 days can seem daunting, especially if you're new to this way of cooking and eating. I get all sorts of questions from pledge-takers — even folks who do this challenge on repeat every year — and everyone seems to share the same #1 problem: That frustrating moment at the end of the day when you're trying to figure out what's for dinner.
I get it, because I've been there, too. (And far more often than I care to admit!) No one enjoys that blank stare into the fridge, stomach growling, with absolutely no idea what to eat.
To help make your month of unprocessed eating easier, I've partnered with my friend Stephanie Stiavetti from Fearless Fresh to create The October Unprocessed Simple Meal Plan Guide.
We've packed this digital download with more than 50 simple, unintimidating recipes that all pass the kitchen test. That's an entire month of knowing exactly what you're going to eat, setting you up to make almost no in-the-moment decisions about food.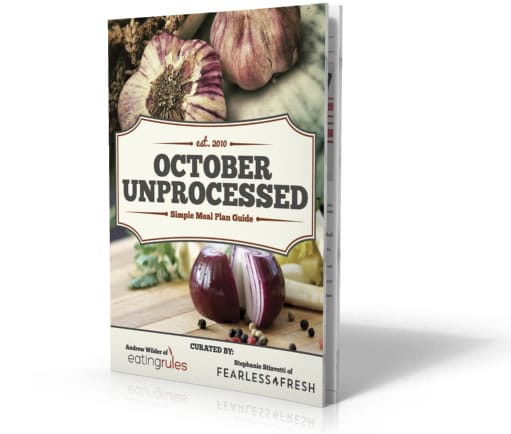 What's in the guide?
We've included:
Four weeks of delicious, unprocessed dinner recipes, laid out in meal-plan fashion.
Additional chapters packed with our favorite breakfast, lunch, snack, and dessert recipes.
Over 50 recipes to get you through the entire month of October feeling healthier than you have all year.
Added bonus: Four weeks of printable shopping lists for the dinner recipes, reducing your grocery store stress.
Our goal is to make cooking as simple as possible, so most of the recipes in this guide can be made quickly, even by folks without serious cooking skills. These dishes are easy to prepare, with a few fun, aspirational recipes thrown in for the more adventurous.
Basically, our promise is this: With this meal plan guide in hand, your 30-day challenge will go much smoother than if you had to go find a month's worth of recipes on your own.
Vegetarians, we've got your back.
Most of the recipes in this book are vegetarian, and those that aren't can be easily modified with our suggestions for how to make them completely meat-free.
A note on food allergies: While the recipes in the guide were not designed specifically for those with food allergies, the bulk of the recipes can be modified with other ingredients. There are lots of folks in the October Unprocessed Facebook group who have a good understanding of these modifications, so we recommend popping in there to ask questions about how to adjust recipes for your specific diet.
Paleo folks: Many of the recipes in the meal plan guide contain whole grains and a few other non-paleo ingredients, though they can still be modified with a little creativity.
Okay, so how much does it cost?
We've put a ton of work into curating and organizing these recipes, designing a beautiful e-book, and creating the printable shopping lists (which will save you a lot of time and effort).
Last year after October, we locked the price at $27.00. But because we want to help everyone succeed during the challenge, we're putting the meal plans on sale for just $17.00. And, if you order before October 1st, get an additional $5.00 off with coupon code "unprocessed".
You've got to act quickly, though, because on November 1st the price goes back up to $27.00.
And, for every purchase, we'll donate 10% to the Food Literacy Center, an incredible organization that teaches low-income kids how to cook and eat real food.
Changing the way you think about food is a big deal, but it doesn't have to be full of drama and confusion. In fact, it doesn't require much effort at all — if you've got the right roadmap in front of you. We've created this simple meal plan guide just for you, so you can spend the next 30 days loving this new way of eating, without any stress. Click here to get it.
Questions?
Have questions about recipes in the e-book? Hop into the Facebook group.
Have problems with your purchase? Email us at support@eatingrules.com.