I have a short mental list of homemade preserves that I try to make every single autumn. These are the things I rely on to ease wintertime cooking and baking and also to help connect me to the warmer months, which always feel so distant when there's snow on the ground.
This short list includes things like thick tomato sauce for adding to soup or using as pizza sauce, honey sweetened pear chutney to give life to simple lunches, and as much applesauce as I can manage.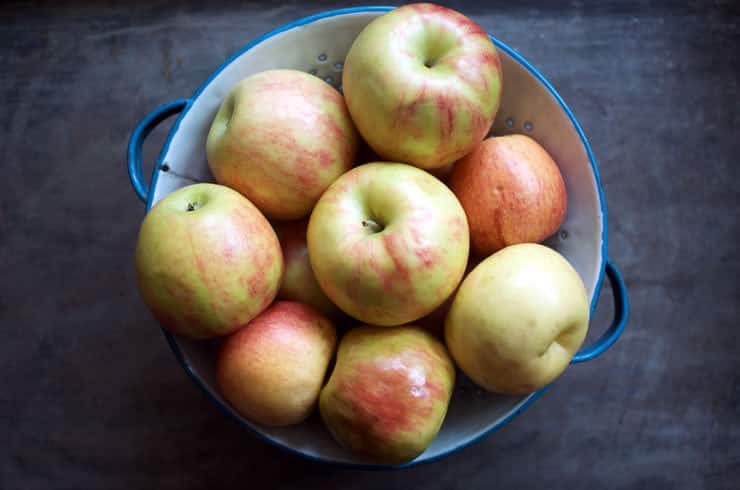 Often, applesauce gets dismissed as something best served to kids, but even in my child-free household, I find it's one of my most-used pantry items. I use it to lend moisture to baked goods. I stir it into pots of oatmeal to give bulk and get a serving of fruit into the meal. I eat it for lunch with a scoop of cottage cheese. And of course, when Hanukkah rolls around, my cousins request that I bring a jar or two for topping the latkes.
I've made applesauce a number of different ways over the years, and I've found that truly, there's no wrong approach. You can peel and core your apples, cook them down in cubes, and crush them with a potato masher. You can chop out the cores, heap the apples into an oven-safe pan, roast them until tender, and purée the softened skins in with the fruit. Or, if you have a food mill handy, you can roughly chop the apples—peels , cores and all—cook the fruit until soft, and then push it all through the food mill.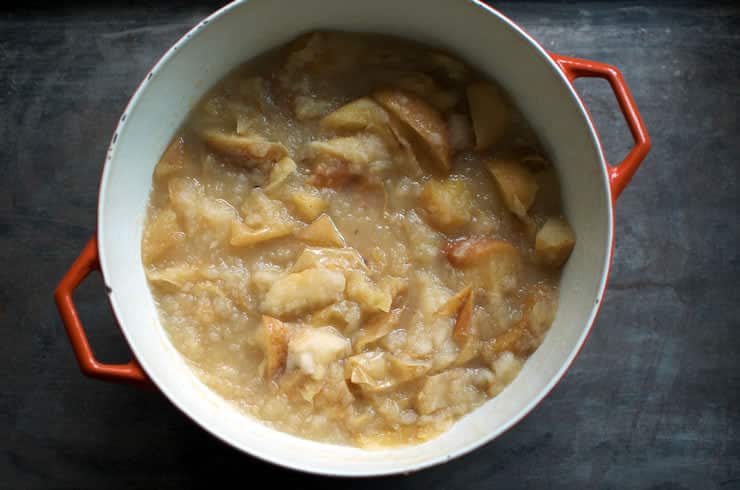 It's this last approach that is my favorite, in part because I find it to be the least amount of work for the very most amount of sauce. The food mill plucks out all the pesky seeds, cores, and skins, leaving you with nearly no waste and hint of pink from the skins, to boot. It's this technique that I detail in the recipe below, though truly, you can follow the spicing and canning instructions no matter how you cooked your apples down into sauce. Don't write this recipe off simply for lack of a food mill.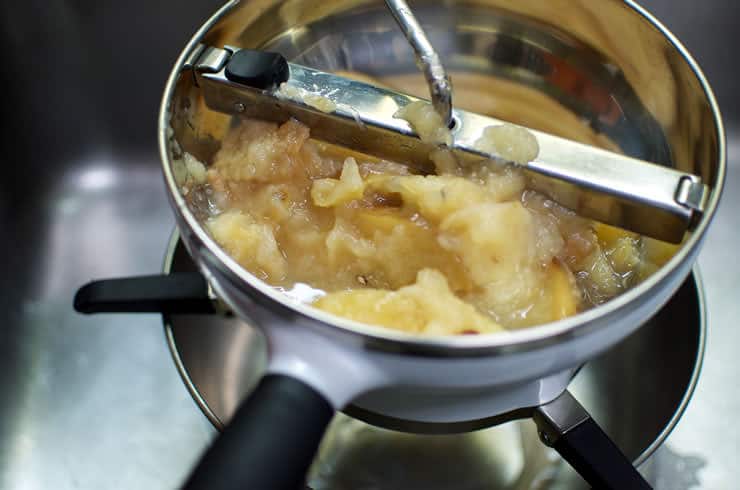 Now, let us speak a moment about the spices. I've named this recipe Pumpkin Pie Spiced Applesauce because PPS has become shorthand for those warm, aromatic spices that we all love (or love to hate) this time of year. I've listed out the spices I want you to use, because it wouldn't be in the spirit of October Unprocessed to tell you to head for the store to buy a container of premixed pie spice (though, if that's all you have, a rounded tablespoon would serve perfectly). However trendy they may be, there's no denying that adding spice to homemade applesauce elevates it beyond any grocery store version and makes a very convincing argument for going unprocessed.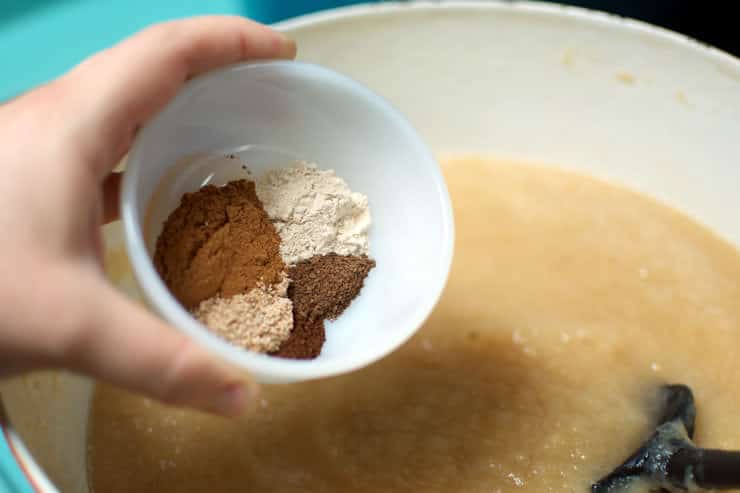 Unsweetened Pumpkin Pie Spiced Applesauce
Often, applesauce gets dismissed as something best served to kids, but even in my child-free household, I find it's one of my most-used pantry items.
Ingredients
6

pounds

apples

1/2

cup

water

2

teaspoons

cinnamon

1

teaspoon

freshly grated nutmeg

1

teaspoon

ground ginger

1/2

teaspoon

ground allspice

1/2

teaspoon

ground cloves

Juice of 1 lemon
Instructions
Chop the apples into 1/8's and heap them into a large, non-reactive pot with the water and cover. Set the pot on the stove over medium-high heat and bring it to a low simmer. Let the apples cook for approximately 20 to 30 minutes, stirring occasionally, until the fruit is soft enough to crush with the back of a wooden spoon.

Prepare a boiling water bath canner and enough jars to hold 10 cups of sauce (I used two liter sized Weck jars and one half liter jar, but a similar combination of pints and quarts would also work).

Fit your food mill with a medium-sized screen and position it over a large mixing bowl. Work the cooked apples through the food mill until all the sauce is in the bowl and all you have left in the top of the food mill are dry skins and seeds.

Return the applesauce to the pan in which you first cooked it and place it over medium high heat. Add the cinnamon, nutmeg, ginger, allspice, cloves, and lemon juice. Taste the sauce

Spoon the applesauce into the prepared jars, leaving 1/2 inch headspace. Use a chopstick to ease out any trapped air pockets and add more sauce to return the headspace to the proper levels, if necessary. Wipe the rims, apply the seals, lids, and clips (or lids and rings, if you're not using Weck jars), and process in a boiling water canner for 15 minutes (if you live above 1,000 feet in elevation, adjust your processing time accordingly).

When time is up, slide canning pot off the heat and remove the lid. Let the jars cool slowly in the pot for ten minutes. When the cooling time is up, remove the jars from the canner and place them on a folded kitchen towel to cool.

When the jars are cool enough to handle, test the jars to ensure they've sealed properly. Sealed jars can be stored in a cool, dark place for up to a year. Unsealed jars should be refrigerated and eaten within two weeks.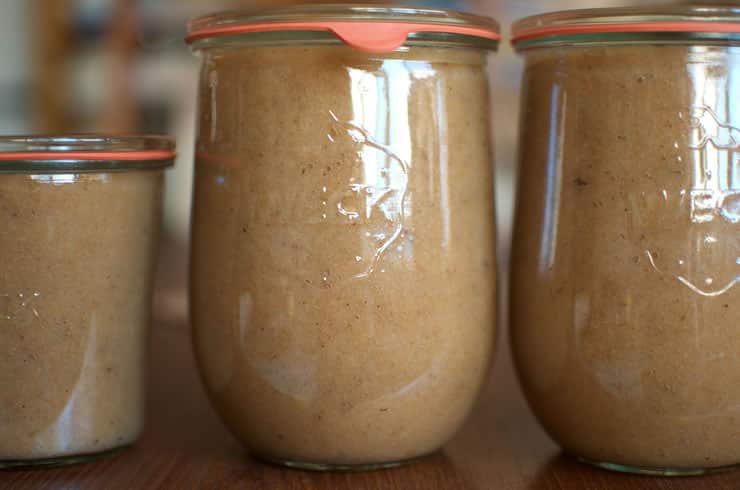 About the Author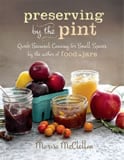 Marisa McClellan is a food writer, canning teacher, and dedicated farmers market shopper who lives in Center City, Philadelphia. She is the author of the popular books Food in Jars: Preserving in Small Batches Year-Round and Preserving by the Pint: Quick Seasonal Canning for Small Spaces. Find more of her jams, pickles, and preserves (all cooked up in her 80-square-foot kitchen) at foodinjars.com, and on Instagram, Twitter, and Facebook.