Meghan Joyce likes to eat. She also likes the world. She shares her vegan (mis)adventures in cooking, restaurant reviews, and the occasional vegan "newsy" bit at Meghan The Veghan. You can also find her on Twitter.
I became a vegan seven months ago, mostly for environmental and economic reasons, but in part because I love a challenge. And so far, eating only unprocessed foods for the month of October has been more of a challenge than I expected when I signed the pledge.
There were some obvious first steps to take. I cut out my vegan butter substitute, Earth Balance, and hid my Daiya fake cheese in the back of the fridge (unlike real cheese, that stuff lasts forever). I replaced my Almond Breeze brand almond milk with organic unsweetened Eden Soy milk, whose only ingredients are reverse osmosis purified water and organic soybeans. (No, I wouldn't know how to go about osmosifying water in my own kitchen, let alone in reverse, but in my opinion water is water.)
But there was still one processed food I couldn't figure out how to part with: CLIF bars. I'm a graduate student at a university with very few on-campus vegan options. I always pack a lunch, but sometimes I get hungry at odd hours and I've already eaten my lunch, and it's not like I can just pick up a vegan snack at one of the campus convenience chains.
If I get too hungry, I get cranky. Like scary cranky. So I always carry around an emergency CLIF bar to avoid a situation in which, in a hunger-induced fit, I either lash out at one of my colleagues (best case scenario) or just lie down in the middle of the bike lane and slowly starve to death (needless to say, worst case scenario).
But after discovering that my favorite snack bars are made of lots of unprocessed ingredients, I stashed my Costco-sized box of CLIF bars in a back corner of the pantry for the month of October. I knew I had to replace them with something. I tried making my own unprocessed bars out of rolled oats and brown sugar, and even though they tasted delicious, they fell apart when I tried to transport them to campus.
So I tried Lara bars. They're $1.79 a piece at my local grocery store and I'm poor, so I only bought one bar to start. I went with a "pecan pie" bar, whose only ingredients were almonds and pecans. It tasted great, so a bought a few more. But as I said, they're expensive. A slightly cheaper and equally easy alternative has been just carrying raw nuts, rather than bars made of raw nuts, as an emergency snack.
But even with the emergency snack bar problem solved, I've had to make two exceptions to the unprocessed rule. The first exception: Eating out. When I go out to eat at regular-people restaurants, there are usually only a few vegan options for me. It's not like I'm going to order fake meat (which is obviously processed) during this month, but I'm not going to be a stickler about the ingredients in the dressing on the one vegan salad on the menu.
The second exception: food friends make for me. I had a potluck dinner party at my new house last weekend, and my omnivorous friends got really creative with the vegan dishes they made. During any other month, I am already that annoying vegan friend who doesn't want to eat their regular food. So I wasn't about to refuse to eat the vegan cookies they had made special for me with Earth Balance instead of butter.
With those exceptions, it's been a really successful unprocessed month so far. It's given me the chance to get creative rather than relying on my go-to easy snacks. And I feel great about supporting unprocessed food companies like Ezekiel bread (but keep it in the freezer or it will grow mold in like two days because it has no preservatives!).
Some of the recipes I've created this month will definitely become staples in my diet even after I reintroduce some processed foods. I'll share one of my favorites (and one of the easiest to make) with you now.
Do you have a favorite recipe for an on-the-go bar? Share in the comments!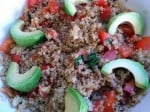 Quinoa with Tomatoes and Basil
This healthy dish is sure to be a favorite as it is super simple to make and has amazing flavor rushing throughout the dish.
Prep Time
1
hour
20
minutes
Total Time
1
hour
40
minutes
Ingredients
1

cup

Quinoa

uncooked

1

Tomato

diced, preferably Organic

6

leaves Fresh Basil

chopped

2

Tbsp

Olive Oil

2

Tbsp

Balsamic Vinegar

1

Ripe Avocado

preferably Organic
Instructions
Soak the quinoa for an hour or so. Then cook it as you would cook rice on the stovetop; 2 cups water and 1 cup quinoa. For extra-fluffy quinoa, use less water, but keep an eye on it so it doesn't burn.

When the quinoa is cooked, add the diced tomato and the chopped basil. Pour in the olive oil and balsamic vinegar, mixing it all together with a wooden spoon. Slice the avocado and arrange it around the edge of the dish, or mix it in as well. Don't worry if the tomato and avocado make things mushy; it will taste better if all the ingredients get blended.

Like most quinoa dishes, this will taste good warm or cold.