Kimberly Morales writes about how to eat ridiculously well on a minuscule budget at her popular blog, Poor Girl Eats Well.  She's an enthusiastic supporter of October Unprocessed — and if she can do it on her tight budget, anyone can.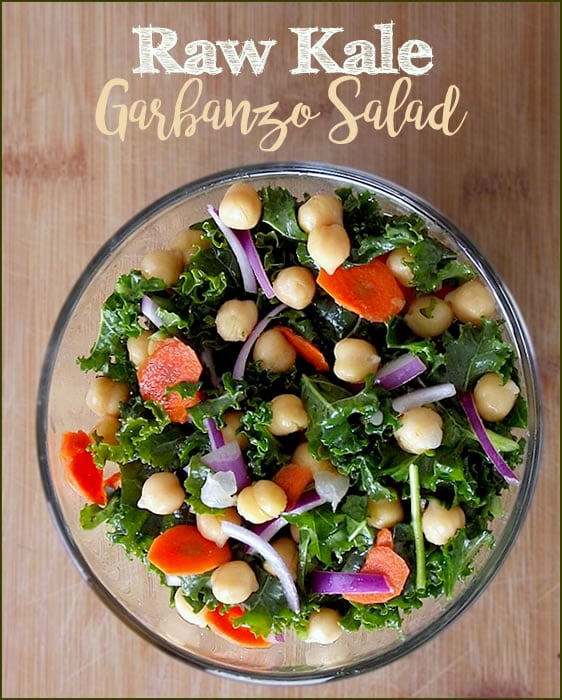 I know some people find kale to be a bit tough, but personally, I like the extra texture.   However, there's no need to blanche or sauté the kale before making this salad.  The beauty of it is that the vinaigrette takes care of "cooking" the greens, marinating them lightly so that they're still crunchy & chewy, just a little less so.
To make the dressing, I used my last bits of mandarin juice from the crazy score I got at the farmer's market (10 lbs for just $4, just because they were not cosmetically perfect – I love my farmer's market!), but you can certainly use the juice of regular oranges, tangerines, etc.  Using fresh juice rather than the bottled/boxed kind lends a sweeter, more vibrant flavor.  Not a big fan of spicy heat?  Simply omit the hot stuff (cayenne, in this instance, though I was secretly longing for a small drop of Sriracha) and you're good to go.
Seriously, there's nothing about this recipe that isn't awesome.  It's easy to prepare, healthy, and ever-so-good-looking on one's plate.   It can be an entree salad or a nice side to go along with the rest of your meal, and can be prepared pretty much year-round.  And did I mention how blessedly affordable it is?  With kale & garbanzos being some of the most inexpensive healthy foods out there, you can't go wrong with this one!

Raw Kale & Garbanzo Salad with Spicy Citrus Vinaigrette
Ingredients
3 cups chopped fresh kale
1 can of garbanzos, drained (or 1.5 c cooked garbanzos, if you've cooked your own from dried)
½ medium carrot, sliced into thin discs
⅓ cup sliced red onions
Spicy Citrus Vinaigrette
Juice of 2 large oranges
1 Tablespoon rice vinegar
1 Tablespoon olive oil
1 teaspoon honey
Generous pinch of salt
¼ teaspoon cayenne pepper
Generous amount of ground black pepper
Instructions
In a small bowl whisk together the dressing ingredients until completely combined. Set aside.
In a larger bowl, combine the kale, garbanzo beans, onions & carrots. Pour the dressing over the salad and toss together until everything is completely coated. Serve immediately or if you prefer softer kale, allow to rest for about 10 minutes before enjoying. Serve as an entree or as a side, but most importantly, enjoy!
Kale Day Linkup!