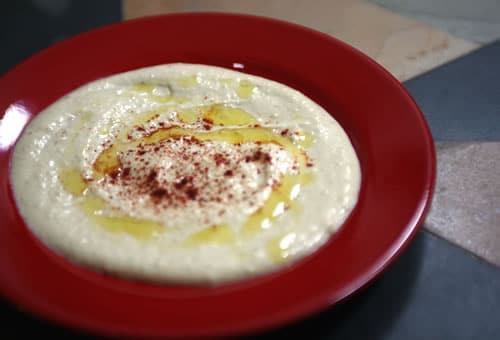 For Thanksgiving dinner my brother-in-law made some awesome Vegetarian "Chicken" Italian Sausages.  They required a handful of ingredients he doesn't normally stock, such as vital wheat gluten, nutritional yeast, and garbanzo bean flour
. Since he has little no intention of making those sausages again (being from a traditional Italian family, he thought they were a failure; yet all the vegetarians in the house loved 'em), he gladly gave us the remaining "hippie" ingredients.
Not quite sure what to do with the garbanzo flour, I figured I'd try the recipe on the back of the bag: Hummus!  I had no idea that one could make hummus from garbanzo flour (I'd always started with whole garbanzo beans), but if it's a recipe on the back of a Bob's Red Mill bag, it's bound to be good.
Sure enough, it is!  It came out creamier than my usual hummus.  Then again, this was the first time I've used my new immersion blender
, so that might have something to do with it? (I still don't have a proper food processor, or the counter space for one. My blender works reasonably well to make hummus, but it's a bit of a hassle.)
The biggest advantage I see to making hummus from the flour instead of the bean is that it's cost-effective. For 3/4 cup of hummus flour (which barely made a dent in the bag), I ended up with about a quart of hummus.  Using canned garbanzos would be much more expensive.  If you started with bulk, dried garbanzos, it might be a bit closer in price, but then again, you'd have to soak them overnight…
So, it's my pleasure to present this recipe to you today — because nothing says "Happy Holidays" like a plate of garlic hummus!
A note for beginner cooks: I think hummus is a wonderful way to get a feel for cooking — it's tough to mess up!  Although you'll want to get the water/flour proportions correct, beyond that most of the ingredients can — and should — be adjusted to taste.  I like more tahini in my hummus, so I simply add more. You might like more garlic, dill, or other seasonings (try red bell peppers or red chili flakes!), so why not give it a try?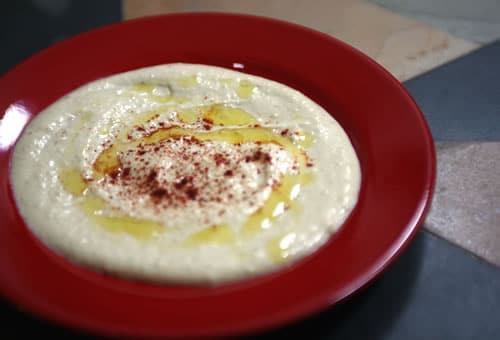 Garbanzo Bean Flour Hummus
This is a delicious hummus that is super easy to make and perfect for using as an appetizer.
Ingredients
2 1/2

cups

water

3/4

cup

garbanzo bean flour

2-3

large

garlic cloves

finely minced

1/4

cup

vegetable or chicken broth

1/2

cup

tahini sesame seed paste

Juice of one lemon

about 1/4 cup

1/8

tsp.

Tabasco sauce

optional

1/2

tsp.

ground cumin

optional

1/2

tsp.

dill

optional

salt and pepper to taste

1/4

cup

extra virgin olive oil

dash of paprika powder

for garnish
Instructions
In a medium saucepan, bring the water to boil. Whisk the garbanzo bean flour into the boiling water (don't worry if it gets a little clumpy). Cook on medium-high heat for 1 minute, stirring constantly. Reduce the heat to medium-low and cook another 5 minutes, stirring constantly. Let cool.

Transfer the garbanzo bean paste into the bowl of a food processor, pitcher of a blender, or a large bowl if using an immersion blender. Add the garlic, broth, tahini, lemon juice, and tabasco sauce. Blend or purée until smooth.

Mix in the cumin, dill, salt, and pepper. Slowly add the olive oil while blending/processing/immersing until it's blended well. If the mixture is too thick, add a little more broth or olive oil.

Scrape into a bowl and cover with plastic wrap. Let set for at least an hour, then give it a taste. Add more lemon juice, salt, pepper, or herbs as desired.

When serving, spoon onto a small plate, drizzle with a little olive oil, and sprinkle with paprika... 'cause that's how they do it at

Pita Inn

.