Mindful Vegan Protein Cookies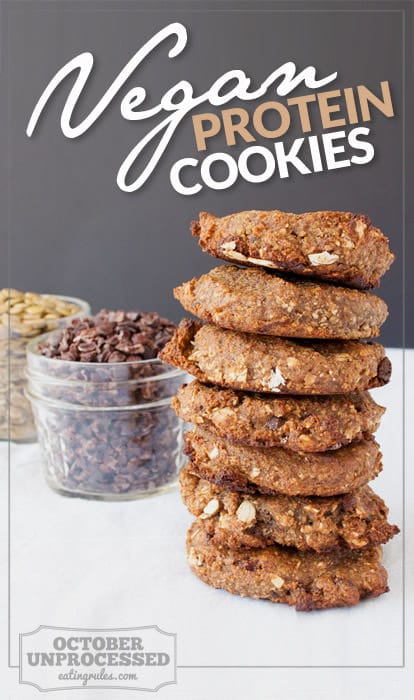 What I love about
October Unprocessed
is that it's an exercise in mindful eating (and sometimes
not
eating). The term "mindful eating" can cover a wide variety of things. Mindful eating can be listening to your body for when it's physically hungry, rather than eating just to eat. Mindful eating can be stopping eating as your stomach starts to feel full or too full, even if you've still got food on your plate. It can also be taking the time to turn off the TV, put down the phone and really focus on what you're eating to enjoy it more and to really register that you ate something (how many times have you eaten while multitasking only to realize you don't really remember eating?).
Mindful eating can also be looking at our food choices and deciding what you want to eat and put in your body. The Kitchen Test is a way to slow things down and really make you aware, really make you think about what you're putting in your body. With some foods, like whole produce or dried beans and grains that have no labels, the thought process is a lot faster. They are what they are, with no extra additives or preservatives, WYSIWYG all the way. It's when you start to roam around other parts of the grocery store where it can get confusing and the Kitchen Test can slow you down and keep you mindful.
One of the places in the grocery store I spend the most time in is the nutrition bar aisle. Quite often I like to have a nutrition bar handy as a snack at work, on the road, or after a workout. You can easily spend a lot of time in this aisle, not only because there are now a million different options of bars, but also because they're definitely not created equal.
While most of them advertise whole food ingredients on the box and wrapper, when you turn the bar over, it can be a whole different story. Lots of bars are packed with several different kinds of syrups, AKA sugar, to keep the ingredients all together. In addition to the sugar, there are a lot of ingredients that fail the Kitchen Test in bars and post-workout snacks in that aisle.
So when I'm buying a bar or post-workout snack, I'll turn over every new bar I may be interested in to see what other things are in the bar besides what's advertised on the front. This slows me down from just grabbing whatever to making a much more mindful decision about what I'm eating (and not eating). The ones I like the most are the most straightforward and have the most recognizable ingredients.
Recently I've been buying and eating protein cookies (a newer thing in the nutrition bar aisle), which has the equivalent amount of protein I could get from a protein shake in cookie form. I found a flavor I liked and out of convenience/never getting around ordering another tub of protein powder, I've just been eating those after a workout. They do the job, the vegan protein is clean-ish, but I've been less than thrilled with the paragraph of ingredients on the back, many that definitely fail the Kitchen Test.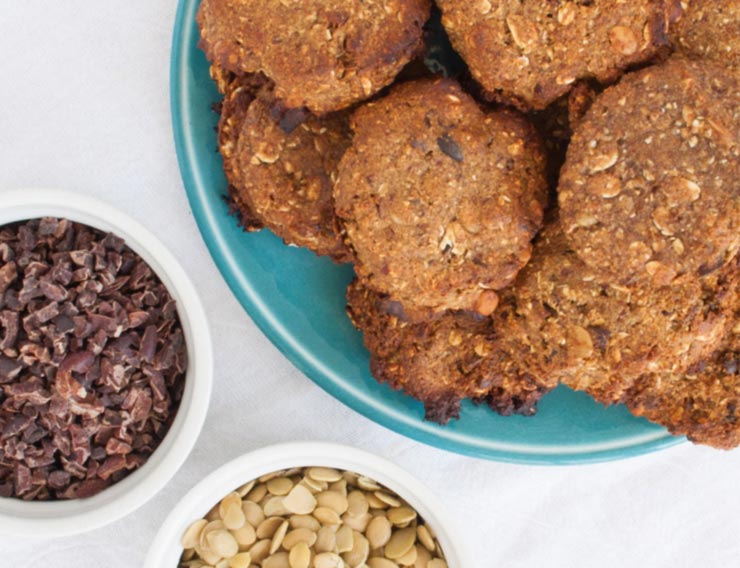 October Unprocessed has presented a great challenge to try to make a cleaner variation, with a twist. Instead of making a straight replacement for this cookie, my Vegan Protein Cookies are much more of a snack. Ideally you'd take one or two with you in your gym bag for immediate protein and replenishment. This gives you some time to get from the gym to your house or work, shower, and do whatever you have to do before eating a meal with protein and carbs to replenish what you just used working out. This way you can get more whole foods and nutrients in your body rather than just protein powders and the other things in them (that may or may not pass the Kitchen Test).
These Vegan Protein Cookies are made without enriched or processed flours and are gluten-free. What keeps these guys together is a combination of dates, almond flour (ground up almonds), a banana, almond butter, and oats pulsed into a flour. For some extra flavor and crunch, I've added in cacao nibs and pumpkin seeds.
Most of the protein in these cookies is hemp powder, which is vegan and my go-to protein powder. Hemp powder is made from hemp seeds and is packed with protein, healthy fats, magnesium and iron. It's very close to being a complete protein, meaning it has all the essential amino acids your body needs. If you're looking for a plant-based, soy-free protein powder, hemp is the closest you can get to a complete protein compared to brown rice or pea protein, the other two popular plant-based proteins. There's also protein from the almond butter, almond meal, and pumpkin seeds.
You can easily adapt these cookies to fit your tastes. If you prefer a different nut, swap it out, just make sure you've got them roughly chopped so they mix well. If you prefer some chocolate over cacao, break up some of the bars from the companies Andrew recommended and press those into the cookies after you've formed them and flattened them on the baking sheet. If you don't like cacao or chocolate at all, omit it and add in a no-sugar added dried fruit if that's your fancy, or maybe some chia or flax seeds.
Vegan Protein Cookies are a perfect way for me to bring more mindfulness to what I'm eating after a workout. Are there meals or snacks you've been eating that you could start making yourself or finding cleaner versions of? Pinterest is full of recipes that recreate favorite recipes for the kitchen, or maybe it's just time to head back in the kitchen. Are you aware of how much your food does or doesn't pass the Kitchen Test? Where can you use this challenge to bring in some mindful eating, slow down what in the past was an automatic grab and eat, and think on what you're about to eat?
Bob's Red Mill is a sponsor of this challenge, and I received free product to create this recipe. All opinions are my own.
Vegan Protein Cookies
An unprocessed alternative to nutrition bars. Gluten-free and no added sugar.
Ingredients
1

cup

dates

,

packed, pits removed

1

medium

ripe banana

2

tablespoons

nut butter

,

I used almond butter, others work fine

3/4

cup

Bob's Red Mill Almond Meal

3/4

cup

Bob's Red Mill Rolled Oats

2

tablespoons

Bob's Red Mill Hemp Protein Powder

1/4

cup

Bob's Red Mill Pumpkin Seeds

1/4

cup

cacao nibs

1-2

teaspoons

ground cinnamon
Instructions
Preheat oven to 350 degrees F.

Add dates to a food processor and run until processed into small pieces. Add in almond butter. Break banana into small pieces and distribute in food processor bowl. Run until incorporated. Add in almond meal, rolled oats, cinnamon, and hemp protein powder. Pulse until a dough starts to form. If it's on the looser, stickier side, that's fine.

Transfer dough to a bowl. If your dough is too wet, add in a few tablespoons of oats and stir until the dough doesn't stick to your hands like glue. Add in cacao and pumpkin seeds and stir to combine.

Chill dough for 10 minutes in the fridge and line a baking sheet with parchment paper. Once the dough has chilled, use a spring-loaded ice cream scoop and portion your cookies out on the sheet. Wet your hands and flatten the cookies (there are no leavening or rising agents, so these cookies won't expand or spread). Make sure none of the cookies are touching after you have flattened them.

Bake for 14-17 minutes, or until golden brown. "Underbaking" them will make them more moist and slightly closer to a Lara Bar-esque consistency. Allow to cool before storing in a container.
Like this recipe? Rate and comment below!