I always loved it when Mr. Rogers would visit a factory and show us all the machinery that produced whatever it was that they were producing.  It could have been bubble gum or cuckoo clocks, it didn't really matter – I was mesmerized. It was one of my favorite things as a kid.
Fast forward to today, and one of my favorite things is… avocados!  (Okay, that's a bit of a non-sequitor, but bear with me).  If I were stranded on a desert island and could only bring one food with me, I'd seriously consider avocados.
So when the California Avocado Commission invited me on an avocado tour, which included a behind-the-scenes visit to the West Pak Avocado sorting & packing facility, I jumped at the chance.
We started our day at West Pak, donning our reflective safety vests and hair nets.  Once inside, they walked us through every step of the process, from the avocados' arrival straight from the farm, through sorting, labeling, packing, cold storage, and shipping.
West Pak has several production lines.  One is for "loose" avocados that are boxed and shipped off to grocery stores and food service, with 48 or 60 to a case.  The other line bags the avocados, four-to-a-bag, in those mesh bags you'll find at the grocery store.
Let's start our tour with the avocados headed for those iconic mesh bags, shall we?
Each of these bins holds nearly 1,000 pounds of Avocados.
—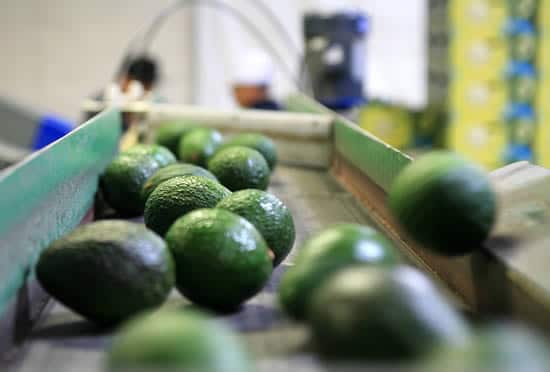 Merrily rolling along, these avos are headed towards the bagging machine.
—
This is the surprisingly intricate machine that makes the mesh-bag-magic happen. Did you know the bag and label are both 100% recyclable?
—
Et voilà!
—
The other production line is a bit more involved, since the avocados need to be sorted by hand, individually labeled, and then boxed according to their size.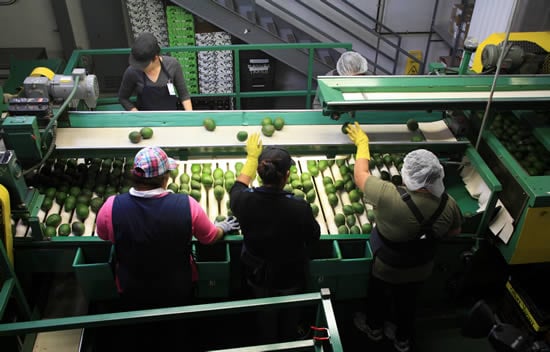 Removing any avos that aren't up to par.
—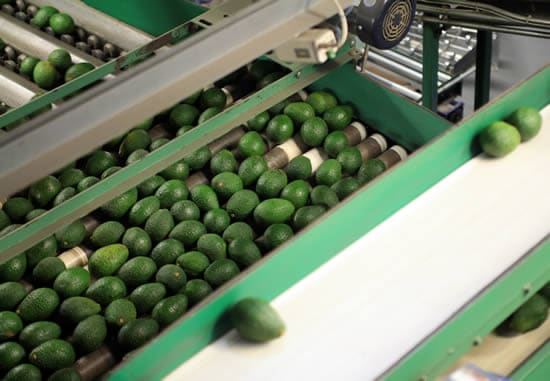 Whisked off by conveyor toward the labeling machines.
—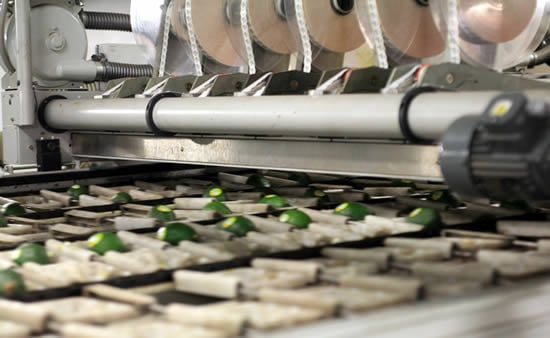 Avocados glide through the label machine. West Pak's labels include bar codes, part of the produce traceability initiative.
—
After being labeled, they're sorted by size and dropped off in these rolling bins.
—
The bins are wheeled over to packing stations a few feet away, and the avocados are packed by hand into cardboard boxes. Notice the computer monitors — they scan and track every single avocado.
—
The boxes are then scanned before being stacked on pallets. West Pak can trace every shipment, box, and individual avocado back to the farm from whence it came.
—
That's a lot of avocados!
—
After the factory visit, we headed off to Fairfield Farms, in Temecula, CA.  We drove past groves of avocado trees, orange trees, beehives, and row upon row of blueberries, finally arriving at the home of Carol and Bill Steed, right in the middle of their 400 acre, organic farm.
Carol and Bill having been growing avocados here for over ten years.  They have 110 acres of avocados, producing more than one million pounds a year.
They graciously welcomed us to their home, and we were presented with a noon-time feast of delectable avocado dishes.
Carol and Bill in their gorgeous, green backyard.
—
An avocado-themed lunch, of course.
—
And to finish it all off… avocado ice cream!
—
After lunch, we headed to the hills to get up close and personal with the avocado trees.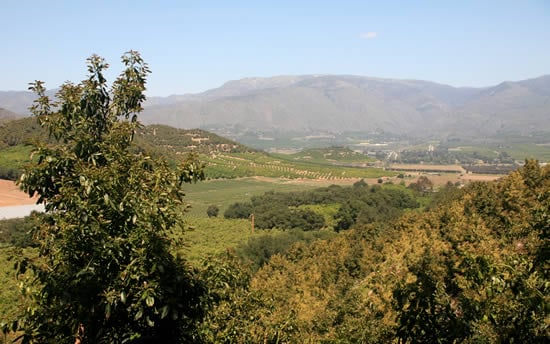 A sweeping vista at Fairfield Farms.
—
Every avocado is picked by hand.
—
—
I jotted down a few fun avocado factoids throughout the day. If you've read this far, you'll probably be interested to know:
There are over 500 varieties of avocados, but only about seven varieties are grown commercially.
Haas Avocados are the main crop, making up about 80% of the world market and 90% of the United States market.
2012 has been a good crop, producing about 400 million pounds of avocados in California. (Last year was about 250 million pounds).
On Bill & Carol's farm, four crews of seven people — 28 people total — can pick 100,000 pounds of avocados in a day. And remember, that's all done by hand.
—
Thanks to the California Avocado Commission, West Pak, Carol & Bill Steed of Fairfield Farms, and the folks at Golin Harris who put the trip together.   Other than lunch, a few avocados, a bag with some avocado-themed "swag," and a lovely day in Temecula, I received no compensation for this post — nor did they ask or require that I write about the trip.