An Orwellian Reminder
Jun 07, 2013, Updated Dec 10, 2016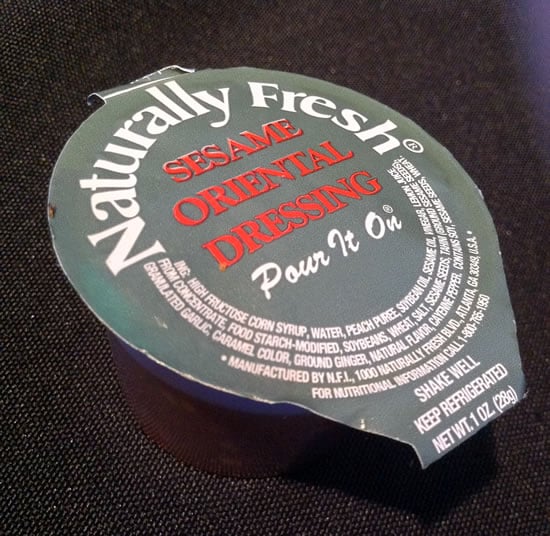 I've gotten to the point where any claims on the labels of food packages are an immediate red flag.  With all the Orwellian "Doublespeak" surrounding our foods, I now assume that packaged foods are "guilty until proven innocent" when it comes to what's printed on the box.
Take, for example, this salad dressing I encountered on a recent flight. I was lucky enough to use miles to upgrade to the front of the plane, which meant they gave me lunch. I chose the salmon*, which was served on on a bed of mixed greens, sprinkled with radish, jicama, and mango. It was a far cry from the wilted iceberg lettuce they would have served a few years ago.  It was really quite nice, and I was grateful to have a meal.
But the dressing was disappointing. I'm glad that ingredients were listed, because they let me easily see through any marketing hype on the front. The name of the company — not just the product! — is "Naturally Fresh." It's even manufactured on "Naturally Fresh Boulevard!" How great! Who wouldn't want to eat something that's both "natural" and "fresh?"
But then I read on. I didn't even have to read past the first ingredient:
High Fructose Corn Syrup, Water, Peach Puree, Soybean Oil, Sesame Oil, Vinegar, Lemon Juice From Concentrate, Food Starch-Modified, Soybeans, Wheat, Salt, Sesame Seeds, Tahini (Ground Sesame Seeds), Granulated Garlic, Caramel Color, Ground Ginger, Natural Flavor, Cayenne Pepper.
Not natural. Not fresh. Not even close.
I skipped the dressing, and my salad was perfectly lovely without it.
—
* I usually avoid farmed salmon, which this likely was, but I was hungry and figured it was a better choice than the likely-factory-farm chicken. Can't win 'em all.