Yesterday was our monthly Food Bloggers Los Angeles meeting — it's a chance for fellow food bloggers to get together, share some food, and do some bloggy shop-talk. It's always a potluck, and there's usually a common theme – this one was "Apples & Pears," as we're in the height of the season. Since I'm scrambling to keep all the October Unprocessed plates spinning (so to speak), I needed something extremely quick and easy.
I recently borrowed my mom's old food dehydrator (made in 1979!) and realized this was a perfect chance to use it. So I sliced up some fruit, set it in the dehydrator, and got back to work. (Truth be told, I was actually on the phone while I was doing most of the slicing.) Couldn't have been much easier, and you've got to love the ingredients.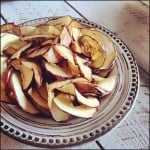 Apple & Pear chips
I made this recipe with four apples and two pears, as that was about as much as I could get in the dehydrator. That made about 4 ounces of dried fruit (it's amazing how much they shrink!), which didn't look like much, but was actually a nice amount (that's what's pictured at the top of the post). The fruit should be ripe, but not mushy.
Total Time
6
hours
15
minutes
Ingredients
Apples

Pears

4

cups

water

Approx. 2 tsp. lemon juice

Cinnamon or other spices

optional
Instructions
Wash the fruit and set aside. Add the water and lemon juice to a large bowl.

For each apple, remove the core with an apple corer or small paring knife. Turn the apple on its side, and slice into 1/4" rings. As soon as they're sliced, place in the bowl of acidified water. This helps keep them from turning brown.

For each pear, you can repeat the coring process -- though I sliced them in half (from top to bottom), and then cut out the core, and cut them into half-rounds instead. Add them to the water, too.

Optionally, dust them with ground cinnamon or other spices (nutmeg? clove?).

If you're lucky enough to have your parents' dehydrator, lay the fruit in a single layer on the trays in the dehydrator. Cover, turn it on, and walk away. Come back in four hours and check on things -- it'll probably take a total of 6 to 10 hours. You may need to remove some sooner than others.

You can also dry these in the oven. Line a baking sheet with parchment paper, and lay the slices flat on top. Bake at the lowest setting your oven will go (about 175-200), for approximately 2 to 6 hours (depending on the temperature and how thick you've sliced them). Just keep an eye on them every couple of hours; you may need to remove some sooner than others.
Recipe Notes
I learned the hard way that an apple corer would be really helpful -- it took me about five times longer because I had to use a paring knife (and it wasn't pretty). I also don't have a mandoline slicer, so I just did the best I could do keep the thickness of the slices as even as possible. It doesn't really matter if they're a bit uneven, though you'll have to keep a closer eye on them because some will finish sooner than others.