Jackie Gonzalez-Feezer is the recipe developer and photographer behind La Casa de Sweets, where she shares her grain-free and (mostly) vegan recipes. Having made the switch to a grain-free lifestyle a few years ago, her goal is to make healthy food taste good. You can also find Jackie on Facebook, Twitter, and Instagram.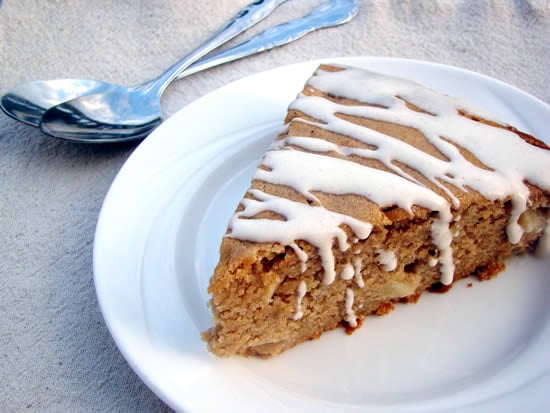 I am so honored to be guest posting for Andrew today!  I have proudly joined the Unprocessed Movement this year.  Since my husband, two daughters and I were already on a healthy vegetarian diet, we just knew we had to take the Unprocessed challenge this month.  We decided to adhere to the Unprocessed rules as strictly as possible for all of October.  Starting in November, our family will remain on an unprocessed diet, making the occasional exception for a sweet treat now and then.  I do have a sweets blog, after all!
Although our family found the unprocessed diet fun and inspiring, our one main challenge came when it was time to entertain guests.  We love entertaining, and we have dinner parties several times a month.  I wondered how we would entertain and remain true to our new diet.  Unprocessed entertaining?  I admit I was stumped for a few minutes.  I wanted to provide my guests with wholesome unprocessed food that tastes delicious.  Possible?  Oh, yes!
This Apple Spice Cake with Cinnamon Greek Yogurt Icing is absolutely delicious, and perfect for entertaining!  The apple cake is made with whole wheat flour to give it a nice texture, honey to sweeten the cake, and coconut milk to moisten it.  The icing is made with Greek yogurt, cream, and a touch of cinnamon — the icing is the perfect sweetener for the cake.  Once you've tasted this cake, you'll know that Unprocessed Entertaining is definitely possible!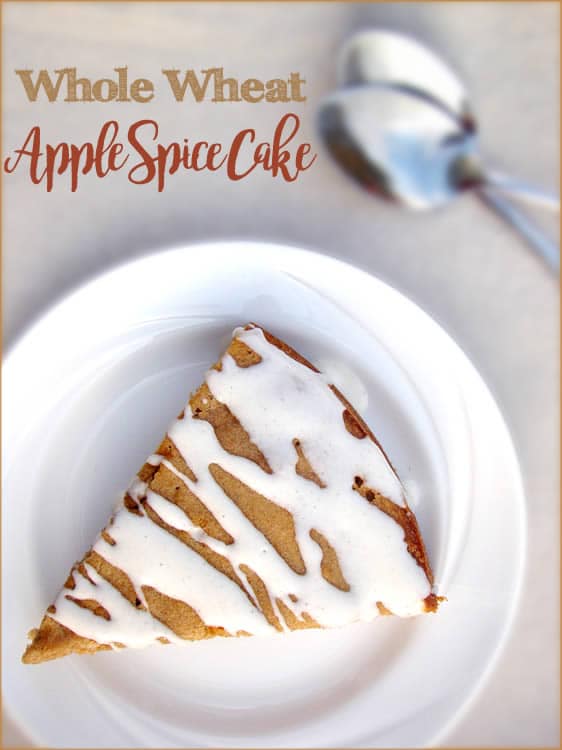 Apple Spice Cake with Cinnamon Greek Yogurt Icing
Author:
La Casa de Sweets
Makes 2 9-inch round cakes.
Ingredients
Apple Spice Cake
4 cups Whole Wheat Flour
1 tsp. Baking Soda
1½ tsp. Cinnamon
½ tsp. ground Nutmeg
1¼ cups unsalted Butter, at room temperature
2 cups Honey
8 Eggs
½ cup Coconut Milk
2 cups Homemade Applesauce
2 cups chopped Apples
Cinnamon Yogurt Icing
2 cups Greek Yogurt
2 Tbs. Honey
½ cup Milk or Heavy Cream
1 tsp. ground Cinnamon
Instructions
Apple Spice Cake
Preheat the oven to 325 degrees Fahrenheit. Butter and flour two 9-inch round pans. Set aside.
In a medium bowl, whisk together the flour, baking soda, cinnamon, and nutmeg.
In the bowl of your mixer, beat together the butter and honey for 1-2 minutes. Add in the eggs, one at a time, beating well after each egg.
On low speed, mix in the flour mixture until combined.
Mix in the coconut milk, the applesauce and chopped apples.
Pour the batter into the two pans.
Bake at 325 degrees for 50-55 minutes, or until a cake-tester comes out clean.
Let cool completely before icing.
Cinnamon Yogurt Icing
In the bowl of your mixer, combine all ingredients. Mix on medium-high speed for 4-5 minutes.
Refrigerate for at least 1 hour before icing cake.
Once cakes have cooled, drizzle icing on cake, and serve. Enjoy!
Notes
For a fancier presentation, layer cakes with icing.