Baked Kale Chips
Aug 13, 2010, Updated Oct 03, 2017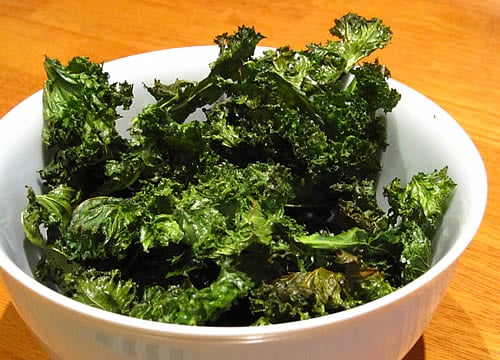 Kale is one of the most nutrient-dense vegetables out there, even beating out spinach and chard for the top title.  It's low in calories, and is a good source of vitamin A, vitamin C, vitamin K, calcium, manganese, lutein, and iron.
A couple months ago, a friend told me about making baked kale chips, and I must admit, my first thought was, "Hey, that's crazy!"  Turns out, I was the one who was crazy to wait so long to try it.
It's fantastic!  Light, crispy, and crunchy, the kale sort of melts-in-your-mouth.  It has a slightly earthy, almost sweet, and definitely salty flavor.  Not quite as decadent as potato chips, of course, but it's got a similar "snacky" feel, while conveniently avoiding any of that "guilty" feel.
We simply devoured them.
So… go bake some Kale.  Do it.  Do it NOW.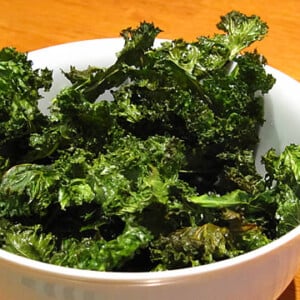 Baked Kale Chips
These super basic, super simple chips are super yummy and they are the perfect way to enjoy a healthy snack.
Ingredients
2

cups

kale leaves

1

teaspoon

extra virgin olive oil

several pinches sea salt
Instructions
Wash and dry the kale. Tear or cut the leaves into pieces, cutting out the tough center stem.

Toss the leaves with the olive oil, and then sprinkle on a few pinches of sea salt.

Lay the leaves on a cookie sheet (see pic below) and bake at 350°F for about 10 minutes.

Careful, though: If you bake them too briefly they won't get crispy, but go too long and they'll be burned. Check them at 9 minutes, and if they're not crispy yet, give them a couple more minutes and check again. You may need to pull some out sooner than others.
Nutrition
Calories:
50
kcal
,
Carbohydrates:
5
g
,
Protein:
2
g
,
Fat:
2
g
,
Sodium:
25
mg
,
Potassium:
328
mg
,
Vitamin A:
6695
IU
,
Vitamin C:
80.4
mg
,
Calcium:
101
mg
,
Iron:
1
mg
Like this recipe? Rate and comment below!