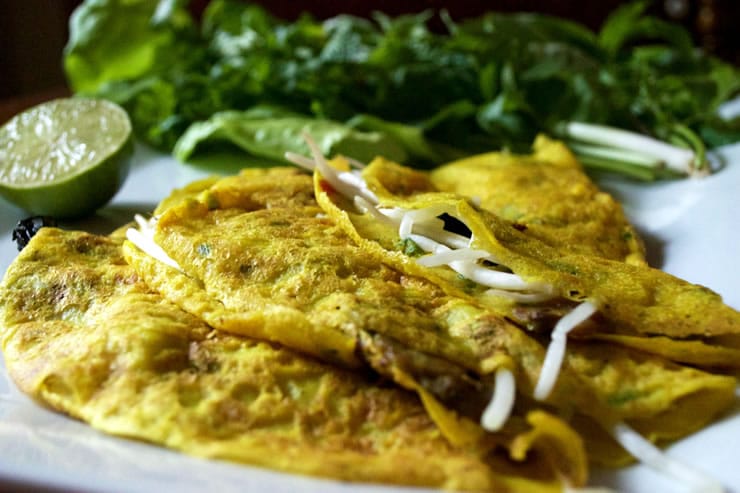 One key thing we've learned from cooking around the world is that everyone seems to love crepes. Of course we all know the French, but what about Ukranian and Nepali ones? As it turns out, almost every cuisine has its own type of crepe!
Sure enough, the Vietnamese have their own special version too, and even amid the ubiquity of a thin pancake, there is something truly unique about Banh Xeo.
But what's in the name, exactly? Translated into English, banh xeo literally means "sizzling cake" and is a reference to the loud pop and sizzle you hear when the batter hits the hot surface of a pan.
A lot of what makes the sizzle comes from the batter. The simplest form of the batter – at least in the Southern Vietnamese style – contains some rice flour, coconut milk, water and turmeric powder, and that's it!
Depending on who you talk to, though, you'll find there are adjustments you can make that enhance the crepe's crisp and sizzle, and really… these tweaks are all over the place!
You could:
Cut back the coconut milk and add more water for a lighter, airier batter
Substitute sparkling water for flat; the carbonation makes the batter even lighter
Add a dash of wheat flour into the mix to help with crisp and crunch
Even adding beer (more carbonation) can help!
However you choose to make your banh xeo batter, though, the process of cooking your crepe remains largely the same. If you do make tweaks, though, be mindful of keeping the liquid to flour ratio roughly the same as we have it below.
Of course, it's not a real banh xeo without some delectable savory filling! Banh xeo is most commonly made with a filling of pork, shrimp, scallions and bean sprouts, although you'll see a variety of recipes calling for all types of fillings. Just keep in mind that the idea of having a savory filling is paramount to this crispy crepe.
To cook your banh xeo, it's best to work with a heavy-bottom pan to evenly distribute heat across the pan. The batter is very fickle, and we can promise you – after many, many test batches – that using a heavy-bottom non-stick or cast iron pan makes all the difference.
It's best to prepare the banh xeo batter ahead of time and let it rest for at least 30 minutes before it hits a hot pan. Luckily, this give you a perfect window of time to prepare your filling and dipping sauce before putting it all together.
Eating banh xeo is just as much of an experience as cooking it. Break off a piece of your steaming hot crispy crepe and wrap some fresh greens around it, then dip the entire concoction into the sour-sweet-zesty nuoc cham sauce. The entire bite packs so much flavor!
Specially for October Unprocessed, we wanted to offer a recipe for everyone to enjoy, which is why we put together a Banh Xeo with vegan-friendly filling. Keep in mind, however, that the nuoc cham sauce is decidedly non-vegan and non-vegetarian, but the rest is a-okay.

Banh Xeo - Crispy Vietnamese Crepes with Sautéed Kale & Mushrooms
Banh xeo is most commonly made with a filling of pork, shrimp, scallions and bean sprouts, although you'll see a variety of recipes calling for all types of fillings.

Total Time
1
hour
15
minutes
Ingredients
Batter:
1

cup

rice flour

we used Bob's Red Mill

1 to 2

teaspoons

ground turmeric

2 1/2

cups

sparkling water

3/4

cup

coconut milk

1/4

cup

beer

optional, but highly recommended… otherwise use more sparkling water

1

teaspoon

salt

2

stalks of scallions

sliced finely
Filling:
1/2

cup

mushrooms

sliced thinly

1

red bell pepper

julienned

1/2

cup

kale

de-stalked and chopped

1 1/2

tablespoons

garlic

~2 cloves, minced

1/2

cup

shallots

~3 shallots, diced

1

tablespoon

coconut or olive oil
Nuoc Cham Sauce (Note: this is optional and definitely not vegan):
1

tablespoons

fish sauce

this brand is OU compliant

1

tablespoon

honey

5

tablespoons

water

1

tablespoon

lime juice

1

red chili pepper

finely chopped

1

clove

garlic

minced
Possible Side Garnishes:
Fresh basil

Fresh mint

Scallions

Fresh parsley

Fresh cilantro

Lettuce
Instructions
Step 1: Create the Batter
Start by adding your rice flour, salt and turmeric into a mixing bowl.

Next, add in your sparkling water, coconut milk and beer (if you choose to use it) into the mixing bowl. Whisk your batter together until you have a nice, runny batter (no clumps of flour).

Let the batter sit for at least 30 minutes. During this time, you can work on preparing the filling and your nouc cham.
Step 2: Prepare Filling and Sauce
Take a heavy-bottom non-stick pan and place it over medium-high heat. Once heated, add oil followed by garlic and shallots. Sauté for 30 seconds as they start to become fragrant.

Next, add your mushrooms and red bell pepper and mix around. Cover the pan and let the ingredients steam together for 5-7 minutes. Just be sure to jostle the pan every so often to keep things from sticking.

After a couple of minutes, uncover the pan and add your kale, then re-cover the pan to continue steaming for another 2-3 minutes.

Once all your filling ingredients have softened, remove the cooked vegetables from the pan and set aside for the next round of cooking. Also, carefully wipe your pan clean of any remaining bits of filling, but don't wash it… there's yummy flavor in there!

Now, to make the sauce, take a small bowl and combine water, fish sauce, honey, lime juice, chilis, and garlic together. Stir well then set aside.
Step 3: Time to Make Your Banh Xeo
Before you get started, add your scallions into the crepe batter and mix well.

Take the same pan you used to sauté the filling and put it over medium-high heat. Lightly brush the surface with some coconut oil (but not too much!).

With the pan heated, place a spoonful of filling back into the pan - keep it only on one half of the pan.

Next, ladle a small amount of batter (~1/4 cup should do) over the filling ingredients and thinly cover the bottom of the pan. Here's where you get the xeo sizzle as the airy liquid dissipates and the crepe quickly cooks.

Cover the pan for 1 1/2 minutes to let the banh xeo steam.

After this time, uncover and add some bean sprouts, then re-cover to let the crepe steam for another 1 1/2 minutes.

Finally, uncover your banh xeo, carefully fold the non-filling half of the crepe over the half with filling, then take the crepe out of the pan and serve immediately.

Repeat until all your crepes batter is gone.
About the Author
Arousing Appetites is a food blog run by Cyrus Roepers and Heather Rodgers on their quest to create an anthology of the world's recipes. Each week, they learn about new a new cuisine, eating lifestyle, and cooking technique from some faraway place around the world. Of course, they make the needed adjustments to keep recipes healthy and clean eating where needed! You can also find them on Facebook and Pinterest.