Back in my younger days at Massachusetts College of Art, one of my Sculpture teachers gave us an assignment to use any three materials, but no adhesives, in order to convey an emotion. While I floundered a bit, some of the students came back with really phenomenal pieces of art. The professor's point was that sometimes limitations are liberating. Creativity feeds off boundaries.
When you make radical changes to your diet, the limitations can be overwhelming at first. But once you've had some time to adjust, a whole new world can open up. I love to think about the changes my family has made in the way we eat and acknowledge the fact that we are not only healthier, but also enjoy our food much more and love to explore new tastes.
If we hadn't set ourselves some limits and set about educating ourselves, we never would have tried so many new foods. In the process we've created our own little kitchen subculture where experimentation is the rule of the day. This is my favorite unexpected benefit of blogging about healthy snacks.
Snacks are the perfect vehicle for expanding your family's palate because they are relatively low-pressure and low-commitment. One of my main goals is to provide wholesome snacks. But I don't want to put a ton of time into them unless I feel like it. Therefore, if my child rejects it, I'm not terribly upset. We just move on and give it another go some other time.
The backbone of a healthy snack diet is composed of fresh fruit and vegetables. Even in New England, we manage to make local seasonal produce an important player in our snacking repertoire for a good part of the year. But in the dead of winter I've discovered that unusual fruits and vegetables are also a great way to expand my children's palates (and minds). Ethnic markets are great sources for engaging foods like dragon fruit, sugarcane, quail eggs, or purple yams.
Different preparations and presentations of commonplace foods can generate newfound excitement over a healthy snack. A perfect example is beet chips. I found myself cooking some up one day with my then three-year-old. While I knew we both loved beets, I was still surprised at how much she loved the chips saying, "Mama, these are better than chocolate!" Well, I can't say I agree with her on the chocolate comparison, but they are very pretty.
I'm sure my family has only scratched the surface as far as exploring new foods goes. What kind of unlikely foods have you found yourself trying out for the first time lately?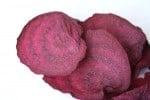 Beet Chips
I've done some experimenting with beet chips in an attempt to determine what is the best way to turn out reliable results. The most important factor is using a
mandoline
(Protect those fingers!) so that the chips' thickness is uniform and they dry out evenly.
It is possible to bake the chips on a parchment lined baking sheet in an oven set to a very low temperature (150 degrees Fahrenheit or lower) for a few hours. While the oven works well at higher temperatures if your timing is perfect, the chips can burn in an instant and the second they burn even slightly the sweetness of the beet disappears. Using a
food dehydrator
is the safest bet since the temperature can be set very low.
Also, beets that are at least three inches wide have less of a tendency to shrivel up during dehydrating.
Total Time
3
hours
10
minutes
Ingredients
2

medium Raw Beets

washed and peeled
Instructions
Slice the prepared beets paper-thin with a mandoline.

Lay the sliced beets out onto dehydrator trays.

Set the dehydrator to 125 degrees Fahrenheit and dry the chips for approximately 3 to 4 hours. Drying time varies depending on the thickness of the chips and the humidity level near your dehydrator.

Serve or store in an airtight container. Depending on how dried out the chips are, they are probably good for at least few weeks. They are easily squashed if stored in a bag, so opt for a sturdier container.
About the Author
Back in 2008, Cindy Rowland got sick of feeding her kids ice cream and store-bought crackers at snack time. Cindy's blog, Fix Me A Snack, chronicles her family's journey away from processed snacks and toward real and fantastic foods. Cindy lives happily nestled in the hills of central Connecticut with her family. She can also be found on Facebook and Twitter.