27 Awesome Apps for Healthy Foodies
Jun 08, 2011, Updated Sep 20, 2018
This list doesn't need much introduction, though I should probably mention that my original plan was to put together a post with just ten apps for healthy foodies. It quickly became impossible to narrow it down that far, as there are just so many top-notch apps out there these days.
You may have heard of some of these, but I expect you'll find at least a few new gems in this list. (Many thanks to everyone who sent me suggestions!)  Of course, if I missed any essential apps, and I'm sure I did, please let us know in the comments.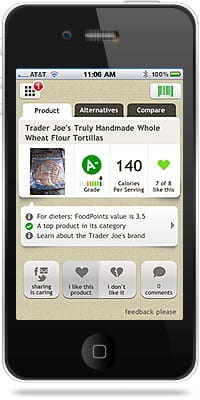 Apps for Healthier Shopping & Eating
1. Fooducate

If you haven't heard of Fooducate yet, you're in for a treat. This free app lets you scan the barcode of any product (or just shake it for a random item, which is fun), and then gives you a letter grade, the number of calories per serving, and additional relevant health-related information (My favorite? "Look out! Not 100% whole grain.")
Click the "Alternatives" tab for suggestions of better products, or you can compare two products to help you decide which to put in your cart.
Free. (Hat tip: @Tobgyver, @Urbanbohemian)
2. Honest Label

Scan any barcode in the grocery store (their database is already over 250,000 items), and it should give you clear nutritional information. I particularly love that you can keep a list of ingredients you want to avoid, and the app will warn you if it's in one of the items you scan.
Unfortunately, the database still needs work… I scanned six or seven items in my fridge, and it only recognized one of them. Once they work out a few kinks, I have faith it's going to be great.
Free.
3. Good Guide
Good Guide has rated tens of thousands of products (not just food) according to health, environmental, and social performance. Everything gets a score from 0 to 10; the higher the better.  All the scores are available on their website, but you can use the mobile app when you're at the store to quickly scan a product's barcode and see how it stacks up.
Free.
4. CSPI Chemical Cuisine

This is a mobile version of the Center for Science in the Public Interest's Chemical Cuisine website — which is one of my go-to resources.  It lists over 130 food additives with their descriptions and safety ratings to help you make healthful decisions, and will update automatically when new information is available.
$0.99
5. Pic Healthy
In the genre of "Healthy Eating as Social Networking Game," Pic Healthy is easily one of the leaders. It's a food photo diary app that lets you take pictures of food, rate how healthy or unhealthy it is, and then share with your friends and get their opinions — and then earn or lose points.
If you have friends who want to play along, this could be a great way to stay healthier as a team.
Free. (Hat tip: Dad.)
6. Good Food Near You
I'm not completely in love with this app, but it's a start.  Their database includes mostly large chain restaurants (and lots of fast food) — making a few recommendations for healthier menu options. In a pinch, it could prove helpful.
Free.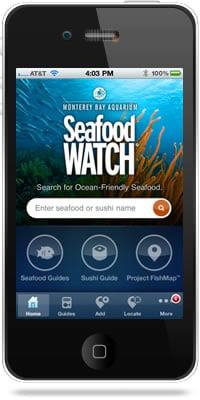 Sustainable, Organic, and Non-GMO Apps
7. Seafood Watch

This is the essential guide for making more sustainable choices when buying seafood. With the exception of a few species (Wild Alaskan Salmon! Wild Alaskan Halibut!), I have trouble remembering which fish are the way to go, and which are the best to avoid (Swordfish! Orange Roughy!).  This app recently received a full makeover, and it's now much faster and easier to use. Just type in the seafood into the searchbox, and you'll instantly have the Monterey Bay Aquarium's expertise and guidance on what to order, guilt-free.
Free. (Hat tip: Emily F.)
8. True Food

Concerned — or just curious — about Genetically Modified Food?  Check out this great app from the Center for Food Safety.  It's filled with tons of great information and resources, as well as ways you can take action.
Free.
9. Dirty Dozen (Shopper's Guide to Pesticides)

The Environmental Working Group's Shopper's Guide to Pesticides is the definitive guide of fruits and veggies with the most and least residual pesticides. Their "Dirty Dozen" and "Clean Fifteen" lists help you know which to buy organic, and which are okay to by conventionally-grown (if organic is not available).
Free.
10. What's On My Food?

Want to dig deeper than the Dirty Dozen?  This app from the Pesticide Action Network uses data from the USDA's database of 89 different foods, pulling the most recent data (ranging from 1999 to 2007). It gets painfully specific, showing possible carcinogens, hormone disruptors, neurotoxins, and more.
They separate "conventional" and "organic," and show the residues for each.  If this doesn't convince you to buy organic, I bet nothing will.
Free.
11. HarvestMark Food Traceability

Using this app it took me only about five seconds to learn that the raspberries I bought yesterday at Trader Joe's came from Marz Farms, in Oxnard, California. (Look for a label that has the "HarvestMark" icon

and then just scan the barcode). Pretty cool.
Free.
Apps for Eating Locally & In Season
12. Locavore

As soon as you start this app, it finds your location and displays a list of local fruits and vegetables currently in season (and what's coming up soon).
In Southern California, it's a long list (only one month left for Chard and Kumquats!), and spot-checking a few other areas showed at least some good options.
It also incorporates a farmer's market finder, which quickly found several locations near home. Oh, and when you eat locally you can use Locavore to share on Facebook, and show off just how awesome (you think) you are.
Free. (Hat tip: Sheila S.)
13. Harvest – Select the Best Produce

With a simple yet attractive interface, the Harvest Produce Guide shows you how to select and store your fruits and vegetables. It also indicates a typical "pesicide load," so you can see at a glance which foods are most important to buy organic.
What I love most about this app is that it was created by one healthy foodie-slash-entrepreneur, Sean Murphy. (His homepage has a picture of him on a farm, not in front of a computer!)
$1.99. (Hat Tip: @shefskitchen)
14. Seasons

Seasons is Locavore on steroids. It's all about foods that are in season, but with significantly more detail than Locavore. It covers fruits, vegetables, lettuces, herbs, mushrooms, and nuts. It support the United States, Canada, United Kingdom, Australia, Western and Central Europe. It lets you search by "local" and "imported" season. It also includes an international Farmers' Market finder, which makes this app perfect for the traveling local foodie.
(The geek in me also likes the little graphs that show the availability throughout the year.)
$1.99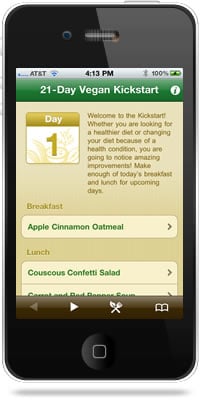 Allergy, Gluten-Free, and Vegetarian/Vegan Apps
15. Cook IT Allergy Free

This app has over 200 recipes that can all be customized to be made allergy free. Tell the app everything you're allergic to, and it'll automatically adjust the recipe to include a subsitution. You can save your adjusted recipes, keep notes on your "trial & error," create a shopping list, and more.
$4.99 for iPhone/iPod, $8.99 for iPad
16. Find Me Gluten Free

Find Me Gluten Free helps you find gluten-free restaurants, bars, cafes and grocery stores. View menus, call, or get directions for each business. View others' ratings and reviews and submit your own.
Free.
17. Is That Gluten Free?

This app helps determine if foods are gluten free. You can search their database of over 23,000 items by category, brand, or product name. It has a higher price tag than most, but if you really need help finding gluten-free products, it looks to me like it'd be worth it.
(See also: Is That Gluten Free? Eating Out)
$7.99
18. 21-Day Vegan Kickstart

The app is a companion to the Physicians Committee for Responsible Medicine's popular 21-Day Vegan Kickstart program. It gives you vegan recipes for every meal for three weeks (one week at a time, since they don't want to overwhelm you).
Unfortunately, the app seems to be lacking a grocery list — if they were to compile each week's menu into a shopping list, that would be a huge improvement. But even so, if you've been thinking about "Going Vegan," even if just for a little while, PCRM has got your back.
Free.
19. Happy Cow

Searching the Happy Cow database, this app helps you find vegetarian, vegan, & veg-friendly restaurants nearby. You can filter by "Veg-Type," and it suggests restaurants in over 90 countries.
$2.99 for iPhone/iPod, $1.89 for Android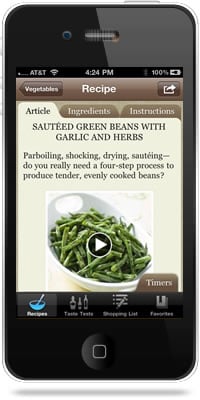 Cooking and Recipe Apps
20. iCookBook

I had a chance to demo this app a few weeks ago, and I must say it's pretty slick. While not specifically showcasing healthful recipes, some of the features were impressive enough that I wanted to include it in this list anyway. I particularly like the "Prep Mode" feature, which lets you use voice commands ("On screen!") to walk through each step of a recipe, keeping your greasy paws off your expensive iPad screen.
(iPhone and Android versions are due out later this year.)
$4.99 for iPad
21. How to Cook Everything

This is the app version of Mark Bittman's How to Cook Everything. With a title like that, it obviously needs to have some serious content to back it up, and it most certainly does. Best of all, it's filled with useful information that's presented in Bittman's informative yet approachable style ("14 More Kitchen Tools You'll Probably Want!").
(See Also: How to Cook Everything Vegetarian).
$4.99
22. Cook's Illustrated

Featuring 50 of their "all-time best" recipes, it includes ingredient reviews, how-to videos, shopping lists, and recipe timers.  Subscribers have access to more recipes.
Free. (Hat tip: @TasteMyKitchen)
23. SparkRecipes

This Healthy Recipes app by Spark People lets you browse and search thousands of recipes. I particularly like that it's all geared towards healthy eating (and they include nutrition info for each recipe).
Free. (Hat Tip: @IAmSheraPop)
24. Epicurious
Including over 28,000 recipes from the Condé Nast family (Gourmet, Bon Appetit, etc), you can browse, search, and save your way through the kitchen. The iPad version includes nutritional information for thousands of recipes, which is a nice bonus.
Free; $1.99 if you want to sync. (Hat Tip: @FoodiesofFrance)
25. Paprika Recipe Manager

The Paprika Recipe Manager App lets you enter your own recipes, browse for them online (and save them to the app), plan your meals, make a shopping list, email recipes, and sync across devices (for an added fee).
$4.99. (Hat Tip: @nikki_d)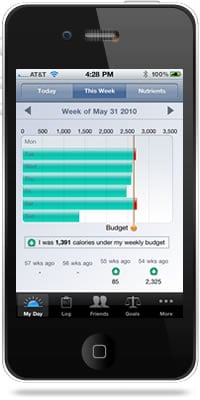 Calorie Counting Apps
26. Lose It!

Lose It! helped me lose 30 pounds. Need I say more?
(Available online and as a mobile app; they sync.)
Free.
27. Calorie Counter Pro (My Net Diary)

I have to admit — this is a lot like Lose It, but the interface is far sexier and feature-rich. (Then again, it has so many bells & whistles that it may send you running back to Lose It!)
$3.99
—
Phew! What a list…but of course it's by no means complete! Leave a  comment and let us know your favorite healthy food app.