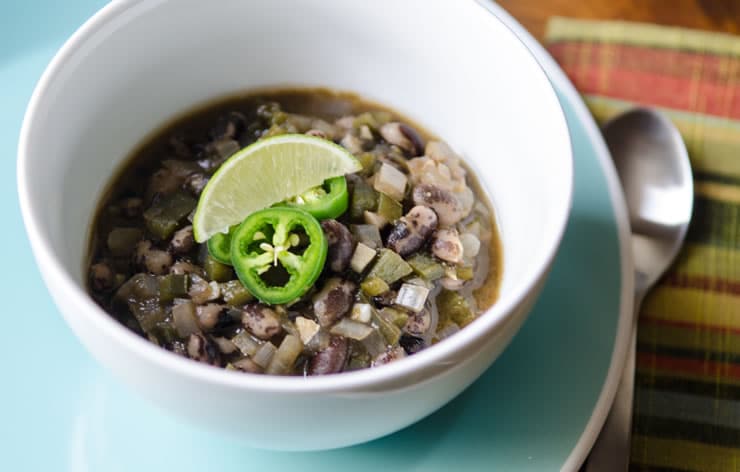 Dry beans are one of those ingredients that seem infinitely challenging and time consuming. The truth is beans cooked from scratch are far more delicious and economical than canned beans. Sure, they take time, but there are ways to save time and make that time investment worth it. Additionally, you're never going to find a can of orca beans, or any of the exciting beans (and there are so many) at the store. If you're lucky, you can find lentils and black-eyed peas, but you're not going to walk away with French flageolet, tiny adzuki or dappled cranberry beans. As with anything, variety is the spice of life. Different beans offer different textures, flavors and colors to your meals.
People tend to think of dry beans as stale. That might be true for the bargain bag of pinto beans on the bottom shelf, but if you choose high quality dry beans they're going to be very fresh. You might spend $5 on a bag of Bob's Red Mill black beans, but that bag will make you about six cans' worth of beans.
Dry beans do take time, but you can save some time with a few tricks.
Soak your beans. It's not strictly necessary, but it will shave off some time. Simply cover your beans with about 2" of water and let soak a few hours to overnight before cooking. No need to refrigerate, room temp is fine. Drain off water and cook beans when you're ready to rock and roll.
Use a pressure cooker if you have one. These days, pressure cookers are safe and can do all sorts of miracles beyond cooking beans quickly. [Andrew's Note: The Bob's Red Mill Pressure Cooker Giveaway ends October 5, so enter today!]
Use a slow cooker. Throw your beans and water in, set the slow cooker on low and let them simmer all day. Alternately, put it on high and have beans in a few hours.
Make a big batch and freeze them in usable portions. You can freeze beans and they still taste great. Make a whole bag of beans and freeze them in 2-cup (about a can's worth) containers.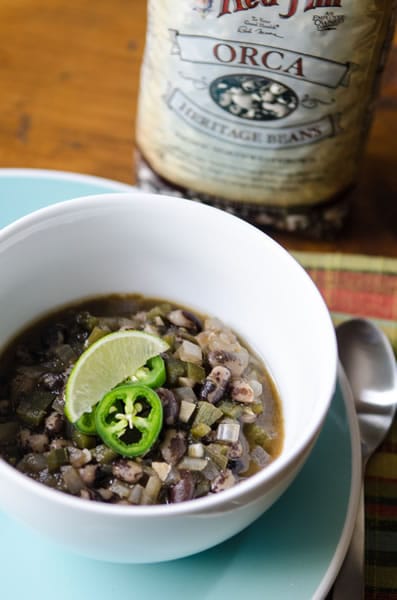 Black and White Orca Bean Chili
A flavorful chili with a slight kick, serve this with fresh cornbread and a sprinkling of cheddar cheese.
Cook Time
1
hour
30
minutes
Total Time
1
hour
40
minutes
Ingredients
1½

cups

Bob's Red Mill® Orca Beans

7

cups

vegetable broth and/or water

1½

cups

yellow onion

chopped, 1 large

¾

cup

poblano peppers

chopped, 2 medium

2

tablespoons

jalapeno

minced, 1 medium

2

tablespoons

garlic

minced

2

teaspoons

dried cumin

1½

teaspoons

dried coriander

1

teaspoon

chili powder

1

teaspoon

dried oregano

1

teaspoon

salt

¼

cup

fresh lime juice

from 1 lime
Instructions
Sort and rinse orca beans and place in a large soup pot with vegetable broth and/or water. Cover and bring to a boil. Reduce heat to medium-low and let simmer until just soft, about 45 minutes.

When beans have slightly softened, add the onion, poblanos, jalapeno, garlic, dried herbs, and spices, and salt. Continue to simmer on medium-low until the beans have fully softened, another 15 – 30 minutes.

Add fresh lime juice just before serving.
About the Author
Cassidy Stockton writes and publishes a blog on behalf of Bob's Red Mill Natural Foods, a distinctive stone grinding miller of whole grain natural foods. Bob's Red Mill offers the widest selection of whole grain, natural, organic and gluten-free flours, cereals, and baking mixes. And, of course, they're a sponsor of October Unprocessed 2015! You can follow them on Facebook, Twitter, Instagram and Pinterest.