Jennifer Leal is a New Englander who discovered her passion for science at a young age, and her passion to be a Stay At Home Mom and Foodie a bit later.  She's now the mother of two and the owner of the food and family blog Savoring the Thyme.
Last year she shared her deliciously simple recipe for Sweet Potato Wraps, and today she offers up another easy win. You can also find her on Facebook and Twitter.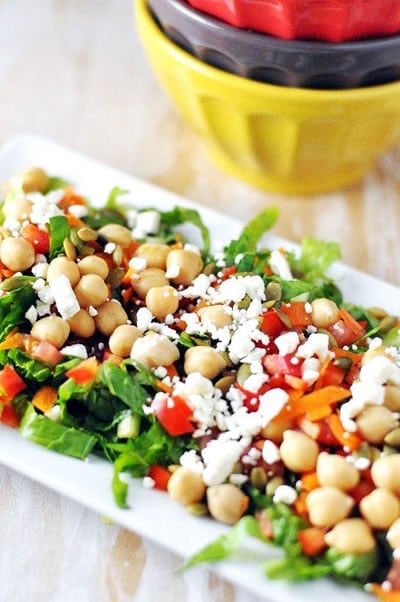 Being a busy mom, blogger and social person means that there is seldom time for in-depth recipes and meals however, healthy choices are always a main focus of mine. I enjoy tossing beans and seeds on as many recipes as I can and testing out the flavors. Such is the case with this salad.
My friend stopped by and while the kids played, I made this salad. Even though there was enough for four people, we ate it as our main meal and felt satisfied. Try to use organic and BPA-free canned items if possible, but no matter what, enjoy what mother nature has supplied.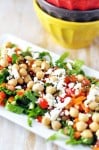 Chickpea, Pumpkin Seed & Feta Salad
This delicious combination of ingredients makes for the perfect salad to have when guests come over.
Ingredients
1 1/2

cups

Baby Spinach

sliced into thin strips

1 1/2

cups

Romaine Lettuce

sliced into thin strips

1/2 15

oz.

can of Chickpeas

rinsed and drained*

1/2

Carrot

grated

1/4

cup

roasted salted Pepitas

(Pumpkin Seeds)

1/2

Red Pepper

chopped

1/3

cup

crumbled Feta Cheese

Olive Oil & Red Wine Vinegar to taste
Instructions
Prepare all ingredients and combine in a bowl.

Drizzle on olive oil and vinegar, toss well and enjoy.