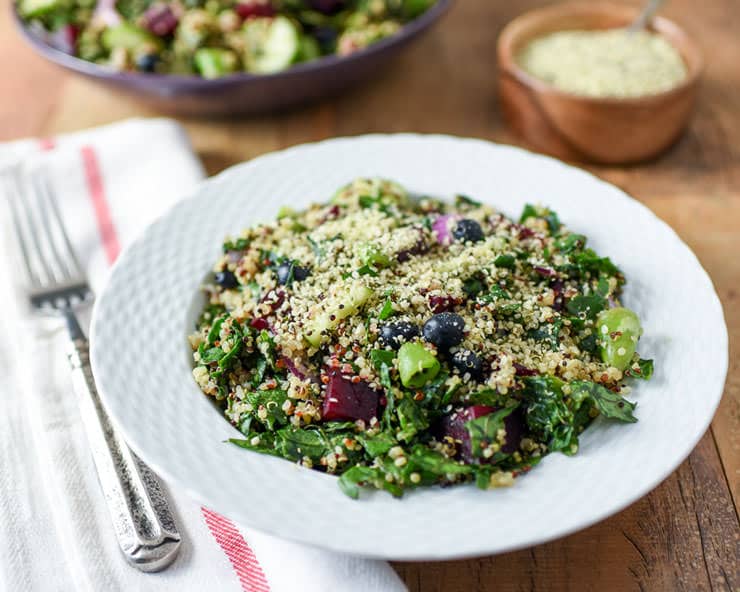 When I first heard of "massaged kale," I was terribly confused. I've always heard that being delicate with your greens is preferred, so you don't bruise them. If you don't know by now, kale can be tough and bitter. Massaging it not only dampens the bitterness and ensures that the leafy green is well-seasoned, but massaged kale is more nutritious because you're preëmptively breaking down cell walls, making the digestive process much easier!

So, how do you "massage" kale? I'm glad you asked! It's just like it sounds – you massage it with your hands. You start by removing the leaves from the stem. I like to get a good hold on the end of the stem with my right hand, and with my left hand, apply pressure on the stem, and quickly strip the leaves off. Normally you'll successfully separate the tough ribs from the leaves in one swoop, but if not, just go back through the leaves and remove any tough stems you missed.

Chop the kale into bite sized pieces, then place in a large bowl. My absolute favorite way to massage kale involves 1/3 cup avocado (healthy fat), 1/2 teaspoon salt (abrasive), and 1 tablespoon lemon juice (acid). Add them to your bowl, make sure your hands are freshly washed, and go to town! It's fun for adults and kids alike. Grab handfuls of kale, and squeeze making sure to also break down the avocado. You'll see the kale noticeably change to a darker color, and wilt slightly. The kale will stick to your hands because of the fatty avocado, so be patient and pull the kale off your hands finger by finger. Your salad is nearly ready to go!

After that, you're ready to mix in all the other ingredients. Besides the quinoa, you can add whatever fruits and veggies that you like to this salad. My general guideline is 2 to 3 veggie add-ins, one sweet component, and one fat component. In this recipe, I used sweet sugar snap peas, cucumber, roasted beets, blueberries, hemp seeds, and a teeny bit of red onion. All extremely nutritious for your body, they lend their unique flavor profiles of sweet, salty, bitter, savory, with just a touch of pungency. Every bite will keep you not only entertained and delighted, but also unprocessed!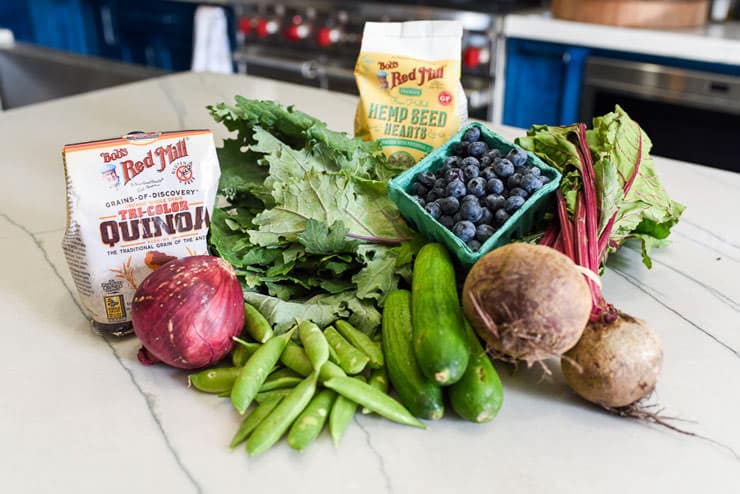 How to maximize your ingredients and efficiency while making this salad:
Double It Up
Make a double batch of quinoa, and save the other half of what you make for a later use. This is an incredible time-saver as you're getting double the quinoa for the same amount of time it takes to make one batch. You can save it in an air-tight container for a dish later in the week. If you don't think you can get to it right away, you can place ½ cup portions on squares of plastic wrap, then draw up the corners so you're left with a quinoa ball, and freeze them. They'll be ready when you are!
Re-Use Your Oven
While you are roasting the beets, take advantage of that heat, and roast some extra vegetables. When I made this salad, I halved a spaghetti squash, scooped the seeds, sprayed with olive oil, placed on a sheet pan, and let it roast with the beets. I think the squash is going to make it into Jackie's Homemade Vegan Enchiladas later this week, actually! Don't stop at the spaghetti squash, either. Roast some potatoes for breakfast the next day, or roast cauliflower and broccoli to go with that quinoa for a quick, unprocessed dinner.
Juice The Stems
Keep those kale stems and beet greens. If you're into juicing, kale and beet stems are less bitter, and full of moisture. Pair with pineapple, carrot, and apple for an energizing and nutritious juice. If not, you can always compost them.
Eat (All) Your Greens
Did you know you can eat those beet greens? You've removed them from your stems that you'll juice later, so chop the leaves into bite-sized pieces, and sauté with extra virgin olive oil, cherry tomatoes, and garlic. Pile on top of your 100% Stone-Ground Whole Wheat Bread, and top with a sunny-side-up egg. Breakfast is served!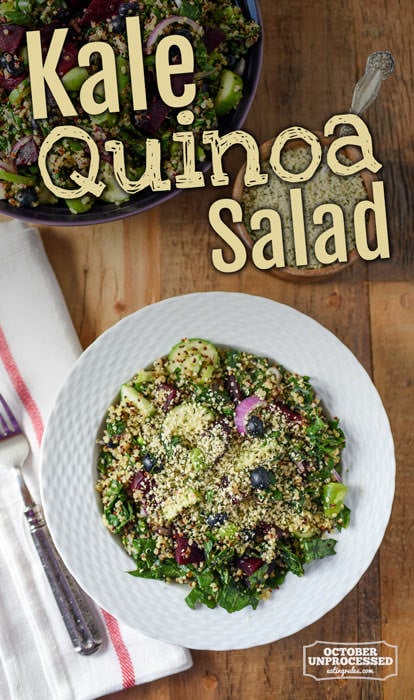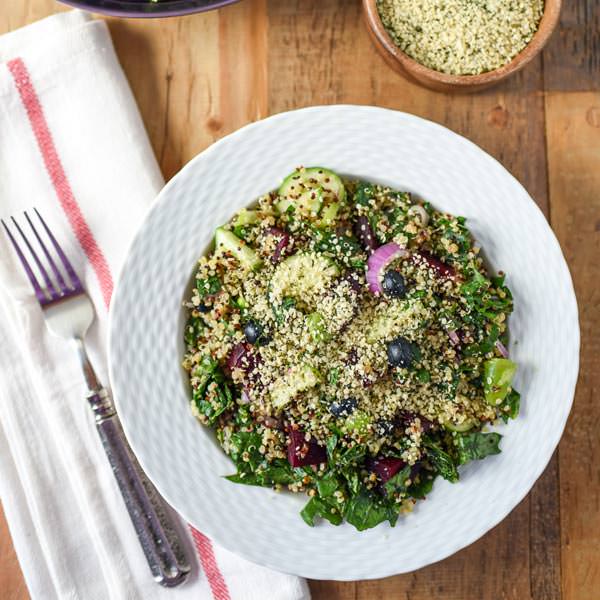 Massaged Kale & Quinoa Salad
Kale can be tough and bitter. Massaging it dampens the bitterness and ensures that the leafy green is well-seasoned.

Total Time
1
hour
5
minutes
Ingredients
1

bunch

beets

fresh, about 3 tennis ball-sized beets

1

teaspoon

extra virgin olive oil

1

cup

Bob's Red Mill Tricolored Organic Quinoa

see note

8

cups

chopped kale

about 1 large bunch

1/3

cup

avocado

diced, about 1/2 small

1/2

teaspoon

salt

1

tablespoon

lemon juice

freshly squeezed

1 1/2

cups

Persian (mini) cucumbers

sliced

1

cup

sugar snap peas

chopped

1

cup

blueberries

fresh

1/4

cup

Bob's Red Mill Hulled Hemp Seeds
Instructions
Cut off beet tops, wash well, and place on a sheet of aluminum foil. Drizzle with 1 teaspoon Extra Virgin Olive Oil, and fold the aluminum foil around the beets, creating a package. Place on a baking sheet, and bake in the oven for 40-50 minutes, or until the beets are tender.


While beets are roasting, prepare quinoa following package directions (or see note below). When the quinoa is finished cooking, place in a medium sized bowl, and put in the refrigerator to cool, uncovered.


When the beets are done, remove from the oven, and open the foil package so the beets can cool. Once cool enough to the touch, you should be able to peel them by holding in your hand, and gently pushing with your thumbs, push the skin off. The skin should come off easily. Dice the beets in large, bite-sized chunks.


Remove stems from kale, and cut the leaves into bite sized pieces. Place in a large bowl with avocado, salt and lemon juice, and massage by squeezing and rubbing together with your hands.


To the large bowl containing the massaged kale, add the cooled quinoa and beets, cucumber, snap peas, and blueberries. Toss gently, mixing well, and divide among 4 bowls. Top with hulled hemp seeds and serve!

Recipe Notes
To reduce the cooking time, you could use pre-roasted or canned beets as long as they pass the kitchen test.
Here's how to make fluffy quinoa.
About the Author
Natalie Wiser-Orozco is a computer scientist by day, and recipe developer, photographer, and writer for The Devil Wears Parsley by night. She uses the website as a platform to "feed your inner rock star," which means nourishing yourself with awesome, organic, local, fresh, whole foods with the occasional indulgence, so you can continue to rock at life! Follow Natalie on Facebook and Instagram.