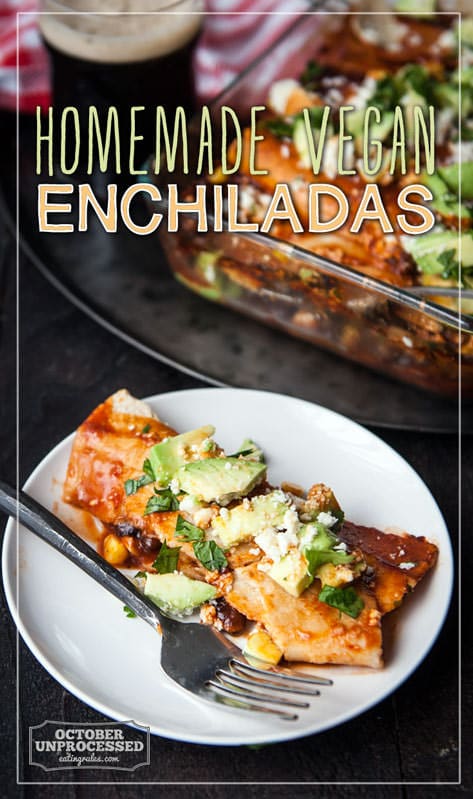 I spent a handful of years in my early twenties as a vegetarian (blame it on a half decade of living on a pig farm) and exploring vegetarian cooking. Although I did find my way back to the omnivorous table, I didn't lose my love for plant food. I eat vegetarian most days, falling back into old habits of smearing avocado on everything, roasting vegetables, and playing around with spices.
Enchiladas were a staple in my house as a kid (although, what my mom made was more "burrito casserole," but still!) and I still find it to be such comfort food. It's easy to create this dish as a celebration of produce and make it your own. Fill the tortillas with your favorite vegetables, roasted or fresh, top it with more. Use cheese if that's your thing, or just satisfy your need for something creamy with lots of mashed avocado.
The sauce is simple and can be made in advance. To be honest, it probably should, the flavors are better the next day. If you're into canning, this makes an excellent canning subject. Maybe even a good housewarming gift along with a big pile of homemade tortillas and a few avocados. Although, I'd have a hard time giving away a basket like that, I might just end up keeping it for myself and showing up to the party with a few bottles of beer and a guilty smile.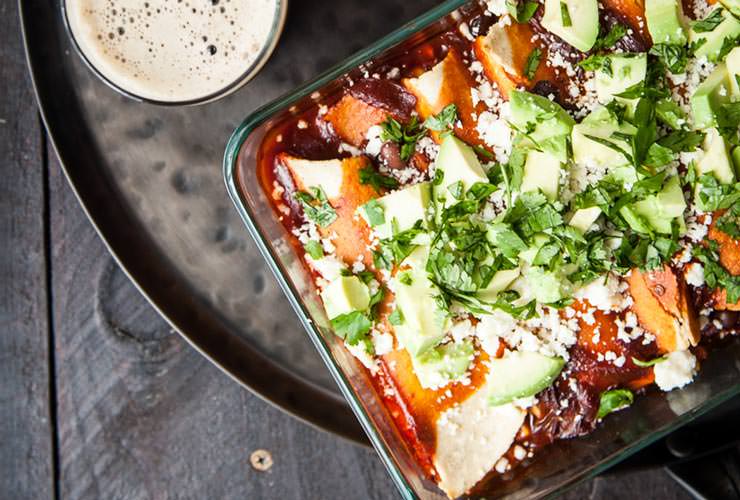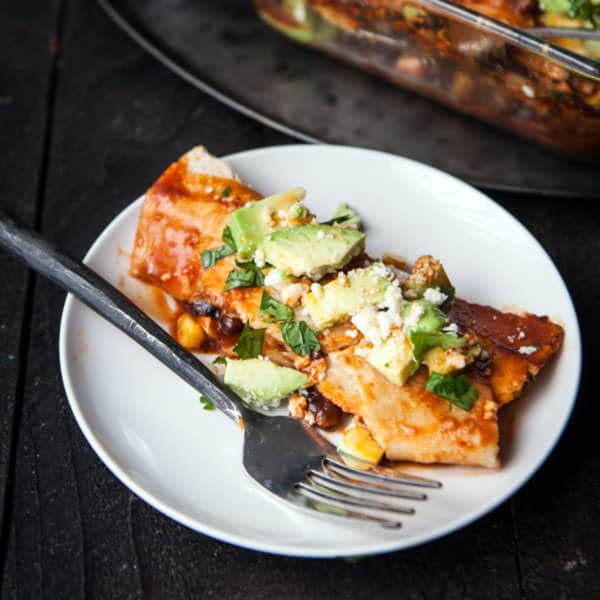 Vegan Enchiladas (with sauce from scratch)
Homemade sauce sets this vegan enchilada recipe apart from the rest. Make the sauce ahead of time for easy weeknight assembly.
Prep Time
1
hour
10
minutes
Total Time
1
hour
25
minutes
Ingredients
Enchilada Sauce
1

pound

tomatoes

fresh

3

tablespoons

olive oil

divided

2

tablespoons

whole wheat flour

potato starch for gluten-free

1/4

cup

chili powder

1

teaspoon

onion powder

1

teaspoon

garlic powder

1

teaspoon

salt

1/2

teaspoon

cumin

1/2

teaspoon

smoked paprika

2

cups

vegetable stock
Enchiladas
3

large avocados

diced

1/2

teaspoon

salt

1/2

teaspoon

pepper

14-16

corn tortillas

homemade

1

cup

black beans

cooked

2

cups

corn kernels

thawed, if frozen

1/2

cup

crumbled cashew cheese

use cotija cheese, if not vegan

1/4

cup

chopped cilantro
Instructions
Make the Sauce:
Heat the oven to 425 degrees F.

Quarter the tomatoes and add to a baking sheet, drizzle with two tablespoons olive oil.

Bake for 20 minutes, or until the skin is shriveled and starting to pull away.

Remove from oven, allow to cool enough to handle.

Pull the skins off, discard. Add the tomato flesh to a food processor or blender. (Remove the seeds, if desired.)

Heat reamining 1 tablespoon olive oil in a pot over medium high heat. Add the flour, whisking until well combined with oil and cooked slightly. Stir in the spices until they become fragrant, about 30 seconds.

Add the stock, simmer until thickened, about 5 minutes.

Add to the food processor with the tomoatoes, blend until smooth.

Store in an airtight container in the fridge until ready to use, can be made up to one week in advance.
Make the enchiladas:
In a small bowl, mash together two of the avocados (reserve the third for the top), salt and papper.

Heat the tortillas slightly to make them more pliable.

One at a time, spread tortillas with avocado, fill with black beans and corn, roll tightly.

Place into a 9x13 pan in a tight row.

Pour the sauce evenly over the pan.

Bake at 425 degrees F for 12-15 minutes, or until warm and bubbly.

Top with remaining diced avocado, crumbled cashew cheese (or cotija), and cilantro. Serve warm.
About the Author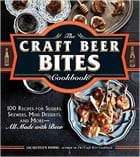 Jackie Dodd's beer-infused recipes earned her a spot as a finalist for Saveur Magazines Best Original Recipes, 2014 as well as crowned winner for Best Beer Coverage in 2015 (yes, craft beer is unprocessed). The Beeroness was also a finalist for Better Homes and Gardens Best Food Blogs, 2015. She has been seen on The Today Show, Lifetime Network, CBS News, as well as interviewed in print publications such as Imbibe, Bite and The San Francisco Chronicle. She also writes for Parade Magazine, Draft Magazine and Whisk Magazine. Jackie is the author of The Craft Beer Cookbook and The Craft Beer Bites Cookbook, and you can connect with her on Twitter, Facebook, and Pinterest.