Catherine Enfield is a food blogger from Sacramento, California, writing at Munchie Musings about everything from recipes to  food trucks. During October: Unprocessed, she realized she could "safely" eat at Chipotle restaurants because their food fits the definition of unprocessed ingredients. Last week she came across their "Boorito" processed food costume contest and decided to talk to her friend, Nicole Rogers — who happens to be a Chipotle corporate employee.  Today, she shares a little of what she learned.
If you just discovered October: Unprocessed, welcome! Find out more and take the pledge. Don't worry about joining late — you can start your 30 days today or simply join in for the rest of the month.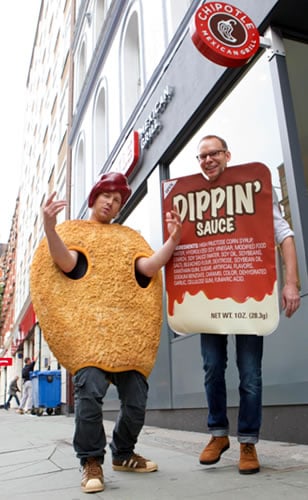 It's sad to think that America needs to have a Food Revolution. That our diets have so deteriorated over the last 50 years that eating unprocessed, natural, whole foods is considered revolutionary. What have we done to ourselves?
And who is leading the Food Revolution (FR) both here and in the United Kingdom? A Brit. Chef Jaime Oliver started the FR in his native England when he wanted to change their school lunches to healthy, wholesome food. Here in the U.S. he is being joined by a new partner, Steve Ells and Chipotle Mexican Grills.
This Halloween Chipotle has a promotion called: Boorito 2010: The Horrors of Processed Food. Dress up as a scary processed food and go to Chipotle on Halloween between 6 and 10 p.m. and you can get an Un-processed burrito for only $2. That $2 will then be donated to the Jaime Oliver Food Revolution program – up to $1 million! There's also the opportunity to win some great prizes, including a grand prize of $2,500.
"We've been doing Boorito costume promotions for the last ten years." says Nicole Rogers, Marketer for the Sacramento and Central Valley Chipotles. "In the past you dressed up as your favorite Chipotle food item. But this year we wanted to help Jamie Oliver spread the message about the scariness of processed food. We also figured that we already give away so much great food during our Boorito promotion that we should also give away the proceeds to a cause that matches our own corporate vision."
At the heart of the FR is the strategy to get people to replace processed foods with fresh, healthy, unprocessed food, both at home at and when eating out. Chipotle is the only fast food chain that is committed to using unprocessed, quality ingredients from sustainable sources.
All of the animals used to produce their meats are hormone and antibiotic free. They also try, as much as possible, to use only farms where the animals are pasture raised and not kept in confining pens. This has proven to be a challenge as there are still many farms that need to be converted back to this type of rearing. The livestock is fed vegetarian feed as well. And it's comforting to know that if an animal gets sick, that animal is treated, but it is pulled from the Chipotle stock so that it will never enter their food stream.
When it comes to dairy products, the cows are also hormone and antibiotic free and as free roaming as possible. One of the hormones used by many dairy cattle ranches is rBGH, a hormone that increases the milk production so that a cow has to be milked up to five times a day! Not so with Chipotle dairy cows. Being hormone free, they only need to be milked twice a day – the way it's been done for thousands of years!
The produce used by Chipotle is almost all organic. Yay! No pesticides on that lettuce or salsa ingredients. Unfortunately we had to say "almost" because in the case of the beans they have only been able to find 40% of them organic. There is still a need to find more growers to supply organic beans.
But word is getting out. After all, everything is based on supply and demand. Farmers are realizing there is an ever growing market for organic produce and meats. They just have to meet Chipotle's high standards, which are stricter than the USDA's.
"We hope to be able to get to 100% organic and 100% cage free animals as soon as we can find the suppliers." Says Rogers. We hope so too.
—
Check out my Menu Monday post for the healthiest choices at Chipotle.