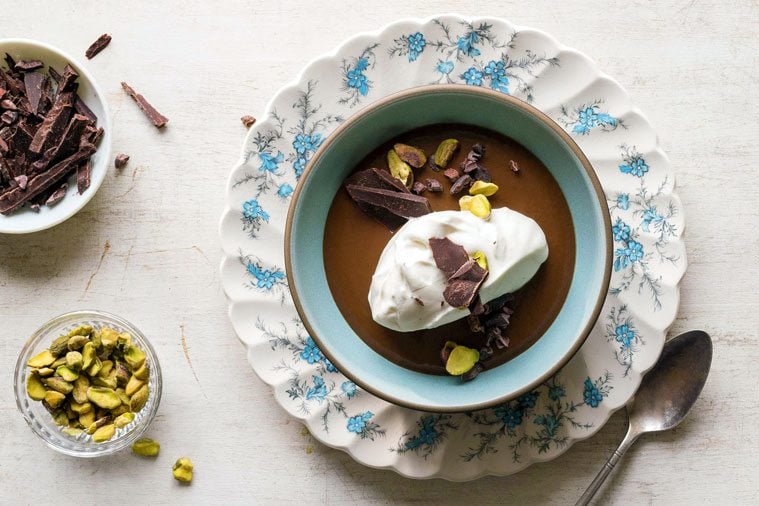 As the executive chef at Sun Basket, a healthy meal kit service based here in San Francisco, I'm crazy about avocados. Their good-for-you fats full of omega-3s add richness to so many of our recipes. We add them to smoothies, use as a garnish for soups, and of course we always put them in our tacos, but it took our pastry chef, Paul Conte, to think of using them in a dessert.
His Chocolate-Avocado Pudding has no gluten, eggs, or refined sugar. Skip the optional whipped cream to make it vegan. The avo-choco combo makes for an exceptionally smooth pudding. Orange juice, cayenne, and chile powder add an unexpected flavor that always has me scraping every last bit out of the dish. The spice is optional, but eating the whole bowl may not be….Enjoy!
Andrew's Note: If you've been struggling to get a home-cooked dinner on the table, or are just bored with the same old recipes, I highly recommend you give Sun Basket a try. Matty and I have been enjoying Sun Basket dinners for over a year now — every week we look forward to the delicious recipes, and it's made eating unprocessed much easier with our busy schedules. For a limited time, they're offering October Unprocessed participants $45 off your first orders.

Chocolate-Avocado Pudding
The avo-choco combo makes for an exceptionally smooth pudding. Gluten-free, egg-free, refined-sugar-free, and easily made vegan.
Ingredients
2

tablespoons

shelled unsalted pistachios

1

large

ripe avocado

preferably organic

1/2

vanilla bean

1/3

cup

fresh orange juice

3/8

cup

pure maple syrup

1/3

cup

cocoa powder

1/4

teaspoon

chile powder

optional

1/2

cup

heavy cream

omit for vegans

2

teaspoons

cacao nibs

1

ounce

dark chocolate

cayenne pepper

optional, to taste
Instructions
Toast the nuts.
Heat the oven to 350°F.

On a sheet pan, spread the pistachios in an even layer. Toast in the oven until lightly browned and fragrant, about 5 minutes. Transfer to a plate to cool.

While the pistachios toast, prepare the pudding.
Make the pudding.
Cut the avocado in half. Remove the pit, and scoop out the flesh.

If using, cut the vanilla bean in half lengthwise and scrape out the seeds; set aside the seeds for the pudding and reserve the bean for another use.

In a blender, combine the orange juice, maple syrup, cocoa powder, avocado, vanilla seeds or extract, chile powder, if using, and 1/3 cup hot water. Season lightly with salt and blend until smooth.

Transfer the pudding to individual bowls and refrigerate until chilled, 30 to 40 minutes.

Shortly before you are ready to serve the pudding, whip the cream.
Make the whipped cream.
In a large bowl with a whisk or electric hand mixer, or in the bowl of a standing mixer fitted with a whisk attachment on high speed, beat the heavy cream until soft peaks form.
Serve
Remove the pudding from the refrigerator. Top with the whipped cream, cacao nibs, and pistachios. Using a peeler, shave chocolate curls over the cream, sprinkle with as much cayenne as you like, and serve.
Recipe Notes
Suggested chile powder: pasilla negro or guajillo (optional).
From your pantry:
Kosher salt, sugar (optional).
Tools:
Peeler, whisk, optional, large bowl or stand mixer or electric hand mixer, blender, sheet pan.
Photo by Zoe Lonergan for Sun Basket.
About the Author
An authority on local, sustainable food systems and seasonal cooking, Sun Basket Executive Chef Justine Kelly boasts more than three decades in professional kitchens working alongside the best Bay Area chefs and California organic growers. Best known for her long standing role as the corporate chef de cuisine at San Francisco's iconic restaurant, The Slanted Door, she has also made appearances on Iron Chef and the Williams-Sonoma Tasting Table Sous Chef Series.  Follow Sun Basket on Facebook and Instagram.