Convincing your family and friends (Slow Cooker "Refried" Beans)
Oct 09, 2011, Updated Oct 03, 2017
Lisa Leake is a wife, mother, foodie, and blogger who chronicles her family's journey at 100 Days of Real Food as they seek out the real food in our processed food world. Some of her projects include a 100-day pledge to avoid all processed foods and refined ingredients (sound familiar?), another 100-day pledge on a food stamp budget, 100 days of "mini-pledges" that challenge readers to cut out processed food one week at a time, and finally a 100-day series of real food tips.
Today Lisa shares some of what she's learned, along with a "readers' favorite" recipe. She's on Twitter, of course, and you can grab a few free meal plans on her Facebook page.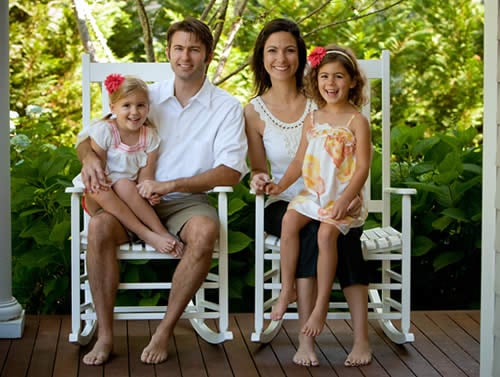 Are you committed to October Unprocessed, but haven't been able to get your partner or children to join you? Well, I'm here to tell you that anything is possible. Just at the beginning of last year I was clueless about feeding my family whole, unprocessed foods until one day when I read Michael Pollan's book, In Defense of Food. Shortly after that huge wake up call, my family, including my husband and 3- and 5-year-old daughters, created our very own "100 Days of Real Food" pledge. Now, more a year later, we are still going strong. Avoiding all highly processed foods and refined ingredients was a huge challenge for us at first, but it eventually became our "new normal."
We initially stopped eating things like white bread, goldfish, fruit snacks, and macaroni & cheese out of a blue box because we thought it was the right thing to do, but what we did not expect were the slew of positive changes to our health that followed. Prior to revamping our diets our youngest daughter struggled with both asthma and constipation, but once we made the switch both of those issues cleared up almost immediately. My husband and I also both lost a few pounds, felt an increase in our energy levels, and saw a dramatic rise in our HDL numbers (the "good" cholesterol). It was hard not to wonder what other positive changes were happening to our bodies that we couldn't easily quantify, like a decreased risk of heart disease or even cancer.
Since you of course care about your loved ones and want them to feel their best, I promise that convincing them to join you in going unprocessed will be well worth the effort. Neither Andrew nor I want to leave you hanging though, which is why he's been working so hard to provide you with so many resources lately! So below you'll find my two cents when it comes to dealing with those reluctant spouses, housemates, and/or children. If you have any additional advice you want to share please leave them in the comments below!
Lead by example: Make changes for yourself (and your children if you have them) and hope your reluctant spouse will eventually follow suit on his or her own.
Watch the documentary Food, Inc. together.
Together, read (or listen to) In Defense of Food by Michael Pollan.
Make some real food meals, to show how good and filling they are.
Don't tell your family member up front you are making changes… just stop buying and serving the processed and refined junk.
Start by making familiar recipes with better ingredients… like local steak with organic baked potatoes.
Buy less-processed, organic brands of familiar products like peanut butter, pasta, and dairy products.
Take baby steps by slowly adding healthier options like veggies to your weekly menu.
Share facts and tidbits about the benefits of cutting out processed foods.
Agree to work together to set a good example for your children.
Serve fresh, in-season, and well-prepared produce to those that don't think they like veggies (the taste is quite different from what comes out of a can!).
Sneak veggies into meals and tell them about it afterward.
Track and share spending at fast food joints and other restaurant vs. eating at home and packing lunches.
Tell them to eat what you are serving or they are on their own!
If they don't like something, don't keep making it… move on to other real food options.
Enforce the same "3 bite rule" that your children have to follow.
Moderation is key… don't harp on the occasional junk food!
As with any unwilling or picky family member (young or old) remember to practice patience and persistence.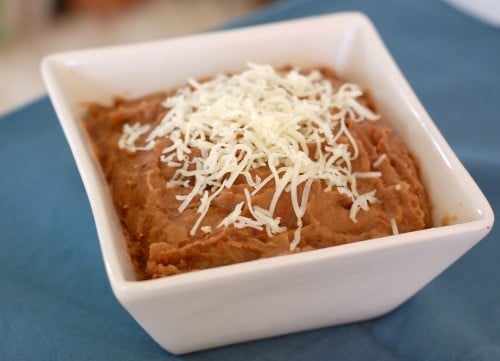 Slow Cooker "Refried" Beans
I didn't think I liked refried beans. That's what happens when you only try them out of a can. But much like the difference between store-bought and homegrown tomatoes, homemade refried beans are light-years beyond the canned stuff!
Ingredients
1

Onion

,

peeled and halved

2

cups

Dry Pinto Beans

,

rinsed

fresh Jalapeno or other hot pepper

,

seeded and chopped

2

cloves

Garlic

,

minced

tsp.

Sea Salt

tsp.

Black Pepper

One big pinch of Cumin

6

cups

Water
Instructions
Combine all ingredients in slow cooker.

Cook on high for 8 hours, or overnight while you are sleeping.

Remove the bigger onion chunks and drain the excess liquid. If desired, save excess liquid until the final product is desired consistency.

Mash remaining beans with a potato masher and voilà! You have homemade refried beans.
Nutrition
Calories:
54
kcal
,
Carbohydrates:
10
g
,
Protein:
3
g
,
Sodium:
8
mg
,
Potassium:
165
mg
,
Fiber:
3
g
,
Vitamin C:
1.2
mg
,
Calcium:
24
mg
,
Iron:
0.7
mg
Like this recipe? Rate and comment below!
—
Leake family photo by Amy Rader Photography.