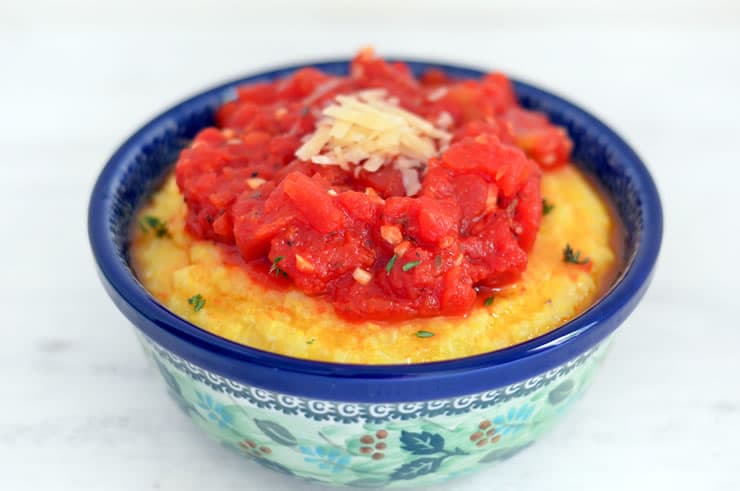 Last year was my first October Unprocessed. Knowing full well that I wouldn't be perfect my first time round, I pledged to read the ingredient labels on everything I brought home for the market. The "kitchen test" is a great guide for starting out. I quickly realized how many ingredients I could never have in my kitchen were mixed into those familiar foods, and began having second thoughts about putting them on my table.
It's not surprising that my label-reading practices carried on past October. I'm usually surprised at the chemical compounds (or whatever they are) written on the labels, but I've had one truly shocking "kitchen test" moment this year that I had to share. I usually make my own spaghetti sauce at home, but short on time one day, I decided to grab a jar of marinara sauce at the grocery store.
I reached for the store's brand that they sell as higher quality. Hah! As I turned the jar over to check the ingredients list, I almost dropped the glass from shock. After the expected ingredients like tomatoes, salt, and garlic was pork gelatin! What in the world was that doing in my marinara sauce? I don't have any dietary restrictions against pork, but why would one think a pork byproduct would be in simple, basic marinara sauce?!? I called my mom and screamed my disgust into the phone as I headed home to make my own marinara sauce forever and always.
This easy homemade marinara sauce is basic and simple. If you aren't a big fan of garlic, you can opt to just flavor the oil or only add part of it back in. If you like garlic as much as we do, however, you'll love this homemade sauce. We recently enjoyed it with crispy, cheesy polenta sticks!

Homemade Marinara Sauce
This easy homemade marinara sauce is basic and simple, however, you'll love this homemade sauce.

Ingredients
1

tablespoon

olive oil

6

cloves

garlic

whole

2

15 oz cans diced tomatoes

or 3 large tomatoes finely diced (see note)

1

teaspoon

salt

1

teaspoon

dried oregano
Instructions
Heat olive oil in large frying pan (not pot) over low heat. Add garlic. Heat until starting to brown and fragrant (approx. 5 minutes). Remove from pan. Let cool. Mince.

Meanwhile, pour tomatoes and liquid into bowl. Use potato masher to crush tomatoes. Pour tomatoes into frying pan after garlic is removed. Raise to medium heat. Mix in salt and oregano. Simmer sauce 15-20 minutes until thick consistency is reached. Add minced garlic to sauce after 10 minutes of simmering.
Recipe Notes
If using fresh tomatoes, you will want to simmer the sauce a little longer.
If you're using store-bought canned tomatoes, check the ingredients to be sure they pass the kitchen test. Or you could also can your own tomatoes!
About the Author
Luci Petlack is a lifestyle blogger with a penchant for denim, iced coffee, and homemade food. She's a Doctor of History, a lover of witty humor, and a bit obsessed with Instagram. She blogs at Luci's Morsels. Follow her on Instagram, Pinterest, and Facebook.