Here at Eating Rules we try to make things just a little bit easier for you, 'cause we know just how busy you are. Your kids and to-do list are running rampant, and your boss is screaming at you about those overdue TPS reports.
For those of you who have been struggling to figure out which is The Best Processed Cheese For Your Family™, we're here to help.
Let's take a look at the challengers:
First up: Cheez Whiz
Topping celery sticks and hot dogs since 1953, Cheez Whiz is a "bright orange, viscous paste." (thus says Wikipedia).  Yum!  I'm already drooling.
Long-time Eating Rules readers will note that we always encourage you to include a wide variety of foods in your diet.  That's one of the best things about Cheez Whiz — it comes in so many different flavors:
Cheez Whiz
Cheez Whiz Light
Cheez Whiz Tex Mex
Salsa Con Queso
Cheez Whiz Italia
And let's look at the ingredients (of our staff's favorite, the original):
WHEY, CANOLA OIL, MILK, MILK PROTEIN CONCENTRATE, MALTODEXTRIN , SODIUM PHOSPHATE, CONTAINS LESS THAN 2% OF WHEY PROTEIN CONCENTRATE, SALT, LACTIC ACID, SODIUM ALGINATE, MUSTARD FLOUR, WORCESTERSHIRE SAUCE (VINEGAR, MOLASSES, CORN SYRUP, WATER, SALT, CARAMEL COLOR, GARLIC POWDER, SUGAR, SPICES, TAMARIND, NATURAL FLAVOR), SORBIC ACID AS A PRESERVATIVE, MILKFAT, CHEESE CULTURE, OLEORESIN PAPRIKA (COLOR), ANNATTO (COLOR), NATURAL FLAVOR, ENZYMES
The more ingredients, the more variety!  They add so much concentrated flavor and color how could it not be good for you — and tasty too?
Our Verdict:
Three-and-a-half curds: Two for variety and two for its vivid color (it loses a half a curd for its recyclable container).
Next up: Easy Cheese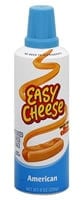 If nature ate cheese, this is the cheese she would eat. True Easy Cheese aficionados call this gift from the heavens by its proper scientific name, Aerosol cheese, though we shy away from doing so (we're not elitists, after all.)
Best of all, the propellant doesn't combine with the cheese — and good thing, too, since you certainly wouldn't want to eat those nasty chemicals! Its ingenious design also allows it to deliver its mystical orange payload up, down, left, right, and even underwater — just like an astronaut's space pen!  How cool is that?
Our Verdict:
Four and a half curds: Two for actually spelling "cheese" correctly and three for being able to write your name with it (it loses half a curd because it will blend).
And our final contender: Velveeta
The gold neon-orange standard of processed cheese — pleasing Superbowl Fans since 1928 — Velveeta is the one that most resembles actual, bona fide cheese. (If that's what you're into.)
Did you know that Velveeta was the first cheese product to be granted the American Medical Association's seal of approval in 1931?  If the AMA gave it a thumbs up 80 years ago, it must be good!  Not to mention that if you can find an original brick of Velveeta from 1931, it'll be aged to perfection.
Just like Cheez Whiz, it comes in several different varieties.  In our blind taste tests, the "Pepper Jack" proved to be the clear winner, edging out the politically-correct-if-confusingly-named "Mexican Mild."
Our Verdict:
Three curds:  Would've given it four, but one of our test chefs confused the Velveteen Rabbit with Velveeta Rarebit, and her children haven't yet recovered.
Final Thoughts
The Eating Rules staff fave is definitely the yummy Easy Cheese. Delicious, delicious, delicious! At your next brunch, we suggest you forgo the fresh fruit, homemade granola, or any of that new-age, hippie "health food," and instead pick up a few cans.  Serve them alongside several boxes of Chicken in a Biscuit Crackers, and your guests are sure to be impressed!
—
If you hadn't figured out by now, this post is a joke!  Skip all those fake cheeze monstrosities and eat some real cheese instead. Happy April Fool's day, everyone!