Allison Jones has worked for the Portland Farmers' Market for four seasons, and is a photographer and writer in the Portland food scene — all of which has completely changed the way she eats. She shares her images and experiences at http://lemonbasil.blogspot.com/, along with five great unprocessed tips below.
If you just discovered October: Unprocessed, go here to find out more and take the pledge. Don't worry if you missed the start date! You can start your 30 days today, or simply join in for the rest of the month.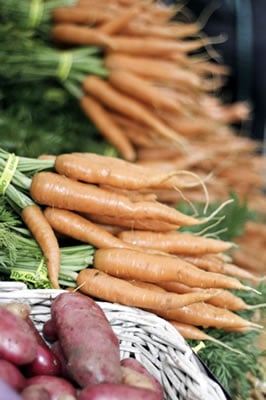 I hope everyone is loving their Unprocessed October adventure! It's been so inspiring to read all of the guest posts, and I'm honored to be included in such a great community of bloggers taking on this awesome project.
For me, eating unprocessed foods means cooking up and serving the foods grown by my farmer friends, and eating out at restaurants manned by local chefs using those same ingredients. This relationship with food has made eating simple, real foods with the seasons the cornerstone of my community — I am connected to the Oregon soil, the animals that graze, the hands that harvest, the smiles that greet me at the market, and the friends and family that prepare and share the bounty.
Over the years, I've developed a few time-saving tricks that make an Unprocessed lifestyle exciting, fun, and delicious. Here we go:
1. Buy good knives.

I can't emphasize this enough. When people tell me they can't cook, I have to ask what kind of knives they own.  You'd be surprised how many people are out there chopping carrots with steak knives. A good knife is a joy to use — cutting fresh vegetables becomes a relaxing break instead of an all-out battle.
The secret here is that you don't have to spend a lot of money to get good materials — one of my favorite tool tricks is shopping at kitchen supply outlet stores. Any decent outlet mall will have one, and you can find really great knives for under twenty bucks. There are also great options online, and I promise it will make a huge difference in your unprocessed cooking experience.
2. Be a loyal farmers' market shopper.

You'll often be rewarded with discounts, grateful smiles, and the immense joy of being greeted as a regular at your favorite farmers' booths. Talking to farmers is the best way to get a feel for the change in the seasons, find out how long certain crops will last, and get the inside scoop on how the people growing your food love to prepare their own ingredients.
No idea how to prepare that mushroom? Confused about how to peel that huge winter squash? Ask your farmer! Once you've gotten a handle on greeting your farmer by name, ask them about the farm — and try to go for a visit! A lot of farms have volunteer days or CSA members' events where you can trek out to the countryside for an afternoon of pulling weeds and wandering through corn. What better way to get inspired to use those new knives than to pick up real food from a real farm?
3. Eat the "Weird Stuff."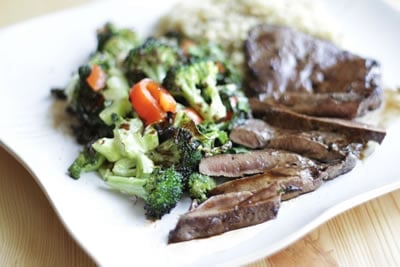 Eat the "Weird Stuff" from your local ranchers at farmers' markets, butcher shop, and supermarkets. Many stores are now carrying organ meats, and ranchers are usually more than happy to fill custom orders of the parts they might not bring to market every week – often at ridiculously low prices. Offal is full of healthy nutrients, especially when the parts come from ethically-raised animals, and they're surprisingly tasty.
Find out what is cheap and available, then bring it home to experiment — there are tons of helpful tips online about how to turn hearts, tongues, livers, and cheeks into the most succulent meals on the cheap.
4. Get to know your spices.
When some people reach for processed foods, they are really reaching for concentrated, full-impact flavor. It's no secret that canned soup and frozen meals are heavily salted and seasoned, and the transition to unprocessed cooking can be a bit of an adjustment for some people's overloaded taste buds.
The secret here is in the spice rack. When I was learning how to cook healthy, flavorful vegetarian meals in college, I studied the herb- and spice-heavy cuisines around the world, from Lebanese stews to Indian curries and Cuban sautés. After a while, I knew my spices so well that I could whip up a flavorful meal in no time flat, without using pre-packaged sauces or seasonings.
Love Indian take-out? Try making your own garam masala – the staple spice blend of cumin, coriander, pepper, ginger, cardamom, cloves, cinnamon, and other delicious Indian spices. Craving pho? You can duplicate the savory Vietnamese flavors with star anise, cloves, fennel, ginger, cinnamon, bay leaves and chili paste.
One of my favorite resources for these spice pairings is The Flavor Bible
by Karen Page and Andrew Dornenburg. It's full of tips on how to master herbs and spices from around the world and unlock the keys to improvisation with unprocessed ingredients.
5. The slow cooker is your friend.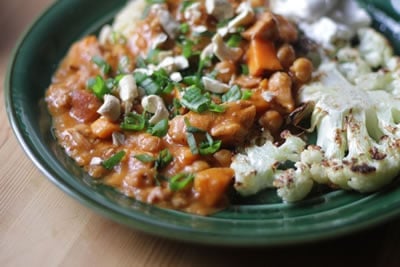 This last tip is actually a new one for me. I live with a few extremely busy, young professionals, and while we all LOVE to cook and eat healthy, homemade meals, some days the prospect of cooking from scratch every day can get a bit daunting. This all changed one fateful day a few months ago – we bought our first real Crock Pot.
I know I'm giving some of you flashbacks to 1974, but I cant praise this little guy enough. We have made pork apricot stew, yellow chicken curry, pulled pork, smashed yams and apples, and so much more.
Imagine having your favorite take-out foods ready and waiting for you when you come home from work — using real, unprocessed ingredients prepped in minutes in the morning or night before. My housemate's co-workers actually thought she ate out at great restaurants every night because her lunch leftovers are constantly exotic and delicious.
Another plus — our slow cooker is hands-down the easiest cookware to clean. When we made baked beans from scratch (with a sum total of 10 minutes of actual work) there was a ring of toasty, almost-burned sauce around the top that wiped off instantly with a sponge. Most slow cookers are also oddly inexpensive — we got ours brand-new for $20, and we use it at least 4 times a week. Genius.
What are your time saving tips and tricks for eating unprocessed foods? Share in the comments, and happy eating!