Have you heard of Food Day? It's an annual event every October 24th, celebrating affordable, sustainable, and healthful food. This year I'm particularly excited that they're focusing on helping kids learn to cook. I wanted to share a little bit about what they're doing, and encourage you to get involved. This guest post from Molly Geppert, the Food Day Social Media and Grassroots Organizing Fellow, tells us more.
– Andrew

Food Day is a nationwide celebration of healthy, affordable, and sustainably produced food and a grassroots campaign for better food policies. It builds all year long and culminates on October 24. Events are held throughout October by schools, local governments, community groups, restaurants, nonprofits, and businesses to celebrate good food and educate people about our food system.
Our mission is to help people "Eat Real" by cutting back on sugar drinks; overly salted packaged foods; and fatty, factory-farmed meats in favor of vegetables, fruits, whole grains, and sustainably raised protein. This year, Food Day has a special focus on activities aimed at teaching kids to cook. We'll never be able to match the resources of America's junk-food manufacturers that discourage cooking, but with your help, and armed with just a dozen or so basic, healthy recipes, kids can begin to reclaim their health.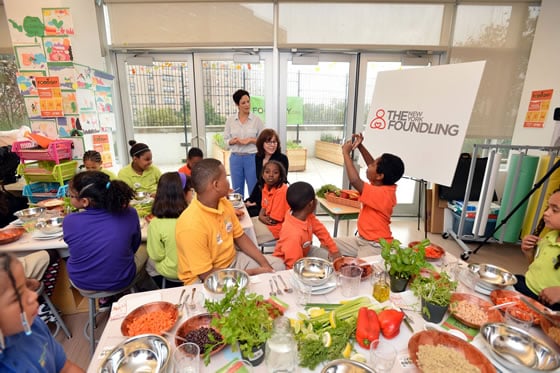 The standard American diet contributes to obesity, diabetes, heart disease, high blood pressure, and other diet-related diseases. And many of the foods that cause those problems in adults—sugary sodas, candy, and cereals; salty, refined snacks, fatty fast-food combo meals—first become popular in childhood. But all over America, activities are underway to ensure that kids are as familiar with vegetable peelers, cutting boards, and mixing bowls as they are with iPads, iPhones, and video games. Thousands of kids might discover a new vegetable, chop their first salad, or make their first soup on October 24. And those experiences might be the start of a lifetime of healthier eating.
To find a Food Day event near you, go to http://www.foodday.org/.
Getting kids—and their parents—to shift away from fast food and salty, sugary packaged foods, and back toward healthy, simply prepared meals from whole foods is a major focus of Food Day 2013. We asked Kate Sherwood, Nutrition Action Healthletter's Culinary Institute of America-trained culinary director, to develop 20 Recipes to Get Kids Cooking. Here's one to whet your appetite.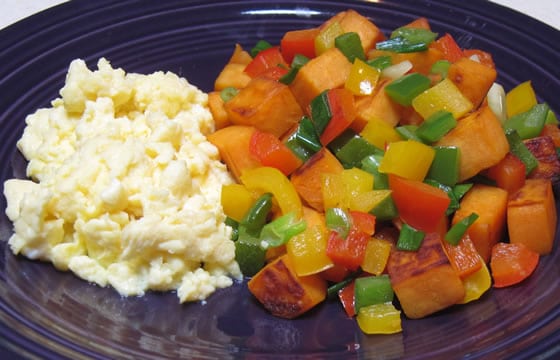 Scrambled Eggs with Sweet Potato Hash
This recipe is not only simple but it brings a healthy, tasty, and kid friendly meal to your morning!
Ingredients
1

small

sweet potato

about ½ pound, peeled

1

teaspoon

extra-virgin olive oil

½

cup

chopped bell pepper

any or all colors

¼

cup

chopped onion or scallion

1

large

whole egg

1/16

teaspoon

sea salt
Instructions
Sweet potatoes are hard to cut because they are so firm but a few minutes in the microwave will soften them enough so that they are easy to cut. If you want more than one egg, mix egg whites or silken tofu into your whole egg.

Microwave the potato for 2 to 3 minutes to soften then run under cold water to cool. Cut the potato into cubes. In a medium, nonstick skillet, heat the oil over medium heat. Sauté the potato, peppers, and onions until potatoes are tender, 3-5 minutes. In a bowl, whisk the eggs, and salt together. Move the sweet potato, pepper, and onion onto a plate. Pour the egg into the skillet and stir constantly with a wooden spoon or rubber spatula until the eggs are hot and clump together.
Molly Geppert is the Food Day.org Social Media and Grassroots organizing fellow this year. She is pursuing a career to better our food system, our health, and our environment.
Photo of Food Day 2012 by Philip Greenberg.