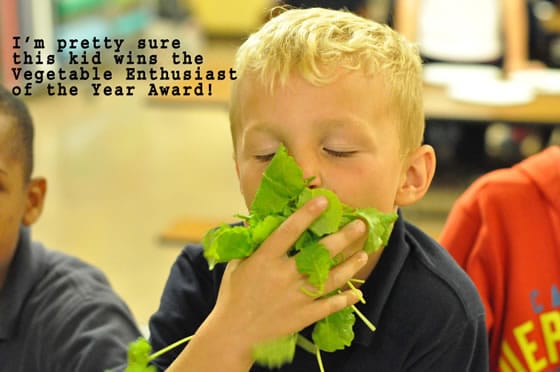 It was week two of food literacy class at Capitol Heights Academy, a public charter school in a food desert in Sacramento, California, where 91 percent of the kids are on free or reduced lunch. For many kids, this is their third year of food literacy classes; for a few, it's their very first time.
Shanee sat across from Gage. The two third graders and their classmates were about to make a salad using the Veggie of the Year: Sweet potatoes. The other salad ingredients lined the table: Baby kale, raisins, and apples.
"I hate vegetables," said Shanee, pouting.
"That's too bad," I told her. "Your friends across the table love their vegetables! They eat them every day in food literacy class."
As if on cue, Gage reaches into the middle of the table and grabs a giant fist-full of kale and shoves it into his mouth.
Seconds later, Shanee cautiously picks up a piece of kale herself, inspects it carefully, and pops it in her mouth. By the end of class, she has cleaned her plate with a smile.
This is the type of joyful vegetable eating we inspire at the Food Literacy Center, the nonprofit I founded to teach K-5th grade kids about cooking, nutrition and where their food comes from.
Parents often ask me for tips to get their own kids to eat healthier. This is the approach we use in our classes, and if you can make the time to do this at home, you're likely to find success, too. Here are my top three tips to teach food literacy to kids:
1. Have Fun!
Junk food companies know this better than anyone:  If you want to get kids to eat something, make it fun. You don't have to put on a carrot costume and do cartwheels (though I've been known to do this myself).
The simple act of cooking can be extremely joyful for kids. Be enthusiastic about the food you're inviting them to eat.
Research fun facts on the Internet. (Did you know astronauts bring quinoa into outer space to eat? Did you know that if you walk under a jujube tree you might fall in love?) Color pictures of the food you want them to try.
Engage them and make them part of the experience as much as possible, and soon, your kids will be begging you to try a bite.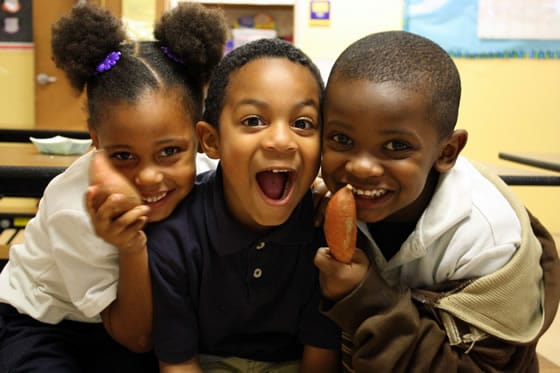 2. Use Positive Reinforcement
Don't use negative language about the foods you want your kids to eat. Assume that they'll find it delicious, and tell them why you love it. Praise them when they eat something new.
In the classroom, we don't harp on what kids are doing wrong. Instead, we applaud them for the small things they already do right, like eating peanut butter and jelly sandwiches. Instead of telling them jelly is bad, we suggest they try adding apples to their sandwich. Why? Ask the kids to come up with reasons. Nudge them. Does one of these have fiber? Does one have more vitamins? What else might you use in your sandwich instead of jelly? (Our kids once made kiwi and sun butter sandwiches—a delicious idea they came up with on their own.)
If you're dealing with junk food, ask your child if that's the kind of food our bodies need a lot or a little of. Ask them to show you how much they think they need to eat to be healthy. Compare it to something healthier, and ask how much they think they need to eat to be healthy. Giving them chances to be hands-on will help them learn.
Getting kids to come up with their own ideas, and praising them for making smart choices will inspire them to eat healthier every time.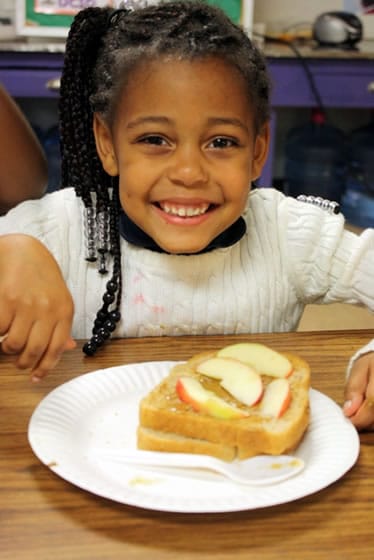 3. Make it Practical
Don't bring home five new veggies and ask your kids to eat them in a salad. Keep it simple. Engage your kids. Go to the farmers market or grocery store and bring them along. Let each child choose one new fruit or veggie to try. Bring it home and taste it together.
You'll both learn together and create a fun adventure. Over time, you'll develop new favorites and expand your child's palate, which is essential to helping them develop healthy eating habits while they're young.
This year, California Food Literacy Center has proudly joined forces with the Jamie Oliver Food Foundation and Food Day as part of their campaign Food Education in Every School. It is a critical move in the fight against childhood obesity. In Sacramento, we're launching a major fundraising campaign to help us bring food literacy education to five new schools by 2014.
You can join the effort, too. You can help by making a donation to California Food Literacy Center. You can also join the nation on Food Day, October 24, to get kids cooking. It's a natural part of October Unprocessed to cook from scratch, and what better way to start than by inviting a kid to cook with you!
A fun way to get your kids to eat more veggies is to get them involved with making this ultra-colorful salad. We made this salad with 120 kids at Capitol Heights Academy and they absolutely enjoyed creating their own plates. The colors, crunch, and natural sweetness of the carrots, cabbage, and orange juice are a draw for the kids, too. This salad is packed with vitamins, antioxidants, fiber, and flavor! Great for kids and for the entire family.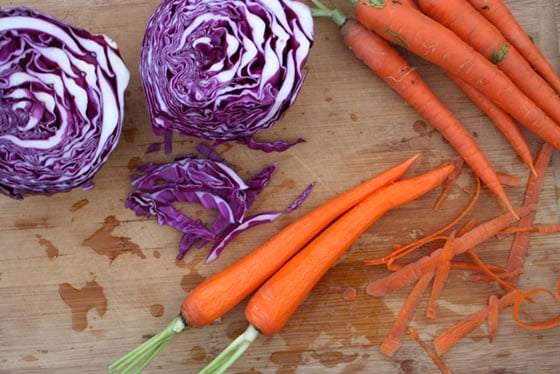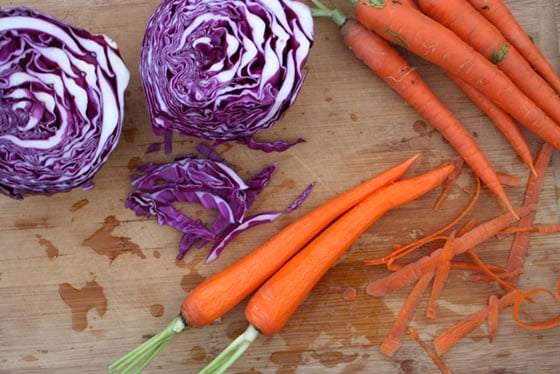 Carrot & Raisin Citrus Salad
A fun way to get your kids to eat more veggies is to get them involved with making this ultra-colorful salad.
Ingredients
1/4

cup

carrots

peeled and grated

1/4

cup

purple cabbage

shredded

2

tablespoons

raisins

1

tablespoon

orange juice

or juice from half a large orange, squeezed
Instructions
Instructions for parents/teachers:
Peel and grate the carrots. Use a knife to shred the cabbage.
Instructions for kids:
Put the carrots, cabbage, and raisins in a medium serving bowl. Pour the freshly squeezed orange juice over top. Toss together. Eat!
Recipe Notes
This recipe originally appeared on Awake at the Whisk. Reprinted with permission.
About the Author
Amber Stott is the founder of the nonprofit Food Literacy Center, whose mission is to inspire kids to eat their vegetables. They teach low-income elementary school children cooking and nutrition to improve our health, environment, and economy. Amber was named a Food Revolution Hero by the Jamie Oliver Food Foundation, and of course grows her own groceries at home in Sacramento, California. Learn more about the work the Food Literacy Center is doing on Instagram, Twitter, and Facebook.