Suzanne Bern writes the blog You Can't Eat What? which is named after the response she usually gets when she starts rattling off the list of all the foods she can't eat. I asked Suzanne to share her story, since for her, eating unprocessed food is a necessity, not a choice — and she believes (rightly so) that everyone deserves to enjoy eating. You can also find her on Twitter.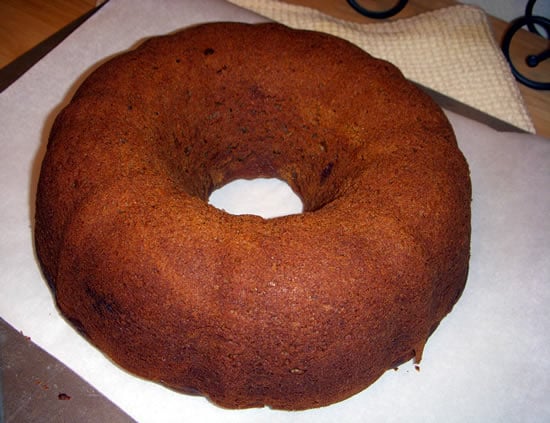 In October of 2007, I became Gluten-Free.  Due to some gastro-intestinal (GI) tests, I was told that I was highly sensitive to the protein gluten and was a borderline Celiac.   Immediately my doctor suggested cutting out gluten for the sake of my GI health, and I agreed.  Accompanied by allergy testing which turned up three new ones, my complete allergy list now consisted of soy, peanuts, tree nuts, lima beans, lentils, chickpeas, oats, rye, barley, and kiwi.  With sensitivities to fish, shellfish and corn.  In addition I had to give up several fruits, veggies, and beverages (I miss you, coffee!) due to a low-oxalate diet thanks to kidney stone drama.
To say my diet was getting a little complicated would be an understatement.
Upon receiving all this news, my head was spinning as I passed through the aisles of my neighborhood chain grocery outlet.  As I read box after box, ingredient list after ingredient list, I became horrified. I couldn't eat anything in the store.  But even more disturbing was the fact that I had looked at a box of "all-natural potato flakes" only to find out that more than 25 ingredients went into them, most of which I couldn't pronounce.  At that exact moment, I vowed never to eat something again without knowing exactly what was in it.
That further developed into a motto of "if I can't pronounce an ingredient or I don't know what an ingredient is, especially if on Google it refers to its common use in non-edible fields, I probably shouldn't put it in my body."
Did having all of my food limitations lead to my altered perspective on food?  Yes.  I wouldn't be nearly as educated as what I put into my body on a daily basis if I never was forced to pay such close attention.  I wouldn't have known any better.  As I was growing up, my parents were big fans of the frozen dinner, Snackwell's fat-free snacks, and tons of other chemical induced nightmares.  The good news is that with a lot of encouragement, my parents are now making healthier, less processed, choices.  If they can do it, anyone can do it!
All of this background is meant to say that I'm pretty much unprocessed every day.  This unprocessed challenge really makes you re-evaluate what you may be consuming.  With very few exceptions, everything I consume are whole foods:  Whole grains, fresh or flash-frozen veggies and fruits, and simple, minimally-messed-with dairy (It seems they're adding probiotics into everything [PDF], and I have adverse reactions to them.  Oh well.)  When I buy groceries, cheese is cheese; chicken is just chicken from a local farm; and pasta is just brown rice, rice bran and water.  Sauces are fresh veggies that have been stewed down and canned, not sweetened artificially or salted to high-hell.  My food is un-fooled around with, just how I like it.   And man, it tastes better too!
Not every ingredient I use can be readily made in my kitchen though.  Most of my questionable/border-line items are baking-related: Earth Balance Soy-Free, baking powder, baking soda, and guar gum.  But hey, baking is science.  I'll allow a couple of naturally occurring chemical reactions now and again if it makes me a delicious Gluten-Free cake!
Eating mostly unprocessed can be accomplished every day of the year, not just during this challenge.  With a love of cooking, perusing your farmers' market stands, and being meticulous about label reading while shopping in grocery stores like Trader Joe's and Whole Foods, you can eat healthy, delicious, and intelligent meals that leave you feeling good afterward.  No fast-food comas here.
As you're seeing during this month, making an unprocessed change probably wasn't as hard as you thought it would be.  Sure, it requires a little extra time and planning, but I bet you're feeling better and have more energy.
I bet you're also craving some processed food (hey, it is only the middle of the challenge) but those cravings dissipate.  I promise.
I hope that you feel proud that you've decided to pay attention to your habits too and try something healthy and new during this challenge.  But even more, I hope that when November comes, you'll consider still eating as unprocessed as possible.  I hope that in time you forget that this was a challenge at all, and it just becomes a part of your life in some small way, exceptions accepted of course.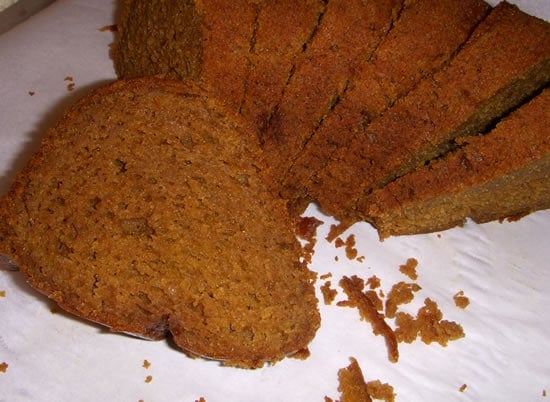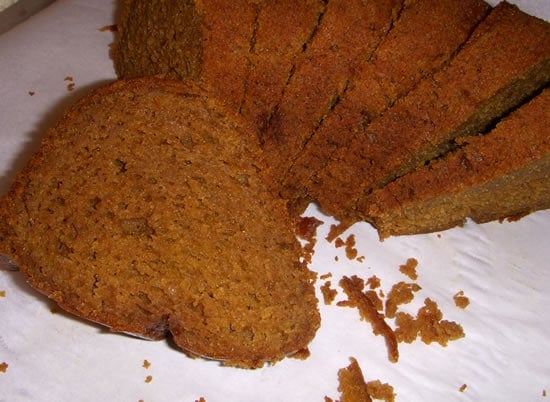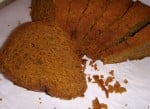 Gluten-Free Pumpkin Applesauce Bundt Cake
I use Coconut Sugar, which is naturally dried and healthier, being lower in carbs and lower on the Glycemic Index. Feel free to use any unprocessed sugar that works for you.

Any All-Purpose, Gluten-Free flour combination will work on this recipe. I use a mix of sorghum, tapioca, and arrowroot flours that includes a small amount of guar gum.
Total Time
1
hour
10
minutes
Ingredients
4

Eggs

2

cups

Sugar

see note above

2

cups

cooked/canned pure Pumpkin Puree

1

cup

unsweetened natural Applesauce

1/2

cup

Extra Virgin Olive Oil

2

cups

any Gluten-Free Flour Mix

see note above

1

tsp

Sea Salt

1

tsp

Baking Soda

2

tsp

Baking Powder

corn-free; Hain Pure Foods is great

2

tsp

Cinnamon
Instructions
Preheat oven to 350 degrees F.

In a large bowl, beat eggs until fluffy.

Blend in sugar, pumpkin, applesauce, and oil by hand or with a mixer on low just until combined. Do NOT overmix!

Add all dry ingredients, one at a time, blending together.

Pour batter into a large, greased bundt pan and bake for 1 hour.

Check with a toothpick/knife to make sure it's cooked through. If cake sticks to the utensil, bake 5 more minutes and test again.

When done, cool, and enjoy!
Recipe Notes
Freeze left-overs, wrapping in parchment paper before storing. Do NOT try to make this cake in any regular pan. Because of its moisture level, it will only cook normally in a bundt pan.