I've got one more guest post to share with you! I connected with Kazandra De La Torre through Twitter, when she expressed her enthusiasm for October Unprocessed.  She's a Health Coordinator for HealthCorps, a wellness movement engaging youth as catalysts to get Americans healthier. She and I both wanted to share a bit about the great work that Healthcorps is doing in schools across the country. You can also find Healthcorps on Twitter and Facebook.
HealthCorps® was co-founded by heart surgeon and Emmy Award-winning talk show host Dr. Mehmet Oz and his wife Lisa to build a movement to fight the childhood obesity crisis. Using a proven peer-mentoring program to deliver a progressive curriculum in nutrition, fitness and mental strength, HealthCorps' school-based Coordinators give teens purpose, help develop human character and inspire an interest in health and culinary arts careers.
HealthCorps "Coordinators" carry out unique in-school and community programming that targets high-need populations. The non-profit also serves as a unique research laboratory — exploring the complex, underlying causes of the obesity crisis and discovering and communicating solutions.  For the 2011-12 school year, HealthCorps has a presence in 54 high schools in 13 states and growing.
At every HealthCorps school site, a Coordinator's responsibilities may be the same, but their experience can be completely unique. At Chioma Enweasor's school site in Sacramento, California and Ben Piñón's school site in Clarksdale, Mississippi, they promote knowledge and involvement of the farm-to-table process for their students using their large school gardens. In the Bronx, New York City, Erica McClanahan has partnered with Sahaja Meditation to bring weekly meditation to hundreds of students and staff. Each school has different resources, needs, and characteristics depending on its student body, surrounding school community, and location.
I am based at the George Washington Educational Campus in the Washington Heights neighborhood of New York City, which houses four high schools. The majority of my students are Dominican, and the culture and language are a huge part of this school community. I teach classes in both English and Spanish, teach parents how to lead a healthy household in my bilingual cooking workshops, and encourage students to include greens such as arugula in their salami- and mangú-rich diet.
Washington Heights is a lively community, rich in tradition and home to many recent immigrant families from the Dominican Republic. Recently, green carts, farmers markets, and "healthy" food stands have popped up in the neighborhood, but it still has a long way to go.
Last semester I had my students make "food maps" of the neighborhood, and challenged them to star where they could buy healthy food. With the numbers of fast food locations, and restaurants specializing in traditional dishes high in saturated fat and sodium, I was not surprised that it was a difficult assignment. Therefore, my focus on this campus is to target the unique health challenges faced by this community through student and parent cooking courses, improving the food environment on campus, educating the student body, and connecting with other organizations such as I Challenge Myself, BodyWorks, and the NYC Department of Health and Mental Health (DOHMH).
In the middle of such an urban environment, my school site simply does not have the space for a large garden, unlike Sacramento or Clarksdale. Instead, I have coordinated with Dan Rosenbaum, a teacher at one of my schools (High School for Health Careers and Sciences) to establish a Rooftop Garden open to students and staff. With generous support from the school budget and a grant from the DOHMH's Healthy High Schools Initiative, we are planning on using the garden to expose students to fresh food and involve them in the farm-to-table process.
My favorite workdays are those in which I cook with parents or students and I am excited for us to be able to cook with vegetables that we have harvested from our own roof. There is nothing better than allowing a child to connect with their food by empowering them with the skills and knowledge necessary to create nourishing meals, many times with ingredients they had never heard of. I even had a student take a bag of leftover arugula home "to snack on, miss" after making homemade pizza… it made my day!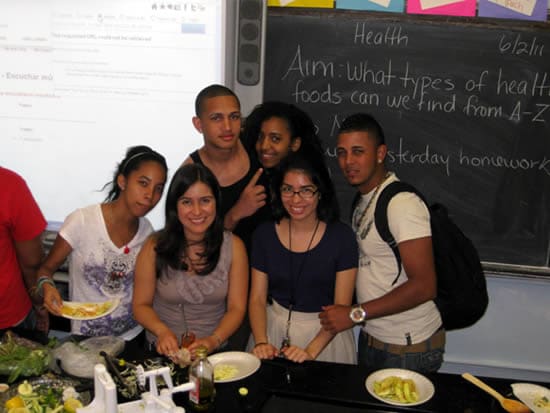 Enchiladas con Salsa Verde
Many times, I teach students how to prepare dishes from my own childhood, influenced by my Mexican background and Los Angeles roots. Here is a family favorite, adapted by my students to "have less animals."
Ingredients
Salsa Verde
20

Tomatillos

Green tomatoes, husks removed

1

small

Jalapeño

very mild, add more to taste

2

cloves

of Garlic

peeled and lightly crushed

1/2

Yellow Onion

cut into large chunks

Sea Salt

to taste
Enchiladas
1

packet of your favorite Corn Tortillas

my mom bought the 30 pack

2

cups

shredded

low-fat Mozzarella Cheese (we always shred extra!)

1

bunch

Green Onions

sliced

5

Plum Tomatoes

diced

2

Red Peppers

julienned

2

cans

Black Beans

rinsed

1/2

bunch

Cilantro

chopped, for garnish

Cumin

to taste
Instructions
Salsa Verde
Boil the tomatillos and jalapeno(s) in a pot with a generous amount of water. Boil for a minute or two (the green will change slightly), then drain and pop into a blender.

Toss the garlic, onion, and a bit of salt into the same blender. Blend until smooth, then season to your liking (watch out—those tomatillos will still be at a high temp.)

Reserve some salsa in a shallow bowl, and leave the rest in the blender for easy pouring.
Enchiladas
My mother used to quickly warm the tortillas in hot oil before assembly, but my students skipped this step and just warmed them up on a burner, no oil. Parents, you can warm up the tortillas while your children mix the fillings into a bowl and season with cumin.

Coat each tortilla in salsa by swirling it in the salsa-filled shallow bowl (kids like to do this).

Fill the salsa-coated tortillas with beans, diced tomatoes, red peppers, shredded cheese, and green onions, and roll up tightly.

Layer the enchiladas in a casserole dish as follows: (1) Spread a bit of salsa verde on the bottom. (2) First layer of enchiladas. (3) Evenly distributed shredded cheese, chopped cilantro, and green onions. (4) Pour more salsa. (5) Second layer of Enchiladas. (6) Repeat until you fill your dish.

Pop in the oven for 10-15 minutes, about 300 degrees, until the cheese is bubbling. Cut into one to make sure the cheese is melted inside as well. You can also heat them via the microwave if you are in a hurry.
Some Additional Highlights of HealthCorps Achievements:
Our dynamic team of Coordinators, the heart of HealthCorps, use interactive ways to get teens to choose healthier foods, find a physical activity they love so that they'll stick to it, and learn to manage stress.  In empowering youth to value their body and learn about its many functions in fun ways, teens enjoy the learning process — and the benefits gel.
HealthCorps students, some as young as 13 who suffered from high cholesterol and high blood pressure, have been able to discontinue their meds because Coordinators have introduced them to healthy snacks and beverages by measuring out the amount of sugar in some drinks and getting them to read food labels.
One student dropped four shirt sizes and is now pursuing a career in the culinary arts because he wants to cook gourmet meals in healthy ways for the masses.
Many of our affiliated schools have successfully campaigned to have nutritious foods and drinks placed in vending machines.  Coordinators work closely with the School Food staff in encouraging them to offer teens more nutritious meals and have organized salad bars in some cases.
HealthCorps students are learning how to prepare healthier snacks like hummus and guacamole with whole wheat chips.  Students are now comfortable with trying vegetables they didn't think they'd like or didn't even know existed.
Coordinators organize a big health fair in every school for the entire student body and faculty.  Students help create booths, such as the Positivi-tree where they're encouraged to write something positive about themselves on a colorful note card, make their own trail mix, sample a nutritious smoothie made by HealthCorps students and take part in a Zumba Latin fitness workout or yoga stretches.
HealthCorps is not about restricting a teen's dietary intake – it's about getting them to make simple lifestyle changes that will endure for life. For example, when they see that a healthy breakfast helped them get through a challenging test with flying colors, they comprehend its importance.
Former problem students are practicing Sahaja Meditation and embracing a quiet that they may never have known.  As we've grown nationally, we've partnered with such organizations as Sahaja, Yoga Across America, YogaED, the American Diabetes Association, FamilyCook Production's Teen Battle Chef Program, Alliance for a Healthier Generation and other relevant organizations to enrich the program.
Community service is another requirement of the HealthCorps program. HealthCorps' Fit Town™ initiative uses public service projects to get students to connect with nature and their built environment.  Our Coordinators have formed intergenerational programs with local senior centers, they're cleaned public parks and helped revitalize bodegas and local convenience stores and encourage them to offer healthier options to community members.
HealthCorps' annual "Highway to Health Festivals" around the country are organized every spring for community residents to spread our health activism to people of all ages.  They include health screenings, live entertainment, fitness workouts, 5K runs and our "Music for a Better America" talent competitions.
Kazandra De La Torre is a native of Los Angeles who graduated with a degree in Neuroscience from Pomona College in Claremont, CA. She is currently a Health Coordinator for HealthCorps and is in her second year at George Washington Educational Campus in New York City. She shares her passions in Environmental and Food justice with her students and is on-track for entrance into Medical School Fall 2013. You can find her on Twitter at @HealthCorps_GW.
Thanks also to Amy Barone, Healthcorps' Director of Corporate Communications.