Guilt-Free French Toast
Dec 24, 2010, Updated Oct 03, 2017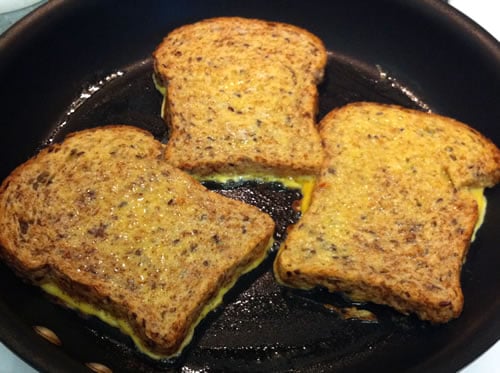 Before I get to the recipe, I want to thank everyone for the wonderful comments on my last post. I have to admit, I was a bit nervous about sharing our engagement story so publicly on the interwebs, but the outpouring of love, support, enthusiasm, and encouragement has been truly, utterly incredible. I can't really put to words just how much it means to me ("a lot" isn't even close), so I'll just have to say: Thank you.
—
This morning I woke up with French Toast on my mind. Maybe it's from our recent trip to France (though we never saw any of this kind of "toast" there, come to think of it).  Or maybe it's because it already feels like the weekend, and French Toast is one of those "dad always made it on Sunday morning" type foods that's just super-duper comforting. Oh yeah, and with some cinnamon, nutmeg, and clove, it's a perfect fit for the holidays.
Below is how I made 'em this morning. It's very simple, and can easily be adjusted based on ingredients and seasonings you have on hand — so consider the list below a starting point, and go from there.  It comes out a little different every time, which is part of the fun. (I didn't actually measure, so the amounts below are estimates, anyway! Well, except for the eggs and bread — those were easy to count…).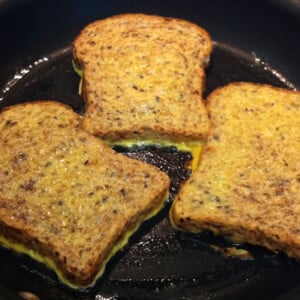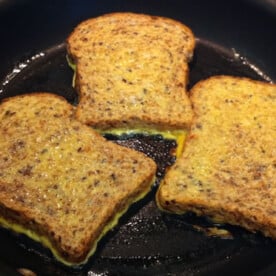 Guilt-Free French Toast
Using 100% Whole Grain bread is key to making this guilt-free. Keep in mind that the lighter the bread you use, the more fluffy the end result will be. This morning I used
Mack's Flax Sprouted Grain Bread
, which is quite light for a whole-grain bread.With lots of holes, it sopped up the egg/batter perfectly. The whole flax seeds gave it a nice, hearty crunch, too. If you use a denser bread, you may want to use a little more milk, and give it a few more minutes to soak.
Ingredients
3

eggs

1/3

cup

milk

1

tablespoon

maple syrup

1

teaspoon

vanilla extract

1/2 to 3/4

teaspoon

ground cinnamon

1/2

teaspoon

ground nutmeg

1/4

teaspoon

ground clove

4

slices

100% whole grain bread

small

amount of butter or oil

,

for frying
Instructions
Whisk the eggs together until they're well mixed and there are no pockets of clear egg white. Whisk in the milk, vanilla, maple syrup, and spices. The powdered spices won't necessarily dissolve, but just mix until they're well blended and there are no clumps.

Pour the egg mixture into a rectangular pan (a large plate will work, too). Lay several slices of the bread in the batter, and give them a minute or two to soak it up. Carefully flip them over, and let them continue soaking. The goal is for them to soak up a fair amount of the batter, but not to get too soggy that they fall apart.

In a large, non-stick skillet, heat a very small amount of butter or oil on medium heat. Place the battered bread in the pan carefully, and start to cook. Continue cooking on one side until browned, then flip once and cook the other side. Pressing lightly on them with a spatula helps a little. Be sure the heat is not too high, because you want to cook them all the way through before they get too brown (or burned) on the outside.

Serve hot, of course, drizzled with a small amount of maple syrup or a dollop of apple sauce, and topped with fresh berries and chopped nuts.
Nutrition
Calories:
161
kcal
,
Carbohydrates:
11
g
,
Protein:
9
g
,
Fat:
7
g
,
Saturated Fat:
2
g
,
Cholesterol:
249
mg
,
Sodium:
123
mg
,
Potassium:
167
mg
,
Sugar:
8
g
,
Vitamin A:
420
IU
,
Calcium:
94
mg
,
Iron:
1.3
mg
Like this recipe? Rate and comment below!