Healthier Options at Au Bon Pain
Jul 16, 2012, Updated Aug 17, 2017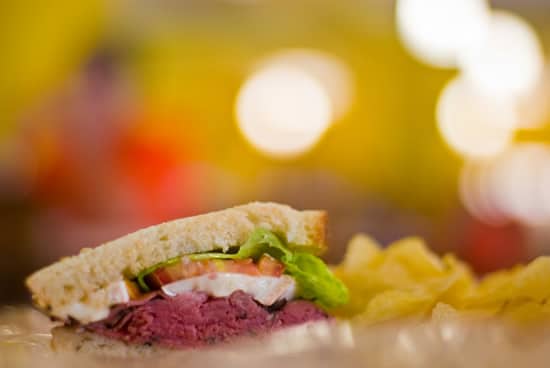 Eating Rules reader Katherine recently asked me to make suggestions for healthier options at Au Bon Pain, a "fast-casual" soup-salad-sandwich chain with over 250 locations around the world.
It's been awhile since I've done a Menu Monday post, in large part because I have mixed feelings about doing them. The last thing I want to do is encourage people to eat at chain restaurants. However, I recognize that chain restaurants are sometimes the only option available, and I know that chain restaurants are where most of us eat. So I think it makes more sense to help you to find the healthiest options, rather than pretend restaurant chains don't exist.
Over the past few years when I have eaten at Au Bon Pain, it's always been at airports — you'll find them at JFK, LGA, DFW, MIA, BOS, and more. Since my personal experience lately hasn't been at their full locations, which feature many more options, I'm basing my recommendations on the nutrition information provided on their website and my own best estimates. Conveniently, their website lists all their locations, and will show you the menu for each one separately — including the airports, so you can plan ahead a bit when you're traveling.
You can only glean so much from nutritional numbers, so it's good to see what kind of ingredients (additives, preservatives, flavorings) a chain may or may not be using. They reveal their ingredients on the website, though it takes a few clicks and scrolls to drill down to a specific item.
One big caveat, if you're poking around on the specific items on their website: All of the items from their "Hot & Cold Lunch Bar" are listed per ounce, so it takes some work to figure out what a reasonable serving size is and then how many calories, etc., you'd end up eating..  For example, I checked out the Macaroni and Cheese, and was surprised to see that it only has 100mg of sodium. Then I noticed that the serving size was for one ounce…  so that's 100mg per ounce. A tennis-ball-sized scoop of Mac & Cheese would be about eight ounces (and therefore 800mg of sodium)… and that's not very  much Mac & Cheese.
I'm not going to review every single menu item — I'm skipping the desserts and pastries.  I'm also skipping the "Blasts" and smoothies — which all have quite a bit of added sugar. Unless it's a cheat meal, it's probably best to avoid all of those entirely.
Bagels – Better Choices
Whole Wheat Skinny Bagel


90 calories, 230mg sodium, 6g fiber.
This is by far the best bagel choice. The first ingredient is whole wheat flour (nice!), though some of the fiber is from added cellulose. Meh.
Honey 9 Grain Bagel
310 calories, 480mg sodium, 6g fiber.
Although it's about 30 calories more than than the plain or onion dill bagels, at least there's a bit more fiber. It's also a little larger, which means at least you'll be a little fuller for those 30 extra calories.
Plain Bagel or Onion Dill Bagel
280 calories, 440mg sodium, 2-3g fiber.
I'm including these here only because they're the second-lowest calorie bagel option. But they're still just a bunch of refined flour…
Bagels – Worst Choices
Cinnamon Crisp Bagel


410 calories, 25g sugars
Asiago Cheese Bagel
370 cal, 650mg sodium
Jalapeño Double Cheddar Bagel
320 cal, 600mg sodium
Breakfast Sandwiches – Better Choices
Any of the bagel sandwiches will be vastly improved (nutritionally speaking) by getting them on a Skinny Whole Wheat Bagel.
Egg Whites & Cheddar


230 cal,  510mg sodium, 6g fiber.
I'm not in favor of egg whites over eggs — but this is a standard menu item that's an easy choice, since it's on a skinny bagel by default.
Eggs (or Egg Whites) with Cheddar and Avocado, on a Skinny Whole Wheat Bagel, hold the Lemon Aioli


Approx 280 cal, 510mg sodium, 9g fiber.
This is what I would order for breakfast.  The avocado adds extra (good) fat and fiber, both of which be satisfying. Skip the Lemon Aioli, though, which as far as I can tell, just adds unnecessary salt, sugar, and canola oil.
Breakfast Sandwiches – Worst Choices
Sausage, Egg and Cheddar on Asiago Bagel


780 calories and 1,290mg of sodium. Yikes.
Bacon and Egg Melt on Ciabatta


510 calories, 1,150mg of sodium.
Cafe Sandwiches, Hot Sandwiches, and Signature Sandwiches – Better Choices
The best choice would be to get a half sandwich. The suggestions below are all 550 calories or fewer and under 1,000mg of sodium.
Classic Chicken Salad Sandwich (Half)


230 cal, 480mg sodium.
Classic Chicken Salad Sandwich (Whole)
450 cal, 960mg sodium.
Turkey & Swiss Sandwich (Half)
370 cal, 740mg sodium
Blank Angus Roast Beef & Herb Cheese Signature Sandwich (Half)
260 cal, 620mg sodium
Caprese Sandwich (Half)
300 cal, 620mg sodium
Caprese Sandwich (Whole)
550 cal, 860mg sodium
Cafe Sandwiches, Hot Sandwiches, and Signature Sandwiches – Worst Choices
Some of these are here for the high calories, but most are because they're so high in sodium.
Black Forest Ham and Cheddar Sandwich
640 cal, 1,870mg sodium
Turkey and Swiss Sandwich (Whole)


740 cal, 1,490mg sodium
Turkey Cranberry Brie Sandwich


720 cal, 1,760mg sodium
BBQ Chicken and Black Bean Wrap


740 cal, 1,600mg sodium
Turkey Cubano
530 cal, 1,750mg sodium
Grilled Chicken Avocado Signature Sandwich


690 cal, 1,960mg sodium
The Veggie Signature Sandwich


650 cal, 1,950mg sodium
Turkey Club Sandwich


600 cal, 1,900mg sodium
Harvest Rice Bowls – Avoid
Roasted Angus Steak Teriyaki Harvest Rice Bowl


Roasted Mayan Chicken Harvest Rice Bowl


Both are over 1,000mg sodium, and both include partially hydrogenated oils in the seasoning.
Hot & Cold Lunch Bar – Better Choices
Nutrition numbers below are for a 4 ounce portion (they list 1 ounce portions in their nutrition info, which makes it somewhat tricky to compare).  Also, it's a shame how much salt and oil they add to their veggies.
Broccoli & Carrots


50 cal, 200mg sodium
Tomato Cucumber Salad


50 cal, 200mg sodium
Green Beans
50 cal, 300mg sodium
Pearl Barley with Vegetables
200 cal, 225mg sodium
Note, this is made with chicken.
Roasted Chicken and Thyme
250 cal, 250mg sodium
Hot & Cold Lunch Bar – Worst Choices
Aegean Pasta Salad


450 cal, 575mg sodium
Chicken Wings in BBQ or Teriyaki Sauce


300-350 cal, 900-1,050mg sodium
Eggplant Parmesan
250 cal, 650mg sodium
Thai Red Curry Chicken Wings


300 cal,  900mg sodium
Alfredo Sauce (2 ounces)


160 cal, 320mg sodium
Vodka Sauce (2 ounces)


80 cal, 220mg sodium
Specialty Salads – Better Choices
These numbers are without dressing (see below for dressing info).
Garden Salad


80 cal, 105mg sodium
Southwest Chicken Salad
320 cal, 360mg sodium
Thai Peanut Chicken Salad
200 cal, 300mg sodium
Careful, though, the Thai Peanut Dressing is one of the worst!  It's only a good choice if you skip (or minimize) the dressing.
Specialty Salads – Worst Choices
Chef's Salad


260 cal, 1,110mg sodium
Chicken Cobb with Avocado Salad
300 cal, 910mg sodium
Greek Salad


230 cal, 1,170mg sodium
If you go easy on the Feta, this could be a good choice. 
Mediterranean Chicken Salad


290 cal, 1,150mg sodium
Dressings – Better Choices
None of the dressings are great.  The Raspberry Vinaigrette is the only one under 100 calories, but comes at the cost of being mostly sugar.  The best choice is to use the dressing very sparingly — and not eat the entire 2 ounce serving.  Ask them to give you the dressing on the side for any salad, and then you'll have more control.
Fat Free Raspberry Vinaigrette
50 cal, 190mg sodium, 12g sugars
Balsamic Vinaigrette Dressing
120 cal, 360mg sodium
Lite Olive Oil Vinaigrette
110 cal, 420mg sodium
Dressings – Worst Choices
Blue Cheese Dressing


310 cal, 460mg sodium
Thai Peanut Dressing


160 cal, 740mg sodium, 17g sugars
Sesame Ginger Dressing
230 cal, 680mg sodium
Caesar Dressing
270 cal, 370mg sodium
Soups – Better Choices
I'm listing the info for small (8 ounce) servings of soup, which would be a good choice to accompany a half-sandwich.  As with most restaurant soups, calories are less of an issue than the high sodium content.
Southwest Vegetable


130 cal, 290mg sodium
Tomato Basil Bisque
150 cal, 360mg sodium
Mediterranean Pepper Soup
120 cal, 430mg sodium
Soups – Worst Choices
All of these are more than 900mg of sodium or 250 calories, per small (8 ounce) serving.
Lobster Bisque


270 cal, 930mg sodium
Macaroni and Cheese


370 cal, 870mg sodium
Not sure why they put this in the "Soups" category..? 
Corn and Green Chili Bisque
200 cal, 910mg sodium
Curried Rice and Lentil Soup
130 cal, 920mg sodium
French Onion Soup
90 cal, 920mg sodium
Gazpacho
60 cal, 1,090mg sodium
Harvest Pumpkin Soup
180 cal, 960mg sodium
Potato Choose Soup
190 cal, 920mg sodium
Baked Stuffed Potato Soup
250 cal, 720mg sodium
Corn Chowder
250 cal, 820mg sodium
—
Menu Mondays are my recommendations for the most healthful options at chain restaurants. Although it may be tough to find "perfect" options when eating out, it's important to choose "better" whenever possible, and I hope these guides will help make that easier for you.

indicates the "best-of-the-best," and

indicates the "worst-of-the-worst," more or less.
Photo by Robert S. Donovan.