Healthy Options at California Pizza Kitchen, Part 2: Pizza, Pasta, and the Kids Menu
Jun 27, 2011, Updated Aug 17, 2017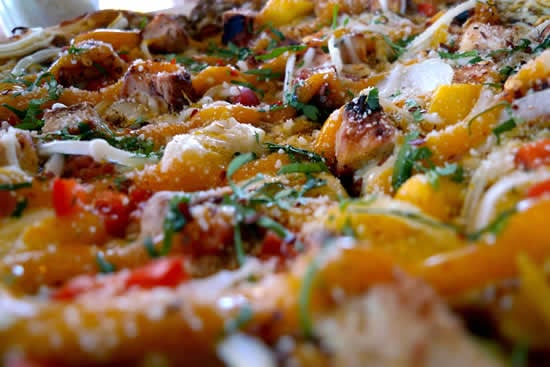 Last week I reviewed the Healthiest Appetizers, Soups, and Salads at CPK.  I had suggested skipping the appetizers altogether, but after going through the rest of the nutrition information, I now think it might be a better strategy to order solely from the appetizers menu, and avoid the pizza and pastas.
All but two of their pizzas have calorie counts in the four-digit range (the Traditional Cheese, at 998 calories, and the thin crust Roasted Artichoke & Spinach, at 985 calories, are the marginal exceptions). Their most-caloric pizza, the California Club, tops out at 1,515 calories.
Perhaps even worse, all but one pizza has over 2,000 mg of sodium (the exception is the thin crust Tricolore Salad Pizza, without meat, at 1,911).  The worst offender?  The Jamaican Jerk Chicken, at a heart-stopping 4,056mg of sodium. (Consider: Just the dough has around 1,000 calories). Even if you split it, you'll be getting nearly a full day's max of salt in that half-pizza.  Yikes.
So, what to do? Well, if you're going to indulge with a pizza, here are some ways to mitigate the calories and sodium:
Share the pizza with a friend — or better yet, two friends.
Put 2/3 of it in a to-go box as soon as it arrives on your table (and make several more meals out of it).
Make that 1/3 pizza the only thing you eat (acceptable exception: the Asparagus & Arugula salad).
Get thin-crust, which cuts out 174 calories and 157mg of sodium (per pizza, not serving).
Consider getting a Kids size; they're about half the size of the regular pizzas, and less expensive, too.
Ask them to go easy on the cheese.
Pizza Crusts – Better Choices
Even thought the Honey-Wheat has whole grains, and nearly three times the fiber, it's probably better to stick to the thin crust and thereby cut down on the already-high calories.
Thin Crust
440 cal, 958mg sodium, 4g fiber
Honey-Wheat with Whole Grain Crust
594 cal, 948mg sodium, 11g fiber
Pizza Crusts – Worst Choice
Traditional Pizza Crust
614 cal, 1,115mg sodium, 4g fiber
Pizzas – Better Choices
Better choices are under 1,050 calories and 2,400mg sodium. Still too high, of course, but that's why they're "Better," not "Best."
Traditional Cheese, on thin crust
824 cal, 2,004mg sodium
Hawaiian, on thin crust
881 cal, 2,255mg sodium
Vegetarian with Japanese Eggplant, on thin crust
910 cal, 2,377mg sodium
White Pizza, on thin crust
929 cal, 2,298mg sodium
Five-Cheese & Fresh Tomato, on thin crust
940 cal, 2,382mg sodium
Roasted Garlic Chicken, on thin crust
944 cal, 1,964mg sodium
Tricoloré Salad Pizza, on thin crust
1,001 cal, 1,911mg sodium
Pear & Gorgonzola, on thin crust
1,021 cal, 2,018mg sodium
Wild Mushroom, on thin crust
1,040 cal, 2,081 mg sodium
Tostada, on thin crust
1,044 cal, 2,314mg sodium
Pizzas – Worst Choices
I'm highlighting the worst offenders here — over 1,400 calories or over 3,000mg sodium.  (These are on the "traditional" crust, unless noted, to help convince you the better options above are the way to go!)
California Club


1,515 cal, 2,772mg sodium
The Meat Cravers


1,476 cal, 3,934mg sodium
The Works


1,391 cal, 3,223mg sodium
The Greek
1,424 cal, 2,979mg sodium
The Greek (Vegetarian)
1,480 cal, 2,782mg sodium
Jamaican Jerk Chicken



1,311 cal, 4,056mg sodium
Buffalo Chicken


1,247 cal, 3,377mg sodium
Mushroom Pepperoni Sausage


1,388 cal, 3,224mg sodium
BBQ Chicken with Applewood Smoked Bacon
1,271 cal, 3,108mg sodium
Thai Chicken
1,301 cal, 3,002mg sodium
Four Seasons (on thin crust)


1,090 cal, 3,465mg sodium
Pepperoni Supremo (on thin crust)
1,016 cal, 3,048mg sodium
Sicilian (on thin crust)
1,225 cal, 3,107mg sodium
Pastas – Better Choices
The pasta options are very high in calories and sodium, though I suppose sharing a pasta dish could be better than sharing a pizza.  You can substitute "multigrain penne" for any pasta, saving up to 121 calories (I'm not sure how you'd substitute ravioli…)
I'm not really a fan of any of these pastas, since they're just huge bowls of refined carbs and salty sauces. (I didn't find any details on the "multigrain penne," but remember that "multigrain" just means "more than one grain," and not "whole grain.")
Listed here are the only choices under1,000 calories and 1,300mg sodium. (Yikes.)
Four Cheese Ravioli
997 cal, 987mg sodium
Spaghetti Bolognese
836 cal, 745mg sodium
Spaghetti Bolognese with Sauteed Mushrooms
886 cal, 933mg sodium
Portobello Mushroom Ravioli with Tomato Basil Sauce
668 cal, 1,267mg sodium
Kung Pao Spaghetti (no added meat)
934 cal, 1,227mg sodium
Pastas – Worst Choices
Some examples of the dishes with the most calories and sodium…
Chicken Tequila Fettuccine
1,149 cal, 1,219mg sodium
Jambalaya


1,138 cal, 2,199mg sodium
Pesto Cream Penne


1,339 cal, 837mg sodium
They don't need as much salt, since it's got 50 — fifty! — grams of saturated fat.
Pesto Cream Penne with Chicken & Shrimp



1,562 cal, 1,068mg sodium
They don't need as much salt, since it's got 57 — fifty seven! — grams of saturated fat.
Garlic Cream Fettuccine with Chicken & Shrimp



1,561 cal, 1,328mg sodium
Broccoli Sun-Dried Tomato Fusilli with Grilled Chicken Breast


1,370 cal, 1,306mg sodium
Specialties – Better Choices
Every single option in this category is over 1,000 calories or over 1,100mg of sodium, except the Chicken Milanese.  Nevertheless, there are some choices that are significantly lower in calories than the rest of the menu's options — so relatively speaking, they're better choices.
I don't love the seafood options because of sustainability issues, but by the numbers, these two here are better choices. Depending on how it's caught, Mahi Mahi can be a good or bad choice according to Seafood Watch. Unless they specify, odds are extremely good that the salmon is farmed, which should be avoided according to Seafood Watch.
Wild Caught Mahi Mahi with Wok-Stirred Vegetables
586 cal, 1,591mg sodium
Ask them to go easy on the sauce and you'll likely save a lot of that sodium.
Pan-Sauteed Salmon with Wok-Stirred Vegetables
780 cal, 1,519mg sodium
Chicken Milanese
861 cal, 995mg sodium
Specialties – Worst Choices
Wild Caught Mahi Mahi, Blackened with Spaghettini


1,249 cal, 1,451 mg sodium
Pan-Sauteed Salmon, Blackened with Spaghettini


1,265 cal, 1,921 mg sodium
Baja Fish Tacos with Avocado
1,038 cal, 1,704mg sodium
Steak Tacos with Avocado
1,047 cal 1,913mg sodium
Chicken Piccata
1,325 cal, 1,178mg sodium
Focaccia Sandwiches – Better Choices
All the sodium counts are in the four-digits, whether you choose the Herb Onion or the Garlic Cheese Focaccia.  Even so, the Herb Onion is a significantly better choice, saving you about 70 calories and 200mg of sodium.
The sandwiches come with a choice of soup, Caesar salad, or Szechuan slaw — see below for details on those.
Grilled Vegetable Sandwich with Herb Onion Focaccia
826 cal, 1,935mg sodium
California Club Chicken Sandwich with Herb Onion Focaccia
933 cal, 1,479mg sodium
A hundred calories more than the grilled veggie, but about 500mg less sodium.
Focaccia Sandwiches – Worst Chocies
California Club Turkey Sandwich with Garlic Cheese Focaccia


1,043 cal, 2,539mg sodium
Italian Deli Sandwich with Garlic Cheese Focaccia


1,009 cal, 1,913mg sodium
Turkey Stack Sandwich with Herb Onion Focaccia
745 cal, 2,225mg sodium
This is the lowest-calorie sandwich option, but one of the highest in sodium.
Sides – Better Choices
Tuscan White Bean Minestrone (cup)


157 cal, 383mg sodium
Caesar Salad (sandwich side)


208 cal, 422mg sodium
Sides – Worst Choices
Sedona Tortilla Soup (cup)
324 cal, 724mg sodium
Dakota Smashed Pea & Barley Soup (cup)
189 cal, 714mg sodium
…and zero fiber.
Szechuan Slaw


280 cal, 1,017mg sodium
Kids' Menu – Better Choices
I can't really imagine feeding my kid a 700-calorie and 1,400+mg sodium pizza but hey, at least they're smaller than the full-size pizzas.  Here are a few of the best options from the entire Kids' Menu.
Kids Salad, no Dressing



64 cal, 75mg sodium
Kids Grilled Chicken Breast with Broccoli



246 cal, 565mg sodium
Kids Salad, with Herb Ranch Dressing


258 cal, 251mg sodium
Take a reasonable salad, and then douse it with nearly 200 calories of fatty, salty dressing.  Ugh. (Still better than a pizza, though!)
Kids Fusili Olive Oil
589 cal, 60mg sodium
Kids Fresh Fruit



68 cal, 2mg sodium
Kids Traditional Cheese Pizza
637 cal, 1,337mg sodium
Kids' Menu – Worst Choices
Kids Pizzas, other than Traditional Cheese
675 to 760 cal, 1,469 to 1,621mg sodium
Kids Curly Mac 'n' Cheese


1,041 cal, 735mg sodium
Kids Curly Mac 'n' Cheese with Edamame


1,088 cal, 750mg sodium
Don't fall for the "health halo" of Edamame.  This still over one thousand calories!
Kids Fusilli Alfredo


929 cal, 559mg sodium
Kids M&M's Sundae


509 cal, 69mg sodium
Kids Brownie


510 cal, 233mg sodium
—
Menu Mondays are my recommendations for the most healthful options at chain restaurants. Although it may be tough to find "perfect" options when eating out, it's important to choose "better" whenever possible, and I hope these guides will help make that easier for you.

indicates the "best-of-the-best," and

indicates the "worst-of-the-worst," more or less.
See Also: Healthy Options at CPK, Part 1: Appetizers, Soups, and Salads
CPK Nutrition Information (PDF).
Photo of CPK's Tandoori Chicken Pizza by vissago.