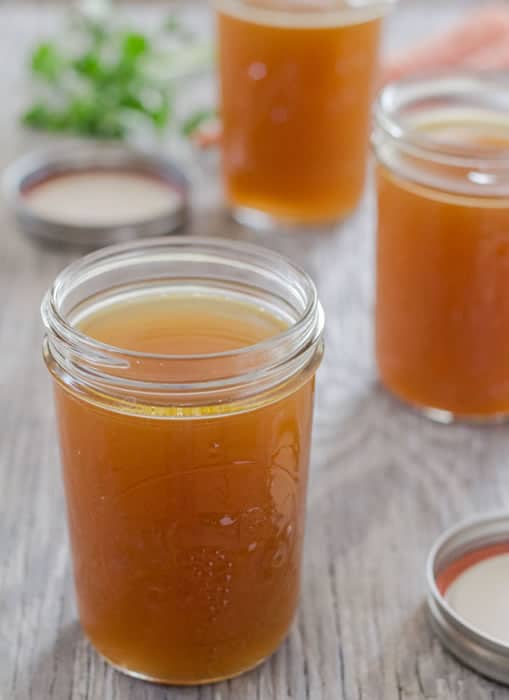 It's so easy to unwrap the little foil packages and throw them in boiling water. Vwah-la, ta-da—veggie broth for soup. The vegetarian bouillon cubes I have in my cupboard at the moment say "natural" right on the label, and "convenience without compromise." Than means unprocessed, right? Not. The ingredient list on the label includes maltodextrin.
We can't easily produce maltodextrin in our kitchen, so those time-saving broth cubes won't pass the Kitchen Test. I've pledged to go the whole month eating as little processed food as possible, so instead I'm simmering up homemade vegetable broth from an A-list of ingredients. There is nothing like rich, fragrant, delicate homemade broth, and it takes a little more than an hour to make.
This recipe is straightforward. You chop up a bunch of veggies, add some seasonings, cover with water, and leave to simmer on the stove for 45 minutes. Strain off the delicious liquid and stash away cold, ready for when you make a hearty soup, like this escarole and white bean soup.
In this recipe the aromatics are browned before adding the water, resulting in a darker broth with more depth of flavor. Alternatively, you can oven-roast the aromatics before combining them with the water and other ingredients. For a lighter broth, just simmer the vegetables without browning first.
What's your go-to soup broth? Does it come from a carton, a can, or concentrated in a jar or little foil-wrapped cubes? Be sure to check the label to keep your October Unprocessed pledge clean. Many store-bought broths, vegetarian and meat-based, contain sugar in one form or another, and ingredients your grandmother wouldn't recognize.
Even if your store-shelf broth is unprocessed, that is, it passes the kitchen test–it's fun and easy to make your own. Imagine the inviting aroma of simmering broth wafting through your kitchen.
Kitchen notes:
I eat mostly plant-based, so I use vegetable broth. If you eat meat you might want to explore bone broths, long-simmered vegetables with beef or chicken bones, well-known for their mineral health-giving value.
What's the difference between vegetable (or meat) stock, broth, and bouillon? All are aromatic liquids made from slowly simmered flavorful ingredients–the words are often used interchangeably and it's not a big deal. Technically though, stock is unsalted, and a broth is seasoned with salt, and bouillon is the French word for broth. This recipe contains salt, so it's broth.

Homemade Vegetable Broth
This recipe is straightforward. You chop up a bunch of veggies, add some seasonings, cover with water, and leave to simmer on the stove for 45 minutes.

Total Time
1
hour
5
minutes
Ingredients
2

leeks

trimmed, coarsely chopped and well-washed

5

carrots

about 1 pound scrubbed and coarsely chopped

2

large

yellow onions

chopped (OK to leave skins on)

2

stalks celery

including leaves chopped

2

tablespoons

olive oil

Thick peel of 1 scrubbed organic potato

see note

Cloves

of one bulb of garlic

skins on, smashed

1

whole guajillo chile

optional (see note)

2

bay leaves

½

bunch

flat-leaf parsley

coarsely chopped

2

sprigs fresh thyme or 1 teaspoon dried thyme

1

teaspoon

black peppercorns

1 1/2 to 2

teaspoons

Real Salt

3

quarts

cold water
Instructions
Heat the oil in a large wide pot over medium-high flame and sauté the leeks, carrots, onions, and celery, stirring frequently, until the vegetables are well browned.

Add the remaining ingredients and the water to the pot. Bring to a boil, lower the heat, and simmer, uncovered for about 45 minutes.

Place a colander over a bowl and strain the broth. Discard the vegetables. (see note)

Line the colander with cheesecloth or a paper towel (or use a fine sieve), and strain a second time.

Store the broth in the refrigerator for up to 3 days, or in the freezer for up to 3 months.
Recipe Notes
Save the potato (covered with water) for another purpose, perhaps a soup made with this broth.
Mild guajillo chiles add color and unique flavor; one chile in 3 quarts of water contributes no discernible heat. If not using a chile, add another ½ teaspoon black peppercorns.
Don't let the broth sit with the "spent" vegetables—they've done their job—strain right away.
About the Author
After years as pastry chef at Deer Valley Resort in Park City Utah, Letty Flatt followed her heart to create Letty's Kitchen, a vegetarian blog where she shares seasonally inspired recipes, including desserts with a "healthier" twist. Her recipes are often vegan, and sometimes gluten-free. She is addicted to Instagram and is frequently caught posting recipe ideas on Pinterest.