Bulk is Beautiful (How To Make Polenta)
Oct 17, 2011, Updated Oct 03, 2017
Janelle Maiocco's blog, Talk of Tomatoes,  has become an excuse for her to follow all of her food curiosities, a reason to push herself to learn home-canning, and ultimately was the impetus for her to go to culinary school. She "oozes happiness" at the thought of having a huge urban garden, and has been known to wield knives, pitchforks, and the occasional martini.  You can also catch up with her on Facebook and Twitter.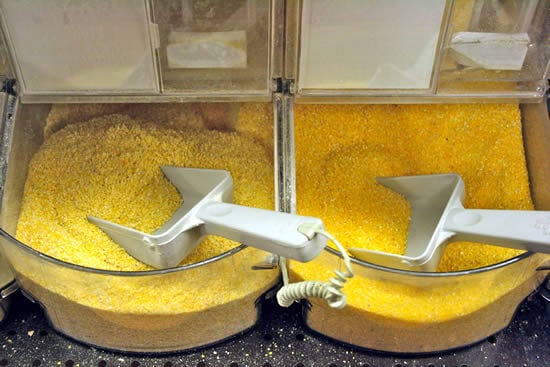 When Andrew asked me to contribute a post, I kept bouncing ideas off of him. Shall I write about my urban farm? Backyard to table? Healthy snacks? My struggle coming home from being abroad (or shall I say: My stomach's rejection to a lot of U.S. foods)?
There are so many ways to upgrade and insert unprocessed into your diet/life/way-of-being that I almost didn't know where to start. The best part of October Unprocessed for me has clearly been an increased awareness of "unprocessed" choices. Like when you are pregnant and all of a sudden, all around you, you notice all sorts of pregnant women. Or when you are riding a bike, you notice far more cyclists — or see someone driving a Euro-van just like yours. October Unprocessed has given me a new lens — spectacles for the choices I can make to upgrade my diet, update my habits and learn more about "unprocessed."
Unprocessed to me increasingly means: Do my own processing. Or maybe "self-process." It gives me more control, reduces unnatural or bad-for-you preservatives and pulls me into each season. You can process with home-canning, process your own grains, and reach toward making things from scratch.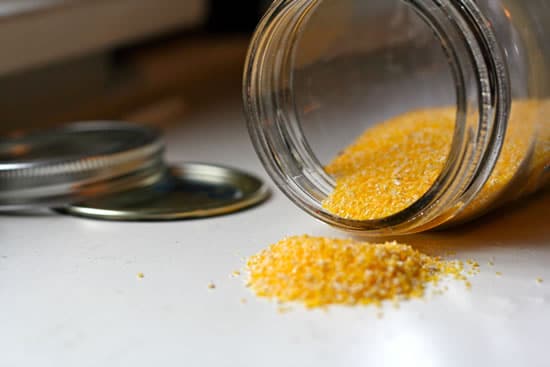 I find some choices are small and easy, and others more time-consuming and deliberate. One of the simplest choices is to skip the boxes and buy in bulk. The week of Oct.16 – 22 is National Bulk Foods Week. Who knew? Because of my new unprocessed lens, I took time to browse the Bulk is Green Council Site.
Grab the rice, grains, seeds, beans and/or myriad flours from the bulk section and broaden your culinary horizon. It is inexpensive, you can buy organic, and easily take the plunge with a cup-full of green lentils, quinoa, or emmer flour. It's easy to add new, unprocessed foods into your diet — sans the boxes.  Think outside the box, can, tube, and bag, and next time you are in a store take a jaunt down the bulk aisle. Leave the containers on the shelf and you will spend less, reduce waste, and eat better!  Here are a few "bulk" ideas to get you started:
Snacks. The bulk aisle is full of dried fruits, nuts, organic crackers, trail mix, and cereal. (Just be sure to check the ingredients! Those "yogurt pretzels" aren't covered in actual yogurt.)
Rice. Don't spend too much buying rice! If you buy it in a canister it will cost too much. I refill quart jars with bulk arborio and make vanilla rice pudding and risotto weekly.
Spices, Dried Herbs, and Vanilla Beans. Many people don't realize that buying bulk spices is less expensive than buying in those tiny little overpriced jars.
Corn Meal. Make your own polenta at home! Here is a fantastic recipe for DIY polenta — and here are five things to do with leftover polenta.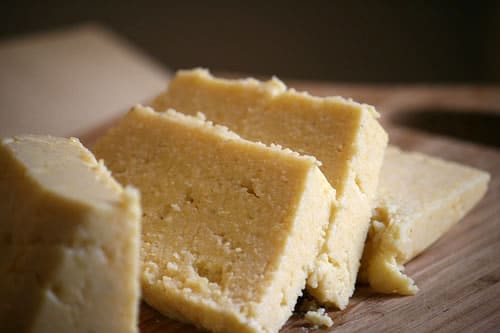 How To Make Polenta
This is the classic recipe for polenta and will give you a fantastic product!
Ingredients
4

cups

Liquid

,

I use 2 cups chicken broth, 2 cups cream; feel free to adjust ratios

1

cup

Corn Meal/Polenta

1/2

cup

freshly grated Parmesan Cheese

2-4

Tbs.

Butter

Sea Salt and coarse Pepper

,

to taste
Instructions
In a saucepan, bring stock and cream to a simmer.

Vigorously whisk in corn meal.

Lower heat and stir frequently for 10-15 minutes until corn meal softens (taste it!). You may need to stir in extra stock to achieve your desired soft-or-firm consistency (I use a wooden spoon).

Remove from heat and stir in Butter and Parmesan. Adjust seasoning with salt and coarse pepper (white pepper won't make black specks).

Serve immediately… or plunk into a tray to firm up for shapes the next day.
Nutrition
Calories:
167
kcal
,
Carbohydrates:
19
g
,
Protein:
5
g
,
Fat:
7
g
,
Saturated Fat:
4
g
,
Cholesterol:
15
mg
,
Sodium:
518
mg
,
Potassium:
92
mg
,
Fiber:
2
g
,
Vitamin A:
180
IU
,
Calcium:
99
mg
,
Iron:
0.9
mg
Like this recipe? Rate and comment below!