Ignorance is not bliss
Apr 09, 2010, Updated Aug 08, 2018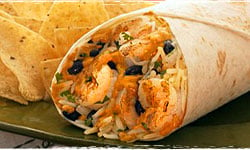 I had dinner at Baja Fresh with a good friend last night. As soon as I walked in, I looked around to find the nutrition information which — to BF's credit — was sitting right on the counter (it took me awhile to find it, actually, since I expected it to be hard to find, and certainly not right on the counter!).  As I squinted through the small-font pamphlet, my friend ordered a Diablo Shrimp Burrito, a Baja Steak Taco, and an Orange Soda.  I got two Baja Shrimp Tacos, a surprisingly delicious Side Salad, and a cup of Water (total calorie count, sans unnecessary salad dressing:  530).
After we sat down I asked him what he ordered (I had been distracted by my strained attempt to find something on the menu under 800 calories…).  Locating his dinner on the pamphlet, I emitted a sort of involuntary shriek/laugh sound.  When I asked him how many calories he thought were in just the burrito, he said, "I don't know, 200?".  Again, the shriek.  "It's actually 1,060."
"Oh. I ordered the Shrimp Burrito!  I thought I was getting something healthy!"
He then shrugged it off, since he hadn't eaten all day.  He was just fine in terms of his daily calories (not that he's keeping track, mind you — he had no idea even how many calories he should be eating).  That sparked a whole other conversation, but I'll leave that for now.
His Baja Steak Taco added another 260 calories, and the 24 ounce Orange Soda was around another 200.
And don't get me started on the Sodium!  His burrito alone was 2,930mg, significantly more than anyone should eat in an entire day.
I mention all of this not to harp on my friend, of course, but because this is an all-too-common situation.  I'm probably the only person that day in the restaurant who even looked at the nutrition information. Next time I go in, I'll be sure to ask the cashier how many people even pick up the pamphlet.  (Further proof that the calories need to be listed directly on the menu board.)
I also don't want to harp on Baja Fresh, either.  The nutrition pamphlet actually does highlight healthier options in red (though with the font so small, it took me a minute to figure that out…and why red, I wonder?  Red signals danger!  Everything else on the menu should be in red!).  They also include some daily recommendations and a web address for learning more about trans fat.  (in 9-point type.  ahem.).  So, they're doing a decent job.  At least the information is available somewhere.
Oh, and for what it's worth, my friend didn't eat his tortilla chips.
Image courtesy of Baja Fresh.