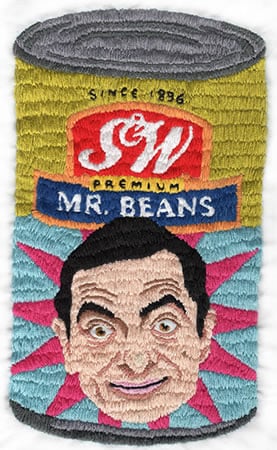 While trying to come up with a restaurant to review today for Menu Monday, I just wasn't "feeling it."  Perhaps that's because Thanksgiving is upon us. Cooking and eating at home with friends and family is the hallmark of this holiday, of course, so the idea of eating out just feels a bit oogie right now.
A few weeks back, Cynthia Harriman, the Director of Food and Nutrition Strategies at the Old Ways Preservation Trust, sent me some useful info about reducing sodium in canned beans. This seems like as good a time as any to share it with you.
Bush's Beans compared the amount of sodium remaining after five different consumer preparation methods:
1 – The whole can (beans & brine: the baseline)
2 – Drain (pour off the brine, don't rinse the beans).
3 – Rinse for 30 seconds (pour off brine, rinse beans in a collander for 30 seconds)
4 – Rinse for 60 seconds (pour off brine, rinse beans in a collander for 60 seconds)
5 – Soak for 30 minutes (pour off brine, rinse beans for 30 seconds, soak for 30 minutes, drain in a collander).
They found that, on average, rinsing for 30 seconds reduced the sodium by about 20%, rinsing for 60 seconds reduced it by about 27%, and the 30-minute soak reduced the sodium by about 45%.
Simply draining the beans (and not rinsing) removed only about 8%.
The moral of the story?  At the very least, rinse those beans well!  If you've got the time, go for the full 30-minute soak.
Of course, the best way to limit the sodium content in your beans is to buy dried beans in bulk and prepare them yourself. It's easy, but you have to start the night before.
Here's the one-page summary of the study (PDF).
—
Image/Embroidery by Totally Severe.
—
There's still time to enter the Nutmeric Giveaway — don't miss out!