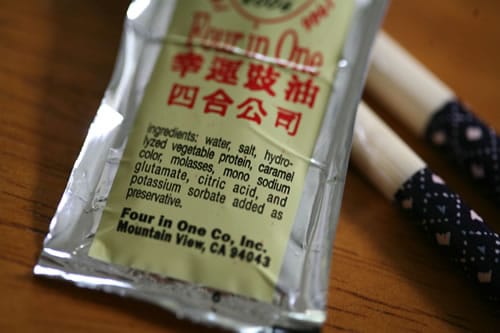 We had dinner delivered from our local Chinese food place last night.  (It made for an excellent cheat meal — their steamed shrimp dumplings are particularly divine.)
As I was tossing our unwanted packets of soy sauce into the trash (I always forget to ask them to leave them out!), the ingredient list caught my eye.
I always thought Soy Sauce was supposed to come from fermented soy beans.   The closest these little packets get to that was the inclusion of hydrolyzed vegetable protein.
Their HVP could come from soybeans, but there's no way of knowing.  And even it if it does, it's a far cry from the centuries-old process of fermenting them.
Here's the ingredient list in that little packet:
water, salt, hydrolyzed vegetable protein, caramel color, molasses, monosodium glutamate, citric acid, and potassium sorbate (preservative).
And here's the ingredient list in the bottle of the Kikkoman Less-Sodium Soy Sauce in my fridge:
water, wheat, soybeans, salt, lactic acid, sodium benzoate (preservative)
Quite a difference, no?
The only possible benefit I can come up with in favor of the packet is that, if the HVP isn't made with wheat, it would be a viable alternative for people who avoid gluten. (Gluten-Free Readers:  Curious to know your thoughts!)
Although a little packet of this soy, I mean, salt sauce won't kill you in the grand scheme of things, this is a good example of how it's important to stay forever vigilant, always paying attention to what you're putting into your body.
—
I won't be eating either of these during the month of October, when I'll be giving up all processed foods.  Join me!