As I'm sure you're already aware, Bob's Red Mill is the sponsor of October Unprocessed this year. A few months back, when we were brainstorming the various forms their support could take, I thought it might be fun if I interviewed Bob Moore (yes, the Bob! As in, it's his mill. At least, it was. Read on to learn more about that).  He's one of my personal heroes — not just because he started a terrific company with great products, but also because he's living proof that a person and a business can be successful by being and doing Good. Read on for our conversation.
– Andrew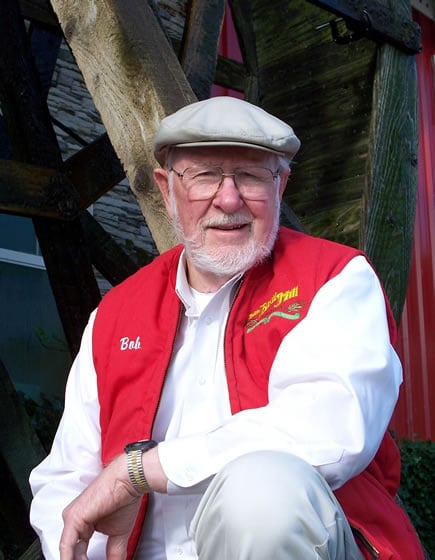 Why did you start Bob's Red Mill?
I have always loved old machinery. I happened to pick up a copy of John Goffe's Mill a while back and my passion for old machinery took a new turn as I read about stone-grinding mills. My interest in stone milling became a slight obsession. At this time, Charlee was trying to feed our three boys with wholesome foods. When I retired, the two ideas came together when I found a set of usable stone mills and an old mill. My wife, along with my boys, helped me open our first mill in Redding, California and the rest is history. It's a little bit of this and a little bit of that, but it came together and look where we are now.
Why do you think it's important to "eat unprocessed"?
Eating whole foods just makes sense. With all of the junk in processed foods, you never know what you're getting or what you're doing to your body. A whole food is more than the sum of its parts. There is something inherently better about eating a food as nature intended it.
What makes you so passionate about what you do?
Whole grains are something that I believe in—it's as simple as that.
You've been at this a long time (no offense!).  How do you stay excited and passionate, without burning out?
I don't know if I could ever feel burned out. Every day is different here. There's always something new happening in the shop or a new product in the test kitchen, it keeps it exciting.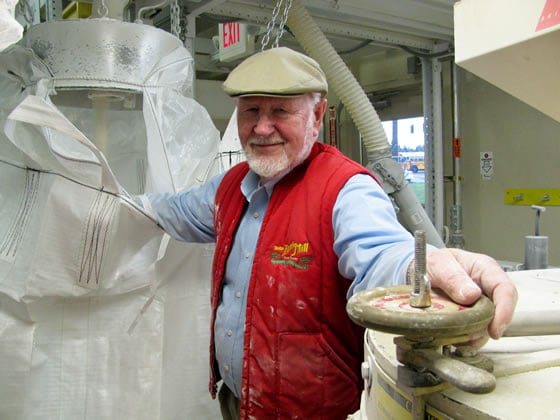 What's your favorite thing about the company you've built?
The people. We produce a simple product, but it is the people who make this company special.
I heard you banned high fructose corn syrup from your restaurant – how did that decision come about, and how was it received by the employees and customers?
After reading all of the research coming from OHSU (Oregon Health and Science University) about how [high fructose corn syrup] affects our bodies, I was just disgusted. That stuff is absolutely evil. It's been a long process, starting with the ketchup we served and finally ending with the soda. No one should eat this stuff. At first our customers and employees were hesitant, but we found a good replacement soda and that made the difference.
Bob's Red Mill supports programs focused on childhood nutrition – can you tell us a little more about that?
Since our kids were little, Charlee and I have always cared about feeding children well. We have been moved in recent years to take that mission further. With the money we received from turning Bob's Red Mill into an employee-owned company, we have supported programs at OHSU and NCNM (National College of Natural Medicine) aimed at ending childhood obesity. Our efforts at OHSU support research into the first 1000 days of life. Doctors have found that mothers who eat well can change the health of their child and when that child is a girl, the health of their grandchild, as well. It's incredible what proper nutrition can do to change the health of our country. At NCNM, we have supported research into using food as medicine and created a local program that teaches families how to prepare and shop for healthy foods.
When it comes to "healthy" eating, what's the most important to you, personally?
We choose whole grains at home and avoid anything that uses high fructose corn syrup and hydrogenated oils. I am a strong believer in starting the day off right with a bowl of oatmeal. Every day, I have a bowl of oatmeal with flaxseed meal for breakfast.
What prompted your decision to give your company to your employees when you "retired"?
I have always known that I needed to do something to ensure that my company did not get turned over to the corporate giants when I was gone. About 10 years ago, my business partners and I began looking at all of the different options and employee ownership kept coming up. We started to look into it very seriously and, in my heart, I knew it was the right thing to do. I wouldn't be here without my employees. They kept me from giving up after our mill burned down and I wanted to be sure they had a job when I was gone. So about four years ago, we turned the business over to the employees. I haven't regretted it for a single moment.
Okay, the hard-hitting question: What's your favorite grain and why?
My favorite grain… I don't know if I have a favorite grain. I could eat oats every day and not get tired of them, so maybe that's my favorite grain.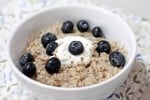 "The Doctor's Orders"
Ingredients
1/4

cup

Bob's Red Mill Scottish oatmeal

2

tablespoons

ground flaxseed

A big dollop of Greek yogurt

1/4

cup

blueberries
Instructions
Prepare the oatmeal according to package directions.

Stir in flaxseeds.

Top with yogurt and blueberries, and enjoy!